EU Foie Gras Investigations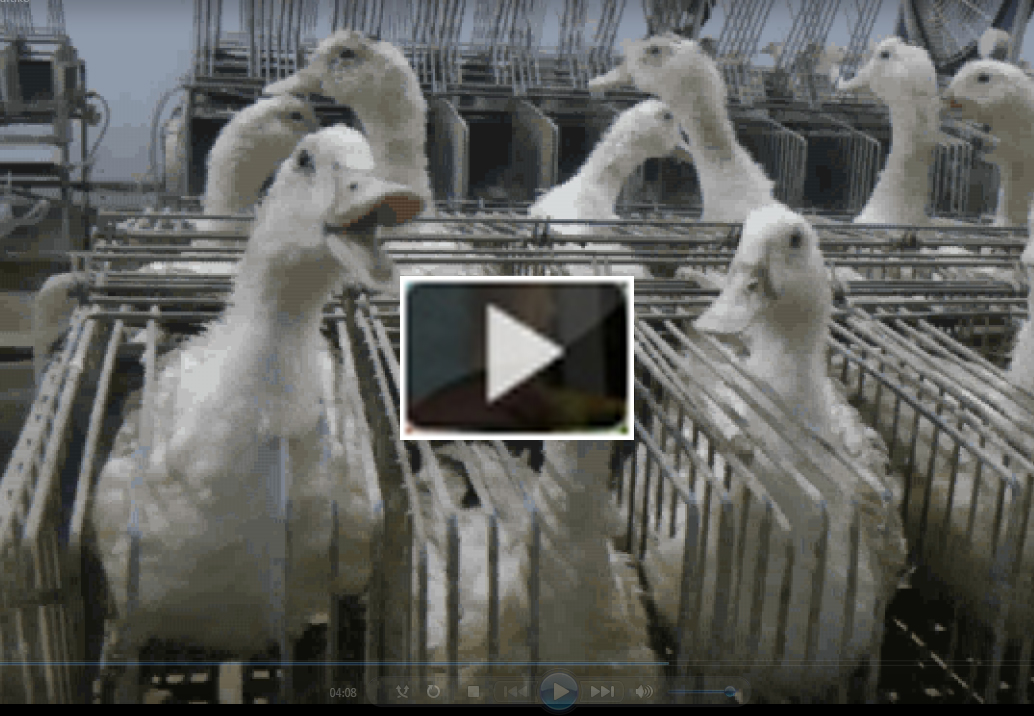 Watch the undercover video of foie gras productionThe following information is from a joint collaboration with Last Chance for Animals and Animal Equality. Investigators visited 4 'traditional' farms producing foie gras located in the south west of France and 5 farms in Catalunya, Spain. One of the farms investigated is owned by the President of the Spanish foie gras industry (Interpalm).
In Europe, foie gras is produced in only five countries: France, Bulgaria, Spain, Hungary and Belgium. These countries have formed the European Foie Gras Federation since 2008.
Ducks and geese exploited to produce foie gras are subjected to the agony of routine force feeding so that farmers can obtain from them diseased, fatty livers (hepatic lipidosis).
Dozens of hours of video and audio, and more than 500 photographs obtained by Animal Equality document the shocking reality of life for ducks and geese confined and force-fed for foie gras production in France and Spain.
• Animals confined to small cages in which the animals could not even turn around
• Animals with clear signs of stress and depression
• Evidence of trauma and inflammation of the esophagus -recognized by blood stains on force feeding tubes
• Animals with obvious respiratory problems
• Weak ducks left to die without veterinary care
• Ducks, who appeared fully aware of their situation at the time of slaughter. These animals were flapping, kicking, and bleeding incessantly
• Workers roughly handling animals
• Ducks moving with difficulty due to the size of their livers
France is the largest producer and exporter of foie gras. Over 20,000 tons (1) are produced and approximately 700,000 geese and 37 million ducks are slaughtered by the French foie gras industry each year.
Over 4,200 tons are consumed in Spain, and 850 tons are produced. Over 1,150,000 ducks are slaughtered by the Spanish foie gras industry each year. Watch the undercover video of foie gras production
(1) Agreste Synthèses – Aviculture – Juillet 2012 – n° 2012/184 www.agreste.agriculture.gouv.fr