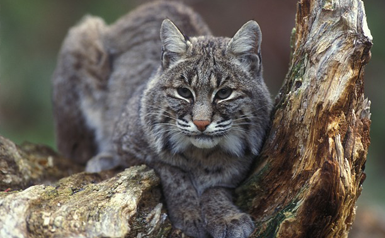 After successfully making its way through the California Assembly, Assembly Bill 1254 is now set to be heard by the Senate Appropriations Committee. Your help is urgenlty needed to ensure the passage of AB 1254!
Introduced by Assemblymember Sydney Kamlager-Dove (D-Los Angeles), the bill creates a moratorium on the trophy hunting of the state's iconic bobcats. If enacted into law, the bill would make California the first state in the nation to ban the trophy hunting of bobcats.
Over the past decade alone, nearly 10,000 bobcats have been killed--the vast majority of which at the hands of ruthless trophy hunters. If left unchecked, the trophy hunting of California's bobcats could lead the population to extinction.
Once AB 1254 passes the Appropriations Committee, it will then have to pass a final vote on the Senate Floor before going to the desk of the governor to be signed into law.

Help save bobcats from trophy hunters!
California Residents: If your state senator sits on the Appropriations Committee (whose members and contact information are listed below), please respectfully urge him/her to SUPPORT AB 1254! Click here for sample text to help you draft your email. Please note: this action is for California residents only.
Appropriations Committee Members:
Sen. Patricia C. Bates (Vice Chair)
Phone: (916) 651-4036 | Email: This email address is being protected from spambots. You need JavaScript enabled to view it.
Sen. Steven Bradford
Phone: (916) 651-4035 | Email: This email address is being protected from spambots. You need JavaScript enabled to view it.
Sen. Maria Elena Durazo
Phone: (916) 651-4024 | Email: This email address is being protected from spambots. You need JavaScript enabled to view it.
Sen. Jerry Hill
Phone: (916) 651-4013 | Email: This email address is being protected from spambots. You need JavaScript enabled to view it.
Sen. Brian W. Jones
Phone: (916) 651-4038 | Email: This email address is being protected from spambots. You need JavaScript enabled to view it.
Sen. Bob Wieckowski
Phone: (916) 651-4010 | Email: This email address is being protected from spambots. You need JavaScript enabled to view it.
Photo: Pixabay