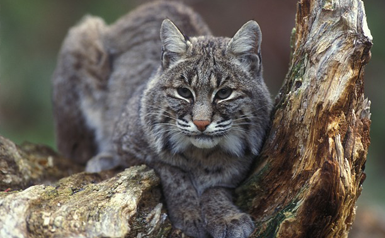 UPDATE: This action is now closed. AB 1254 passed the Senate Natural Resources and Water Committee on July 9.
On May 23, 2019, California Assembly Bill 1254 passed the Assembly Floor by a 54-21 vote (five members did not vote) and has now advanced to the Senate.
Introduced by Assemblymember Sydney Kamlager-Dove (D-Los Angeles), the bill creates a moratorium on the trophy hunting of the state's iconic bobcats. If enacted into law, the bill would make California the first state in the nation to ban the trophy hunting of bobcats.
Over the past decade alone, nearly 10,000 bobcats have been killed—the vast majority of which at the hands of ruthless trophy hunters. If left unchecked, the trophy hunting of California's bobcats could lead the population to extinction.
Having passed the Assembly Floor, the bill must now make its way through the California Senate. AB 1254 will be heard by the Senate Committee on Natural Resources and Water on July 9th. Your help is urgently needed to ensure the passage of this bill!
Help save bobcats from trophy hunters!
California Residents: If your senator sits on the Natural Resources and Water Committee (whose members and contact information are listed below), please urge them to SUPPORT AB 1254!
Sen. Henry Stern (Chair)
Phone: (916) 651-4027 | Email: This email address is being protected from spambots. You need JavaScript enabled to view it.
Sen. Brian W. Jones (Vice Chair)
Phone: (916) 651-4038 | Email: This email address is being protected from spambots. You need JavaScript enabled to view it.
Sen. Benjamin Allen
Phone: (916) 651-4026 | Email: This email address is being protected from spambots. You need JavaScript enabled to view it.
Sen. Andreas Borgeas
Phone: (916) 651-4008 | Email: This email address is being protected from spambots. You need JavaScript enabled to view it.
Sen. Anna M. Caballero
Phone: (916) 651-4012 | Email: This email address is being protected from spambots. You need JavaScript enabled to view it.
Sen. Robert M. Hertzberg
Phone: (916) 651-4018 | Email: This email address is being protected from spambots. You need JavaScript enabled to view it.
Sen. Ben Hueso
Phone: (916) 651-4040 | Email: This email address is being protected from spambots. You need JavaScript enabled to view it.
Sen. Hannah-Beth Jackson
Phone: (916) 651-4019 | Email: This email address is being protected from spambots. You need JavaScript enabled to view it.
Sen. Bill Monning
Phone: (916) 651-4017 | Email: This email address is being protected from spambots. You need JavaScript enabled to view it.
Photo: Pixabay