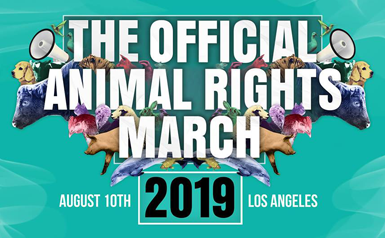 Calling all animal advocates! The Official Animal Rights March (TOARM) in Los Angeles, California will be held on Saturday, August 10, 2019!
Founded in 2016 by animal rights organization Surge, TOARM is an annual vegan march held worldwide to call for an end to animal oppression. In 2018, TOARM drew a global attendance of 28,000 animal activists in 25 cities around the world! This year, we want to see THOUSANDS of more people uniting for the animals!
Co-hosted by LCA and other animal rights organizations, the Los Angeles march will kick off in Grand Park (located in front of City Hall) in downtown Los Angeles and will include live music and vegan food trucks! You don't want to miss it—RSVP today!
Event Details:
WHAT: The Official Animal Rights March (TOARM) in Los Angeles, CA
WHEN: Saturday, August 10, 2019 (10:30 am am - 4 pm)

Photo: TOARM