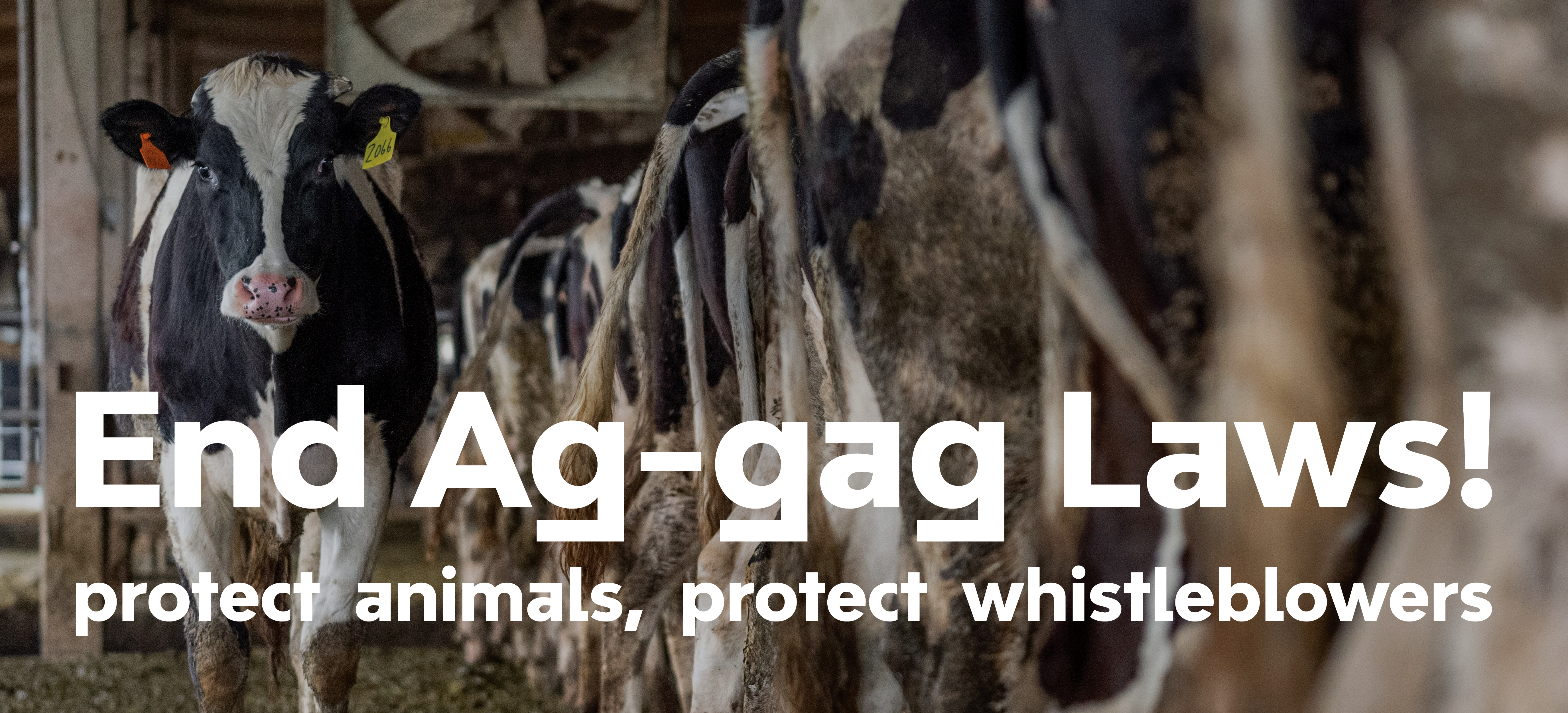 What is Ag-Gag?
"Ag-gag" is short for agricultural gag, and ag-gag laws refer to laws aimed at stopping the flow of information on how animals are treated in animal agriculture. These laws have been sweeping North America; in the U.S., ag-gag laws are being passed at a state level, and in Canada at a provincial level. Ag-gag laws prevent animal advocates, journalists and employees from revealing truthful information on the conditions faced by animals on farms, in slaughterhouses, and in transit by making it a crime to take photographs or videos of these facilities.
Ag-gag laws were devised and implemented as a direct result of undercover investigations by animal rights groups, such as LCA, revealing cruel conditions. Some agriculture industry groups encouraged government to protect their economic interests and introduced ag-gag laws to conceal what is happening in animal agriculture.
Watch the "Ag-Gag 101" video below to learn more.
LCA's Current Ag-Gag Campaigns
There has been a surge of ag-gag bills being passed across North America. However, ag-gag laws are constantly before the courts and changing; court battles are being waged to overturn ag-gag laws under grounds they are unconstitutional and violate Freedom of Speech. For example, the oldest ag-gag law in the United States was passed in Kansas in 1990; this law was overturned in 2020. An ag-gag law in Ontario is currently being challenged. Groups that challenge ag-gag laws include animal and human rights groups, labor unions, and journalist associations.
LCA is fighting back by monitoring pending ag-gag legislation and campaigning against new ag-gag bills as they arise.
LCA's Previous Ag-Gag Campaigns
Canada, 2021 - Bill C205 was an amendment to the Health of Animals Act. This federal ag-gag law would have made it an offence to enter, without lawful authority or excuse, a place in which animals are kept if doing so could result in the exposure of the animals to a disease or toxic substance that is capable of affecting or contaminating them. Penalties range from imprisonment of upto 2 years with fines of up to $250,000 for individuals and $500,000 for organizations are imposed. Bill C205 died after a federal election was called in September 2021.
Texas, 2019, 2021 - LCA would like to thank supporters who took the time to write their elected officials opposing HB 1480 / SB 472, legislation that sought to create an ag-gag law in Texas. Although HB1480/SB472 ultimately passed, problematic language that would have made whistleblowing a crime was removed. This isn't the first time Texas tried to pass an ag-gag bill: in 2019, LCA campaigned against Bill SB 1884, which died after not being heard on the house floor.
Manitoba, 2021 - LCA campaigned against Bill 62, the Animal Diseases Amendment Act, which seeks to silence activists by making it illegal to document farmed animals during transport, on farms, and in slaughterhouses. Although Bill 62 ultimately passed, problematic language that would have made whistleblowing a crime was not included in the Bill.
Ontario, 2020 - LCA campaigned heavily against Bill 156, an ag-gag law introduced in 2019. LCA's legal counsel testified before the Ontario Legislature; commissioned a poll that proved transparency in agriculture is important to Ontarians; wrote an op-ed that was published Canada-wide; and held a joint press conference with other animal rights groups to present footage of conditions discovered through undercover investigations into animal agriculture. Although Bill 156 passed, LCA is working to repeal this dangerous law.
Missouri, 2016 - LCA fought Missouri Bill HB 1414, which would have worsened an existing ag-gag bill by creating an "information blackout" for factory farms and puppy mills - blocking the public from learning about animal cruelty, toxic pollution and human health hazards like infectious diseases.
Arkansas, 2015 - LCA successfully defeated Arkansas Bill HB 1774, which would have banned audio recording between anyone in an employment relationship unless all parties consented. After LCA exposed the ag-gag bill via media and a petition, HB 1774 died quietly in committee. Unfortunately, Arkansas passed an ag-gag law in 2017. Tens of thousands of people signed LCA's petition against HB 1414, and on July 8, 2016, Governor Jay Nixon vetoed this dangerous Bill.
Map of Existing Ag-Gag Laws Across North America (Updated April 2021)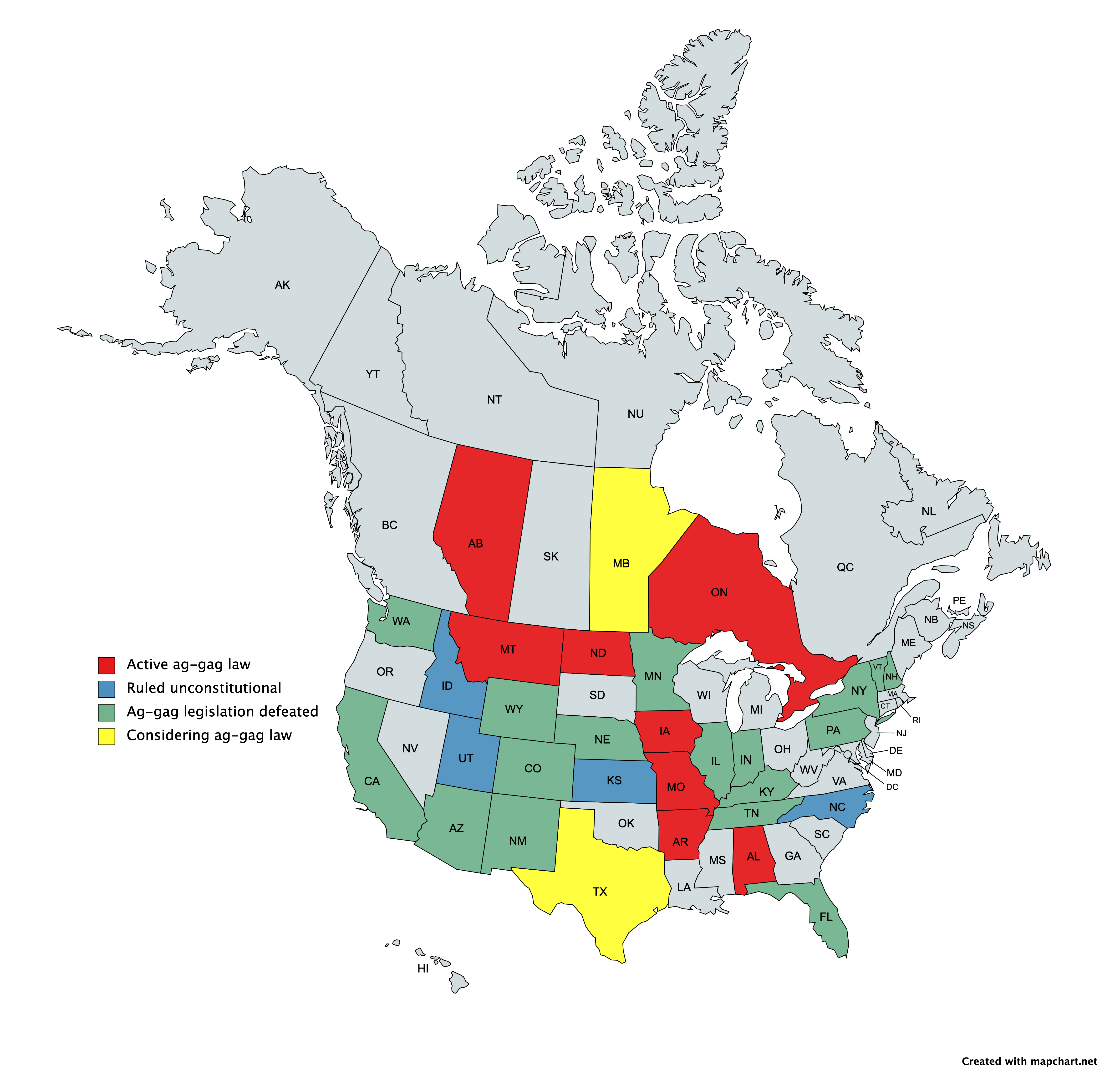 List of Existing Ag-Gag Laws Across North America (Updated April 2021)
Canada
Ontario, 2020 - Ontario's ag-gag Bill 156, Security from Trespass and Food Safety Act was enacted in 2020 and, similar to Alberta's ag-gag law, punishes whistleblowers who obtain employment under false pretences. Whistleblowers can be fined $15,000 for a first offence and up to $25,000 for subsequent offences.
Alberta, 2019 - Alberta passed Bill 27, Trespass Statues (Protecting Law Abiding Property Owners) Amendment Act in 2019 and became the first province in Canada to enact an ag-gag law. Bill 27 prohibits whistleblowers from obtaining access to property through false pretences and is punishable by fines of $10,000 for a first offence and $25,000 for subsequent offences. Groups facilitating whistleblowers could be punished with fines of up to $200,000.
United States
Iowa, 2019 - After two previous ag-gag laws had been struck down as unconstiutional, Iowa passed its third ag-gag law, SF 2413, in June 2019, prohibiting "agricultural production facility trespass" and allowing for the prosecution of people that use deception to gain access to agricultural facilities.
Arkansas, 2017 - Passed HB 1665, An Act to Create a Cause of Action for Unauthorized Access to Another Person's Property; and for Other Purposes in 2017. HB 1665 allows employers to sue whistleblowers who uncover crimes.
Missouri, 2012 - State Bill 631, Duty to submit videotape evidence of animal abuse or neglect, was signed into law in 2012. This quick-reporting law mandates that recordings depicting farmed animal abuse or neglect must be submitted to law enforcement within 24 hours of the recording.
Alabama, 2002 - The Farm Animal, Crop, and Research Facilities Protection Act was passed in 2002 and prohibts anyone from possessing records that were obtained by way of deception and accessing property under "false pretenses".
Montana, 1991 - The Farm Animal and Research Facilities Protection Act was passed in 1991 and prohibits the unauthorized entering into an animal facility to take pictures and video of the animals.
North Dakota, 1991 - The Animal Research Facility Damage Act was passed in 1991 and makes it a Class B misdemeanor to enter an animal facility and use or attempt to use a camera, video recorder, or any other video or audio recording device. Violators face a jail term of 30 days.
How You Can Fight Ag-Gag Laws
1. Follow LCA on social media - Facebook, Instagram, and Twitter - to keep up-to-date with the latest ag-gag news.
2. Sign up for LCA's email alerts to stay up-to-date with ag-gag news.
3. Voice your stance against ag-gag by contacting elected representatives in states and provinces where ag-gag laws have been passed. Let them know the legislation is unconstitutional. Find your state representatives by typing in your home address at www.votesmart.org. They will be located under the State Legislative tab. In Canada, contact your Member of Provincial Parliament and provincial Minister of Agriculture.
4. Need help? Email This email address is being protected from spambots. You need JavaScript enabled to view it. to learn what you can do.