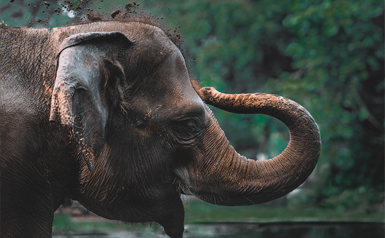 On Tuesday, June 18, 2019, SB 313—the Circus Cruelty Prevention Act—passed the California Assembly Committee on Water, Parks and Wildlife by a 9-2 vote (and two abstentions). The bill, which would ban the use of wild animals in traveling circuses, now moves to the Assembly Judiciary Committee.
In May, SB 313—which was introduced by Sen. Ben Hueso (D-San Diego) and co-sponsored by SCIL—passed the Senate Floor by a 34-0 vote. If enacted into law, California would join a growing list of more than 90 jurisdictions (including Hawaii and New Jersey) that have banned or restricted the use of wild and exotic animal acts in circuses.
SB 313's introduction comes two years after the Ringling Bros. and Barnum & Bailey Circus—the nation's most famous traveling circus—closed down after 146 years. The end of Ringling Bros. was a hard-won victory that followed decades of investigations and protests by LCA and other animal advocacy groups.
Animals used in circuses are routinely exploited for the sake of entertainment and profit. Circus animals do not willingly stand on their heads, jump through rings of fire, or ride bicycles. They must be conditioned to perform these tricks—a process which includes cruel training practices. In order to force these animals into submission, circus animals are routinely whipped, beaten with clubs and rods, and shocked with electric prods. Forced to spend excessive amounts of time in confinement, these animals are often deprived of their natural, physical and social needs, resulting in abnormal behaviors like rocking, swaying, head bobbing, and pacing—all of which indicate they are in severe distress and not coping well in their environment.
If passed through the Assembly Judiciary Committee, SB 313 must pass the Assembly Appropriations Committee and a final vote on the Assembly Floor before going to the desk of Governor Newsom to be signed into law.
Click here to learn more about circus cruelty.
Photo: Pixabay