Greyhounds in Macau, China Need Your Help Now!
The peninsula of Macau, China is home to a single dog track called the Canidrome. At the Canidrome, nearly 400 greyhounds are put to death every year.

According to the Macau Daily Times, dogs race four times a week. If they finish outside the top three in five races in a row, they are destroyed as the track has no adoption program. The head of Macau's animal control department has stated that every greyhound arriving at the track is dead within three years.

Every year hundreds of greyhounds are imported from Australia, and all are killed when they are injured or no longer profitable. An average of thirty new dogs arrive each month from Australia.
Greyhounds are imported from Australia to Macau for racing at the Canidrome
Last Chance for Animals has joined with Grey2K USA, Animals Australia, Animals Asia, ANIMA and other international animal rights groups to intensify the pressure on the governments of both Macau and Australia and ask them to put a stop to this cruelty.
WHAT YOU CAN DO:
EMAIL Macau Chief Executive Dr. Chui Sai On at This email address is being protected from spambots. You need JavaScript enabled to view it. and ask that the Canidrome be permanently closed.
EMAIL Australia's Minister for Agriculture, Fisheries and Forestry, Senator Joe Ludwig at This email address is being protected from spambots. You need JavaScript enabled to view it. and ask him to immediately halt the export of greyhounds to Macau.
SHARE this information with family and friends.
GREYHOUND RACING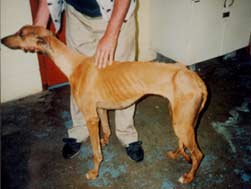 Photo Credit: Grey2K USA
The greyhound racing industry over breeds dogs in an attempt to produce champions. Only about 30% of the newborns will ever become racers; 20,000-28,000 surplus greyhounds are destroyed each year.
IT'S A DOG'S LIFE
Racing greyhounds are kept in cages, crates, or pens for approximately 22 hours each day. Most containers are as small as 3 x 3 feet and are not climate-controlled; the dogs suffer extreme weather conditions. They are let out of their cages only to relieve themselves, train, and race. Some greyhounds are kept muzzled constantly.
Racing greyhounds are typically fed raw, rancid meat, and denied basic veterinary care. They are often forced to race when they are injured or ill. Because the industry is not governed by the Animal Welfare Act, the Act's standards for the treatment and care of animals do not apply. Although greyhounds naturally live to be about 13 years old, the average lifespan of a racing greyhound is 3-4 years.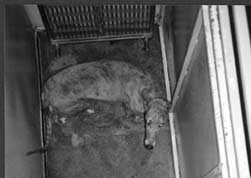 Photo Credit: Grey2K USAAilments Common to Racers
Broken legs
Internal and external parasites
Heat stroke
Heart attack
Accidental electrocution
Starvation
Dehydration
BAIT ANIMALS
Approximately 100,000 rabbits and other small animals are used as live bait to teach dogs to chase lures around the track. The rabbits are hung from horizontal poles and the dogs are encouraged to chase and kill them. Less aggressive dogs are sometimes placed in a cage with a small animal and not released or fed until they have killed it. In some states, training with live animals is illegal. However, industry insiders circumvent this legislation by sending the dogs to another state for training, as federal law allows greyhound racers to be shipped from state to state.
"RETIRED GREYHOUNDS"
When greyhounds become too sick or injured to race well, they are either:
Killed immediately
Abandoned
Bred to produce more champions
Sold to research facilities OR
Sent to foreign racetracks, sometimes in underdeveloped countries
WAYS IN WHICH RETIRED GREYHOUNDS ARE KILLED
Gunshots
Euthanasia
Electrocution
Gassing
Abandonment
Starvation
Bludgeoning
7 REMAINING STATES WHERE DOG RACING IS STILL LEGAL
Alabama
Arkansas
Arizona
Florida
Iowa
Texas
West Virginia
HOW YOU CAN HELP
If you live in a state where greyhound racing is legal, ask your representatives to ban it. Their contact information can be found by visiting: www.vote-smart.org
Volunteer with a greyhound rescue group
Adopt a retired greyhound; greyhounds make wonderful companion animals. Call 800-4-HOUNDS for more information.
Distribute anti-racing brochures at a racetrack in your area
Support legislation that bans greyhound racing
Write letters to the editor of local newspapers objecting to greyhound racing
Educate friends and family about the suffering involved in the greyhound racing industry

Spay and neuter your pet; because of the overabundance of companion animals, there are not enough homes for retired greyhounds