GREAT NEWS! THE LOS ANGELES RODEO DEVICE BAN PASSED COMMITTEE
The Los Angeles City Council P.A.A.W. (Personnel, Audits, and Animal Welfare) Committee passed the Rodeo "Tools of Torment" Ban December 7, 2022. The fight is not over, the Ordinance will next go before the Los Angeles City Council for a final vote. The vote is estimated to take place in January 2023. The Ordinance would ban the use of "Tools of Torment" (i.e bucking straps, electric prods, and sharpened spurs) that force animals to perform in rodeo events held in Los Angeles.
We participated in the Committee hearing and spoke during the public comment time. We also listened to the many public statement calls from supporters of the Ordinance. You did an outstanding job speaking up for the rodeo animals! We will let you know the exact date of the final vote and what actions to take.
HERE'S WHAT YOU CAN DO NOW!
Click here to leave a comment on the City Council file supporting the Ordinance. Note: After you comment on the L.A. City website, an email verification link will be sent to the email address you provided. You will need to click on the verification link in order for your comment to officially count.
Sample statement: Please pass the L.A. Rodeo Device Ban. A recent poll showed 72% of Los Angeles voting residents support the ban. There is no excuse for animal abuse in Los Angeles.
RODEO CAMPAIGN TIMELINE
Rodeos, and stand-alone bull riding events, glorify animal abuse as they masquerade as family entertainment. For example, horses and bulls do not buck naturally. These are scared animals bucking to escape torture devices common place at rodeos, such as electric prods, flank straps, and spurs. Afterwards, animal injuries can be numerous; broken bones, ripped tendons, torn ligaments, and snapped necks.
Los Angeles Councilmember Bob Blumenfield introduced the rodeo "tools of torment" ban that will prohibit the use of the rodeo's torture devices – specifically electric prods and shocking devices, spurs and rowels, and flank or bucking straps. The City Council needs to hear from you to pass ordinance #20-1575. The rodeo industry has been lobbying Council Members to vote against the ban, which is why it's important to voice your support.
The rodeo ban can be a victory, but your voice is needed. Click here for our downloadable and printable Rodeo Fact Sheet
NOVEMBER 14, 2022 - POLL SHOWS 72% OF LOS ANGELES RESIDENTS SUPPORT "TOOLS OF TORMENT" RODEO ORDINANCE
As the Los Angeles City Council considers an ordinance that would ban "tools of torment" from rodeo events in the city of Los Angeles, a new poll by Washington D.C. based Lincoln Park Strategies and commissioned by LCA, finds overwhelming support for such a ban. A poll of 600 Los Angeles residents found 72 percent support banning prods, flank straps, and other tools that force animals in rodeos to perform. The poll showed strong support for the Ordinance across all demographic groups, including 70 percent approval among Black respondents and 67 percent approval among Latino respondents. 80% of respondents did not know the rodeo was held in Los Angeles or knew little about them. Only 11% of respondents ever attended a rodeo event in L.A. and over 50% of people who attended a rodeo event supported the ordinance. Read press release here.
SEPTEMBER 20, 2022 - ALAMEDA COUNTY, CA VOTE TO BAN WILD COW MILKING
LCA submitted letters of support to the Board of Supervisors for an amendment to Alameda County Ordinance 5.08, that would ban the wild cow milking event and the use of bucking straps, spurs, and non-release ropes at rodeo events held in Alameda County, Ca. Good news! In October 2022, the Board of Supervisors voted unanimously to ban the wild cow milking event. Unfortunately, the language to ban the use of bucking straps, spurs, and non-release ropes was dropped from the Ordinance.
AUGUST 12-13, 2022 - BULL RIDING PROTESTS IN ANAHEIM, CA
LCA, along with Orange County Animal Liberation, hosted two protests against the Professional Bull Riding (PBR) event at the Honda Center in Anaheim, CA.
FEBRUARY 22, 2022 – BULL RIDING PROTEST IN LOS ANGELES
PBR (Professional Bull Riders) brought its exhibition of animal abuse to the Crypto.com Arena for the "PBR Pluto TV Invitational" bull riding competition.
LCA, joined by local animal rights groups and dedicated activists, protested the cruel "sport" of bull riding and the abhorrent abuse bulls are routinely subjected to at rodeos - including tools of torture (tight flank straps, spurs, electric prods) and the resulting physical traumas of bull riding (broken limbs, torn ligaments, and pulled muscles).
A few days before the event, a bull was injured at a different PBR event in Knoxville, TN. Click here to see the video. Rodeo lobbyists claim that bulls forced to compete in riding competitions claim the animals are so "well-treated", they have won 'the animal lottery'. Suffering gruesome injuries and being subjected to tools of torture does not resemble hitting the lottery. The rodeo is no excuse for animal abuse.
FEBRUARY 2, 2022 - PETITION CREATED URGING CRYPTO.COM ARENA TO BUCK THE RODEO
7,260 signatures were gathered on LCA's petition created to urge the Crypto.com Arena to cancel the bull riding event scheduled for 2/22/2022. Animal abuse was on full display at the "PBR (Professional Bull Riders) Pluto TV Invitational" event.
LCA's group sign-on letter, signed by a coalition of 9 animal rights groups, was directed at the Crypto.com Arena (link to letter) demanding the cancellation of the PBR event on 2/22/22. The Crypto.com Arena did not respond.
JANUARY 2, 2022 - L.A. RODEO ORDINANCE STALLED
LCA learned the L.A. City Rodeo Ordinance, that would ban the use of rodeo torture devices that torment animals into performing, is stalled in committee. While the city council dragged their heels, the rodeo will came to the Crypto.com Arena on 2/22/2022. The rodeo industry has lobbied heavily for the city council to vote against the pending bill. It is important for all of us to speak up against the rodeo performing in Los Angeles and keep the pressure on the rodeo industry and L.A. City Council. The rodeo has no excuse for animal abuse.
DECEMBER 22, 2021 - L.A. CITY ATTORNEY POSTS PROPOSED RODEO ORDINANCE - PUTTING BILL INTO MOTION
The L.A. City Attorney's office posted the proposed Rodeo Ordinance on the City Council website, officially putting the bill in motion for a vote. The next step is for the Personnel, Audits, and Animal Welfare Committee to vote on the Ordinance. If the vote is favorable, the Ordinance will be referred to the L.A. City Council to be voted on and passed into law.
The newly posted language of the Ordinance reads, "It shall be unlawful for any person to conduct, operate, or participate in a Rodeo at which any animal is induced or encouraged to perform through the use of any practice or technique, or any chemical, mechanical, electrical, manual device, or other similar device or implement, that will cause, or is likely to cause, physical injury, torment, or suffering. Prohibited devices include, but are not limited to, electric prods or shocking devices, flank or bucking straps, wire tie-downs, sharpened or fixed spurs or rowels, and lariats or lassos". Click here to read the full Ordinance.
OCTOBER 2021 - L.A. ANTI-RODEO BILLBOARDS ARE PLACED THROUGHOUT THE CITY
LCA placed 20 billboards around Los Angeles in support of the Rodeo Ordinance that would ban torture devices at rodeos. The billboards feature a bull roped in the mouth with the text "L.A.: Help Ban Torture Devices at the Rodeo" to raise public awareness about the issue.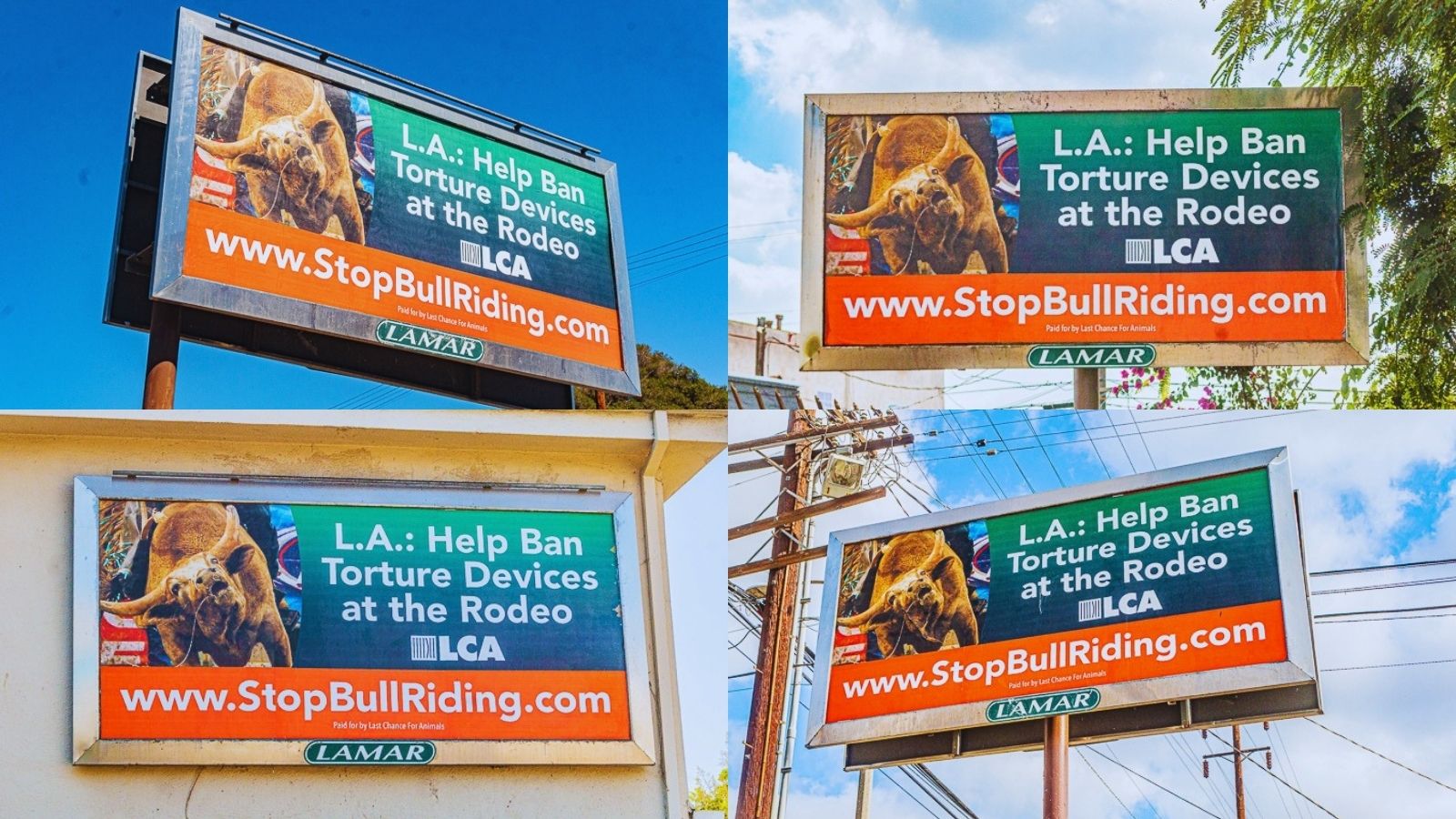 Four of the 20 LCA rodeo billboards placed around Los Angeles during 10/2021
FEBRUARY 23, 2021 - LOS ANGELES CITY COUNCIL VOTES IN FAVOR OF MOTION TO BAN TORTURE DEVICES AT RODEOS
L.A. City Council unanimously voted in favor of the motion, (File 20-1575),to draft an Ordinance banning the use of inhumane implements in rodeos and rodeo events. The next step is for the City Attorney to draft and then post the Ordinance on the City Councili Website.
FEBRUARY 17, 2021 - LOS ANGELES CITY COUNCIL "PAAW" COMMITTEE MOVES FORWARD TO BAN TORTURE DEVICES AT RODEOS.
A Personnel, Audits, and Animal Welfare Committee meeting was held, and a rodeo inhumane implements ban was one of the items on the agenda. The Committee voted in favor of the ban and it will now be referred to City Council to vote on. If City Council votes in favor of the ban motion, it will be referred to the LA City Attorney to draft the official Ordinance.
The L.A. City Council File # 20-1575, is titled "Inhumane Implements / Electric Prods or Shocking Devices / Flank or Bucking Straps / Wire Tiedowns / Sharpened or Fixed Spurs or Rowels / Prohibition / Rodeo Events" and was put forward in December 2020 by CouncilMember Bob Blumenfield (District 3) and seconded by CouncilMember Mitch O'Farrell (District 13).
---
PREVIOUS RODEO CAMPAIGNS
FEBRUARY 8, 2020 - BULL RIDING PROTEST AT LOS ANGELES STAPLES CENTER
LCA and a coalition of animal rights groups held a demonstration at the Staples Center in Los Angeles, CA, to protest the Professional Bull Riders' (PBR) exhibition of animal cruelty. The demonstration drew a large crowd of passionate animal advocates to protest the abhorrent cruelty of bull riding - a "sport" that abuses animals for profit. LCA started a petition urging the LA City Council to ban rodeos and rodeo type events in Los Angeles. Click here to sign the petition urging the Los Angeles City Council to ban rodeos!
JULY 14, 2019 - HELP BAN CHUCKWAGON RACES IN CALGARY, CANADA
Three horses were euthanized after sustaining serious injuries during the final night of chuckwagon races at the Calgary Stampede's Rangeland Derby. In total, six horses were killed--making this 10-day event the deadliest in almost a decade! Click here to sign the petition urging the Calgary City Council to ban the cruel chuckwagon races!
FEBRUARY 23, 2019 - BULL RIDING PROTEST AT LOS ANGELES STAPLES CENTER
LCA, along with actress/activist Donna D'Errico and a coalition of animal rights organizations, protested PBR's (Professional Bull Riders) abhorrent abuse of bulls for profit. The demonstration at the Staples Center drew a large crowd of protesters who educated passers-by on the cruelties of bull riding. This was the firs time PBR's "Unleash the Beast" Tour brought its exhibition of animal cruelty for their "Iron Cowboy" bull riding competition.
JULY 16 - 19, 2015 - ANTI-RODEO ADS ON MAJOR NETOWRKS
LCA and fellow animal rights organization, SHARK (Showing Animals Respect and Kindness), released four anti-rodeo television ads showing the truth of animal cruelty in rodeos. The ads coincided with the Salinas Rodeo in California and aired on CNN, Fox News, MSNBC and other major networks. Click here to read the press release.
---
WHAT ARE RODEOS AND RODEO-TYPE ACTIVITIES?

Rodeo animals, like bulls and horses, are generally tame creatures who must be provoked into battle. Rodeo contestants practice their "sport" on numerous animals, at times injuring and killing many of them before they even enter the ring. Depending on the event, a contestant's score is based on how long he can ride a struggling animal, or how quickly he can overpower an animal, e.g., calf roping and steer wrestling. Sprains, broken bones, muscle pulls, saddle blisters, spur and flank strap wounds, broken ribs, bruising, and broken necks are all very common. Wounded animals are quickly removed while the rodeo announcer distracts the public, and animals that become too injured are killed.
BULL RIDING
Rodeo handlers often shock the bull repeatedly using a 5,000-volt electric prod while he is trapped in the bucking chute in order to torment him. In the ring, the bull bucks and struggles because of the pain inflicted by the flank strap while the participant attempts to control him. Bucking straps and spurs can cause the bull to buck excessively, thereby injuring him.
Bull Injuries
CALF ROPING
Three- to four-month-old calves are tormented in the holding pen. Their tails are frequently scraped across the pen's metal bars until they bleed. Other times, their tails are twisted, or the animals are shocked with electric prods until the gate opens. As a result, they run quickly into the ring. The contestant, who is mounted on a horse, chases a calf, then lassoes him by the neck. The rope often jerks the calf into the air, snapping his head back and causing him to gasp for air. He then falls to the ground where the contestant ties three of the calf's hind legs together so that he cannot move.
Calf Injuries
Broken legs

Back injuries and broken backs

Spinal cord paralysis

Neck injuries and broken necks

Severed tracheas

Internal hemorrhaging

Damage to internal organs

Bruises

Torn ligaments
STEER WRESTLING
The contestant, mounted on a horse, chases the steer out of the holding chute. He grabs the steer's horns while dismounting, twists the animal's neck, and slams him to the ground.
Steer Injuries
Broken necks

Torn ligaments

Broken bones

Severed spinal cords

Severed tracheas

Internal bleeding
BRONC RIDING
The "flank" is the area of the animal's body behind his rib cage. An adjustable belt called a "bucking strap" or "flank strap" is placed around the horse's flank. The contestant tightens the belt, which pinches the animal's groin and genitals, causing him to buck from the pain. He also spurs the horse.

Horse Injuries
Broken neck

Snapped spine

Back problems

Tears in leg tendons
BUCKING EVENTS
In the holding chute, handlers may incite the bucking horse by shocking her, pulling her mane or tail, or slapping her face. The bucking strap and spurs cause her great pain and sometimes produce bloody wounds in the flank area. She will buck uncontrollably as a result, sometimes slamming into fences, posts, or chutes. Eventually, she will trip and fall.

Horse Injuries
Back injuries

Leg injuries
STEER TRIPPING
A steer is forced to run while the mounted contestant throws a rope around his horns. He then flips the rope to the right side of the steer, while turning his horse, who is galloping, to the left. The steer's head and neck are jerked, causing him to be tripped, rolled, and dragged. His legs are then tied. If the steer does not stay down the first time, he will be tripped and dragged until he does so.

Steer Injuries
Fractured horns

Neck injuries

Back sores

Hip sores
---
TRICKS OF THE TRADE — PAINFUL TOOLS USED TO INCITE RODEO ANIMALS
Electric prods

Sharp sticks

Caustic ointments

Flank straps

Whips

Raking spurs
RULES AND REGULATIONS
There is no overall code of rules applicable to all rodeos. The rules that do exist are inadequate and leniently enforced, and penalties are very weak. Rodeo contestants are rarely disciplined for injuring or even killing an animal. Rules requiring a veterinarian to be present at every event and to provide immediate veterinary attention to injured animals must be established and enforced at once.

TRANSPORTATION
Rodeo animals travel constantly in cramped, double-deck trailers or pens. The trailers are frequently inadequately ventilated, and the animals are often fed and watered erratically. They do not receive proper veterinary care. Animals that break free from their pens are commonly shot by police.
DEATH
Rodeo calves, cows, and steers are seen as expendable. Thus, most live rather short lives. Almost all rodeo animals end up in the slaughterhouse.