The Correlation Between Animal Cruelty and Violent Behavior
Luka Magnotta: Animal Abuser Turned Alleged Murderer
In 2010, the then 27-year-old Canadian, Luka Magnotta, first appeared on the animal rights radar when he started posting horrific videos of animal abuse on the internet. The videos began with the torture and suffocation of kittens then progressed to a kitten being fed to a snake. The well-known models and animal rights activists, the Barbi Twins, were the first to take notice and asked LCA for their professional opinion of the legitimacy of the videos. LCA was one of the few organizations that did not dismiss the videos as fake. LCA reached out to law enforcement in the U.S., Canada, and to Interpol about the videos but didn't receive a response.
The cruelty and abuse of the animals in the videos was a warning sign of the progression to come from crimes against animals to crimes against humans. When interviewed about one of the videos showing the torture of kittens, Magnotta told a reporter, "Well, I have to say goodbye for now, but don't worry, in the near future you will be hearing from me again. This time, however, the victims won't be small animals."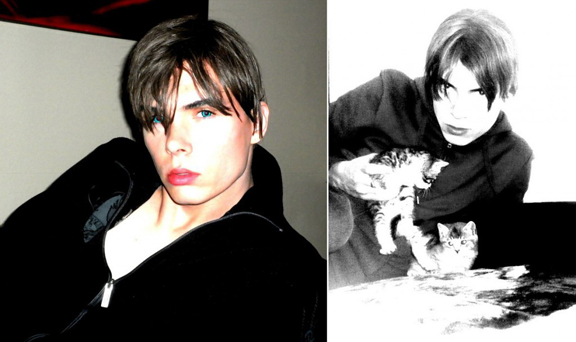 On May 25, 2012, Magnotta posted a gruesome video on the internet of the murder and dismemberment of his alleged ex-lover, a Chinese exchange student named Lin Jun. The video, which showed a tied-up Jun repeatedly being stabbed with an ice pick and kitchen knife before being dismembered, was later dubbed as "1 Lunatic 1 Ice Pick." Initially dismissed as a fake by officials, the police later confirmed the video as being authentic.
Magnotta fled Canada when an international manhunt for him began after severed human limbs were received by the offices of Canadian political parties.
LCA offered a $7,500 reward for any information leading to the arrest and conviction of Magnotta. In addition, in an effort to track down the murderer and animal abuser, LCA's Special Investigations Unit (SIU) took unprecedented steps to try and flush him out. Taking clues from the thousands of pages of pseudonyms and online posts by Magnotta over the years, LCA's SIU accurately predicted Magnotta would be checking websites and videos of himself from mobile devices and internet cafes while on the run. The SIU attempted to lure the killer, or his companions, out using covert tactics often reserved for law enforcement and intelligence agencies.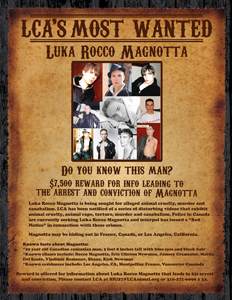 SIU investigators posted a video about Magnotta, dubbing him "The James Dean Killer." A second video titled "1 Man 1 Icon" was posted to continue the façade using family photos of Magnotta not yet featured in the press. The sites quickly received numerous hits and the word spread. Both sites received hits from France and Germany when Magnotta was in those countries.
During the course of the investigation, SIU investigators made contact with several individuals who may have been Luka, or close associates of Luka. The information gathered was turned over to law enforcement. When Magnotta was apprehended and arrested, reports stated he was watching YouTube and viewing images and videos of himself.
This case clearly demonstrates a link between cruelty to animals and violence toward humans. LCA is pushing for tougher sentences to be handed out to animal abusers and an "animal abusers" offenders list. Animal abusers convicted of crimes against animals should be put on a watch list, just as sex offenders are, so they can be monitored for continuing and escalating behavior and can be stopped before committing more heinous crimes.
LCA's Chris DeRose appeared on HLN's Jane Velez-Mitchell to talk about how animal abuse is the first step to violent and fatal crimes towards humans.
The connection between animal cruelty and human cruelty is REAL. In 1997, a study co-authored by Northeastern University found that animal abusers were FIVE TIMES more likely to commit violence towards people.

The FBI recognized the correlation between animal cruelty and human cruelty about 30 years ago. In fact, the FBI recognizes animal cruelty as a "first warning sign of potentially dangerous criminal conduct." The FBI further advises law enforcement agencies that animal cruelty perpetrated by minors is "highly predictive" and may even be a "rehearsal for targeting humans." For example, the Columbine school killings were carried out by teenaged perpetrators who "graduated" from torturing small animals to slaughtering humans. The Columbine killings were estimated to cost taxpayers over $50 million dollars.

In October 2010, Suffolk County, New York passed the nation's first animal abuser registry. A bill for an animal abuse registry in California passed the California Senate in 2010 but failed to advance further due to exorbitant cost estimates provided by the California Department of Justice.

The vast majority of lawmakers do not care about animals. We need to get the public to realize how strong the correlation is between animal cruelty and human cruelty – so stronger laws will go into effect to help stop the animal cruelties that are happening across the country in large numbers.

It's HIGH TIME animal abusers are brought to justice and animal cruelty laws are strengthened!
What You Can Do:
Locate your state legislators at www.Congress.org and urge them to enact an animal abuse registry if one does not already exist.