In Your Face: From Actor to Animal Activist
A True Story by Chris DeRose
—

2nd Edition (Copyright

© 1997, 2016)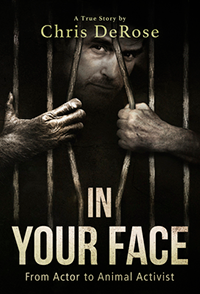 In Your Face is former actor Chris DeRose's firsthand account of how he investigated and finally busted some of the most heartless and corrupt federally licensed pet-theft rings in the nation. This is no dry autobiography; it's a passionate story of personal involvement and commitment. DeRose takes you to the front lines of the fight to show you what direct action on behalf of animals means: covert infiltrations into pet-theft operations, entering vivisection labs and witnessing atrocities almost too terrible to believe, getting shot in the back by an FBI informant, and being arrested and sent to jail and solitary confinement for civil disobedience.
DeRose shoves the facts straight in your face and dares you to ignore them. He invites you to share his rage, grief, and triumphs in his efforts to stop animal suffering. By the time you've finished this book, you may be ready to join him in the fight for justice, whether the victims are animals or people.
Order In Your Face directly from LCA:
In Your Face is also available in the following formats:
*All prices are subject to change.