Adopt, Don't Shop!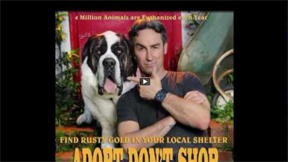 Watch American Picker Mike Wolfe's Adopt Don't Shop PSA for LCA by Christopher Ameruoso The Problem with Pet Stores
Most of the puppies sold in pet stores come from puppy mills. Purchasing pet store animals means not only supporting the cruel puppy mill industry but also taking a home away from one of the 4 to 5 million unwanted shelter animals killed each year. Because of the inbreeding and filthy conditions common to puppy mills, they often produce animals with serious health problems which typically result in hefty vet fees. On top of this, pet stores generally do not socialize their animals. The puppies may consequently develop behavioral problems which do not make them ideal as pets. Pet shops dispose of unsold animals in, at times, unscrupulous ways.

For instance, former pet store employees have reported finding animals starved or frozen to death. Last Chance for Animals' (LCA) "Puppy Mill Free Stores" campaign is aimed at: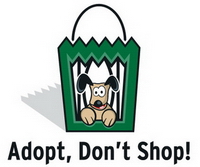 Stopping pet stores from selling puppies supplied by puppy mills, beginning in the Greater Los Angeles area

Educating the public to "ADOPT, DON'T SHOP!" when choosing a companion animal

Establishing Los Angeles as a national model for putting an end to the puppy mill industry

Working with pet store owners by educating them about the horrific conditions and inherent cruelty of puppy mills

Supporting pet stores when they agree to stop selling puppies from puppy mills and to deal only in rescue and shelter dogs (it is not LCA's intent for the stores to go out of business).
LCA is working towards making Los Angeles a no-kill city, where pet stores no longer support puppy mills and breeders, but shelter animals and rescue groups. LCA is committed to oversee and endorse pet stores in Los Angeles that are willing to change their business practice and re-home shelter animals.
VICTORY! CA Governor Brown Bans the Sale of Mill Animals in Pet Stores
On October 13, 2017, Governor Jerry Brown signed California A.B. 485: the Pet Rescue and Adoption Act into law, banning the retail sale of commercially bred dogs, cats, and rabbits in pet shops across the state. The law went into effect on January 1, 2019, and requires all California pet stores to only sell dogs, cats, and rabbits obtained from local pet shelters, humane societies, and rescues. California is the first state in the nation to pass such legislation, which aims to stop neglectful animal breeders from profiting off of the sale of dogs, cats, and rabbits in order to give California's homeless pets a greater chance of finding a home.
Success Stories
December 2007
LCA's Special Investigation Unit (SIU), along with volunteer Kim Sill, began investigating the practices of pet stores in Los Angeles. High profile stores that sold expensive puppies to the public that originated from cruel and inhumane "puppy mills" were targeted. Often these stores were practicing consumer fraud by misleading the customer about the puppies' actual origin.

Utilizing an undercover camera, the SIU captured the owners, managers, and employees of these stores stating that their puppies are "healthy" and came from breeders living on idyllic sounding "ranches" that are "USDA licensed." LCA investigators traveled to the locations where the dogs were bred, either in Los Angeles County or the Midwest and documented the grim reality of the puppies' birthplace and the cycle of misery their parents were kept in.

April 2008
The SIU targeted "OrangeBone," a trendy, upscale pet store on Melrose Avenue in Hollywood that sold puppies of various breeds from puppy mills ranging from $1,800 to $3,500. The then owner of the store was very savvy. While Kim was posing as a customer with a hidden camera, the owner thought he recognized her from one of the many pet store protests she led that had been uploaded to Youtube.

The SIU and Kim continued to investigate and protest other Los Angeles pet stores while educating the public about the puppy mill-pet store connection. From the non-stop weekly, peaceful protests and undercover investigations, LCA shut down four pet stores in Los Angeles that sold dogs originating from puppy mills.

April 2008
Oprah Winfrey aired a special on puppy mills in the U.S. and brought the issue to the attention of millions of viewers. Oprah said the show is "for anybody anywhere who loves a dog, has ever loved a dog, or just cares about their basic right to humane treatment. I would never, ever adopt another pet now without going to a shelter to do it. I am a changed woman after seeing this show".

December 2008
OrangeBone on Melrose had a new owner, Clark DuVal. Using LCA's undercover tape of puppy mill conditions, LCA began educating Clark about the large-scale puppy mill industry and how his pet store was contributing to the problem. Through a series of educational meetings, LCA convinced Clark to stop selling dogs that he purchased from major nationwide puppy distributors Hunte and Lambriar, and instead sell only rescue and shelter dogs.

January 2009
OrangeBone becomes the first Humane Pet Store in the nation!
| | |
| --- | --- |
| LCA and OrangeBone faced many challenges, including a collapsing economy, the huge reduction in price from selling "designer dogs" to mixed breed dogs, and the inescapable reality that about 90 percent of animals in shelters, including new born puppies, have already contracted a range of potentially deadly diseases. A protocol was created for every puppy going first to OrangeBone and then to a new home; they were treated for any potential diseases or health problems they might have and also spayed or neutered, which is unheard of in a traditional pet store. | |
Before teaming up with LCA and going humane, OrangeBone sold about 40 dogs a month at high prices. In order to be profitable and present a viable solution to the puppy mill-pet store cycle, OrangeBone would have to re-home at least 60 healthy dogs monthly. Rescue organizations, such as The Brittany Foundation and Animal Alliance rallied together to ensure the success of OrangeBone; volunteers assisted with the care and maintenance of the puppies and the store. Very quickly, a store that had sold expensive dogs that originated from puppy mills was transformed into a place of hope and kindness towards animals. OrangeBone has become a compassionate, realistic solution to not only the puppy mill problem but also to pet overpopulation.
LCA wishes to thank Katherine and Nancy Heigl for their compassion and continuing support that has contributed greatly to the success of "Puppy Mill Free Stores".
| | |
| --- | --- |
| OrangeBone After Going Humane | |
January 2009
Now LCA was offering a viable solution and a total paradigm shift to the inhumane practices of the pet store industry and the pet stores they supply. It is projected that OrangeBone alone will re-home approximately 900 shelter and rescue dogs annually. It is estimated that for every puppy mill dog that is bought by uninformed consumers, TWO dogs die from breeding, neglect, illnesses, and the horrors of transportation. The number of lives saved from ONE pet store going humane will be nearly 3,000 annually!

February 2009
LCA hosted a star-studded event to launch OrangeBone as the nation's first Humane Pet Store!
| | |
| --- | --- |
| Clark DuVal, Cori & Susie Feldman and Chris DeRose | |
There is growing public support of Puppy Mill Free Stores and the new humane pet store model. Through education and the media, people are becoming aware of the cruelty of the puppy mill-pet store connection, the resulting problems of pet overpopulation, and the misery of overcrowded shelters.

J.T. Austin, Geezer Butler, Rachelle Carson and Ed Begley, JR., Elizabeth G. Daily, Corey and Susie Feldman, Katherine Heigl, Quincy Jones, Kim Kardashian, Jack Lesley, Cesar Millan, Sharon Osbourne, Charlotte Ross, Bianca Ryan, and Diane Warren are just a few who support LCA's new humane pet store model and "ADOPT, DON'T SHOP!" campaigns.

The Work Continues
Selling only rescue and shelter puppies is a bold venture; nothing like this has been attempted before. While the program is exciting and innovative, it's still in its infancy and needs your support! LCA cannot do it alone. With your help, LCA can bring the cruel puppy mill industry to its knees. The solution has been implemented; the humane pet store model.

Your help is needed to assure its continued success:
Do not buy products from pet stores that carry puppies from commercial breeders

Support the pet stores that have gone humane

Educate others to "ADOPT, DON'T SHOP!"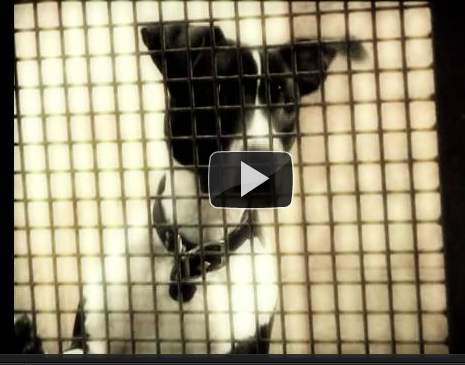 Watch LCA's Adopt, Don't Shop PSA by Christopher Ameruoso

Learn more about: What You Can Do