Grand jury indicts the Hump restaurant and sushi chefs in whale meat undercover investigation case
Typhoon Restaurant, Inc., the parent company of the Hump and two of its sushi chefs, Kiyoshiro Yamamoto and Susumumu Ueda, have been indicted by a federal grand jury on charges including the sale of sei whale meat. Other charges listed in the nine-count indictment include conspiracy to import and sell meat from the endangered sei whale (protected under the Marine Mammal Protection Act) and lying to federal investigators. Allegedly, the chefs ordered the whale meat from Ginichi Ohira, who has already pleaded guilty to a misdemeanor charge. If convicted, Yamamoto faces up to 67 years in prison; Ueda, a maximum of 10 years while Typhoon faces fines totaling $1.2 million.
In October of 2009 LCA's Special Investigations Unit (SIU) was informed by a member of the Sea Shepherd Conservation Society, that a sushi restaurant called "The Hump" in Santa Monica, CA was allegedly selling whale meat sashimi. The SIU, along with the Oceanic Preservation Society's (OPS), Louie Psihoyos and Charles Hambleton, the crew behind the Oscar Award-winning documentary "The Cove" which exposed the Taiji dolphin slaughter in Japan, set up a sting operation. LCA provided undercover cameras and other technical support needed for the operation.
Two OPS operatives managed while dining at The Hump, to slip some of the meat that was identified by Hump staff as whale meat, into Ziploc bags as evidence. The samples of tender whale meat were sent to a scientist in Oregon, who determined the meat to be Sei whale, an endangered species. The Sei whale is a baleen whale found throughout the world's oceans and known for its graceful and quick swimming and its long, low vocalizations. Fully grown, the mammal is longer than a bus.
OPS turned over their findings to the National Oceanic and Atmospheric Administration, the United States Fish and Wildlife Service, the California Department of Fish and Game, and the federal Customs and Border Protection agency, which all concluded that the restaurant was serving endangered Sei whale as sushi. On March 10, 2010, Federal law enforcement officials brought charges against Typhoon Restaurant Inc., which owns The Hump restaurant, and sushi chefs Yamamoto and Ueda. They were charged with illegally selling the meat of an endangered animal.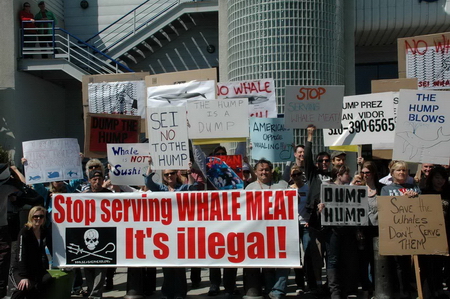 Dump the Hump
Then on March 12th, LCA participated in a large rally protesting the actions of the Hump at its location at the Santa Monica Airport. LCA joined Pelican Rescue, the Sea Shepherd Society, OPS and other groups in a concerted effort to show the owners of the restaurant that their actions were intolerable. The protest was just as successful as the investigation, and a few days later, the owners of Typhoon announced the Hump restaurant would be permanently closed.
The restaurant parent company and the chefs are due in U.S. District Court in February 2013.
Massive demonstration protesting the Hump
Restaurant, October 12, 2010

Stop the slaughter of all ceteceans