World Kennels Puppy Mill Investigation
Watch The Dog Whisperer: Inside Puppy Mills
LCA's SIU Investigator Blog: "From Pet Store to Puppy Mill"
When LCA's Special Investigations Unit (SIU) began looking into the practices of boutique pet stores in Los Angeles selling "designer" dogs for up to $3,500, I would pose as a customer with Kim Sill (our stalwart volunteer) and ask the salesperson a simple question, "Where do your dogs come from?" Invariably the answer was that the dogs came from a "local breeder" and the mother and father dog live "on a ranch" – and this idyllic picture would be painted of where the puppy came from. In a way it makes the customer feel good that for the money they're paying, they're receiving something special. Smelling a rat, we worked backward and found the location of the dog's origins, the idyllic "ranch" and drove out to take a look.
We found the "ranch," called World Kennel, 70 miles north of Los Angeles in the Palmdale area. With a simple look over a high fence with some binoculars and a video camera, we discovered a breeding system where the parent of that puppy in the window is kept in a cage or on concrete its whole life. The noble "mother" portrayed by the salesperson was actually bred over and over again from various sires and most likely had no idea how to run on grass, or what a dog treat tastes like. We also discovered that the breeding facility which normally would be approved to keep as much as 265 dogs six months earlier had recently exploded to a population of 403! SIU kept World Kennel under surveillance and set out to discover several more breeding facilities or "ranches," as they like to say in the pet stores, which were also breeding dogs in huge numbers. To our shock, we began to understand that somehow Los Angeles was becoming the puppy mill capital of the West Coast. Last Chance for Animals had to do something about it.
As it turns out, so did Cesar Millan. When the producers of the Dog Whisperer asked us to take Cesar out with us on our ongoing investigation, I was honored. When the idea came up of getting Cesar inside a puppy mill, I was baffled. How do you get the most recognizable dude associated with dogs into a dog factory? However, if there's one thing Chris DeRose and our investigators are good at it, it's getting people to let us in. While shooting outside a puppy mill in the desert, we were approached by the owner. Chris DeRose convinced the owner that we were just there to inspect and approve the dog factories and Cesar would help us to see that the dogs there were happy. Within seconds, I was in a pickup truck with Cesar and the owner, being driven to his kennel, making sure I had enough tape in my hidden camera to capture my little version of history: Cesar Millan inside a puppy mill. While Cesar quipped with the cagey owner and toured the place, I tried to shoot the action with the camera hidden in my shirt. Somehow our investigation into the practices of puppy mills in Southern California was resulting in getting the most recognized authority on dogs to see firsthand the conditions that create these dogs' chronic behaviors. It was awesome.
As we returned back to the crew who was wondering "what happened inside there?" I recalled that we were getting the answer to that one simple question we'd asked 6 months before: "Where do your dogs come from?" And the answer, through the eyes of Cesar Millan, was simple... They come from puppy mills. —LCA's Director of Investigations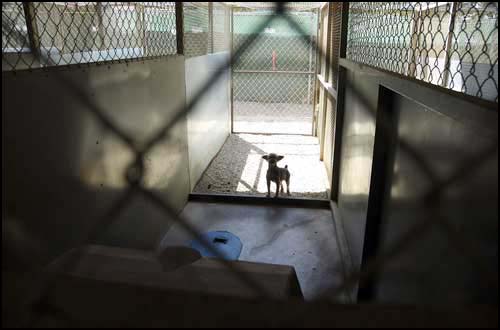 Undercover photograph of Yorkshire Terrier at World Kennel, April 29, 2009
In May 2008, as a result of LCA's SIU investigation, World Kennel was ordered to reduce the population of dogs in their breeding facility from 402 to 100. Their current population of dogs is about 135. This photograph represents the life of just one of those dogs inside this Southern California "puppy mill".