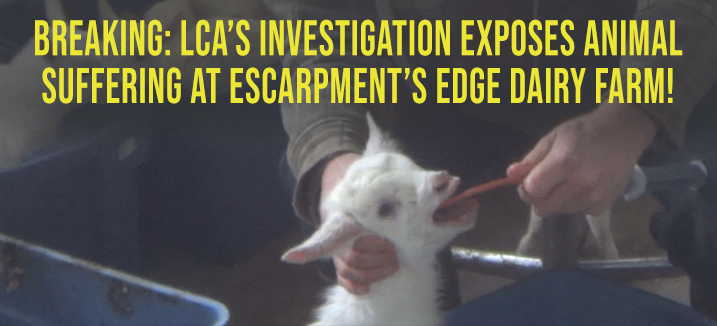 JANUARY 2, 2020 - LCA released an undercover investigation conducted into the practices at Escarpment's Edge Dairy (EED), a goat farm in Caledon, Ontario, in the fall and winter of 2018, where the owner and former director of the Ontario Goat Breeder's Association raises goats and has supplied products to Hewitt's Dairy, a member of the Gay Lea Foods Co-operative.
LCA's investigator witnessed goats being dragged and pulled by their legs, goats crawling on their knees with overgrown hooves and goats with lesions and infections. Inadequate fencing and dangerous conditions resulted in goats escaping from their pens and one goat falling into a pit. Baby goats, separated from their mothers were heard crying out at the farm. On one occasion, the owner of EED told LCA's investigator that he "may have done some damage in there" in regards to a baby goat when he was tube feeding it.
Warning: Video contains graphic footage.
The owner admitted to treating one goat by injecting penicillin into her vein. Penicillin is to be injected intramuscularly only and can be fatal when injected into veins.
Dead goats were left untreated around the farm. LCA's investigator observed goats getting their heads trapped in fencing while other goats in the same enclosures looked on. One goat died while trapped in a fence. A suspected listeriosis outbreak was observed during the investigation. The owner told LCA's investigator there was nothing they could do.
In the milking parlor, goats could be seen with the placenta still hanging from them.
The unimaginable suffering that these animals experience for humans' unnecessary consumption of their products is nothing less than deplorable.
COMPLAINTS FILED
Due to concerns about the care and wellbeing of the animals at EED, LCA filed complaints in March 2019 with the Ontario Society for the Prevention of Cruelty to Animals (OSPCA) and the Ontario Provincial Police (OPP) and in April 2019 with the Ontario Ministry of Agriculture, Farm and Rural Affairs (OMAFRA).
The complaints were filed based on concerns that EED may not have met certain standards of care prescribed by the OSPCA Act as well as certain standards under the Recommended Code of Practice for the Care and Handling of Farm Animals – goats.
The complaint included concerns about potential violations of standards in regard to:
Animals being permitted to suffer,
Inadequate medical attention,
Spoiled and contaminated food and,
Inadequate fencing causing animals to escape, become trapped and causing injury, pain or distress.
The complaint also included concerns about EED's meeting OMAFRA's regulations with respect to the handling of deadstock.
PENDING INVESTIGATION OUTCOME
Due to lack of funding and government support, the OSPCA announced on March 4, 2019, that after 100 years, they will no longer investigate livestock complaints after June 2019.
LCA's complaint was forwarded to the OPP. The OPP and OMAFRA, inspected EED multiple times as a result of LCA's complaint. LCA has requested results of these inspections from OMAFRA.
No charges have been laid against Escarpment's Edge Dairy.
GAY-LEA FOODS – ANIMAL WELFARE POLICY
Gay Lea Foods states the following on their website: "We are committed to promoting high standards of care and welfare on Canadian dairy farms, and are fully supportive of a strong animal welfare system that includes scientifically informed codes of practice for animal care and handling."
They also claim they will sever ties with farmers who do not comply: "Gay Lea Foods/Hewitt's also reserves the right to permanently discontinue any purchasing agreement with any individual dairy goat farm/farmer during and/or after a confirmed credible case of animal neglect or abuse. Provincial dairy farm organizations likewise reserve the right to suspend the license of any individual dairy farm or farmer when a credible case of neglect or abuse has been confirmed."
WHAT YOU CAN DO:
1. Urge the Government of Ontario to act and form a qualified organization to enforce animal protection laws in Ontario immediately. The need is urgent with the OSPCA no longer investigating cases involving farm animals and the Ontario Provincial Police having limited resources and training to handle matters of animal cruelty.
Doug Ford, Premier of Ontario
Email: This email address is being protected from spambots. You need JavaScript enabled to view it. | Twitter: @fordnation

2. Contact Gay Lea Foods and pressure them to stand by their commitment to promoting high standards of animal welfare and ask them not to do business with Escarpment's Edge Dairy.
Head Office Gay Lea Foods: 1-800-268-0508
Michael Barret, President, and CEO, Co-Operative Ltd.
Twitter: @59Studebaker | Address: 5200 Orbitor Dr., Mississauga, Ontario, L4W 5B4
3. Boycott products sold under the Gay Lea brand name: Ivanhoe, Salerno, Hewitt's, Black River, Lacteeze, Nordica, Franco's, Longlife, Churn 84, Gos and Gris.
| | | | |
| --- | --- | --- | --- |
| Baby goats separated from mothers | Dead baby goat | Dead goat in manure | Dead goat #1297 |
| | | | |
| | | | |
| Dirty drinking water | Goat caught in fencing | Goat fallen into open pit | Goat pulled by leg |
| | | | |
| | | | |
| Goat with head injury | Goat with tube down throat | Infected goat teat being milked | Overgrown hooves |
| | | | |
| | | | |
| Placenta still attached | Potentially contaminated hay | Sores on goat | Walking on knees with overgrown hooves |
| | | | |