LCA Investigation of Marineland Canada's Land Animals Leads to Animal Cruelty Charges by the OSPCA!
UPDATE: Justice Denied — All Charges Dropped
On August 10, 2017, Crown prosecutors decided to drop all charges against Marineland Canada. Despite having sufficient evidence to proceed on several of the charges, the Crown stated that they believed that it was in the public's interest to drop the matter.
The Crown's decision to drop all charges is shameful. It is the government's responsibility to hold Marineland accountable and enforce existing animal welfare laws. There has been a tremendous increase in the public's awareness of the plight of captive wildlife and cruelty will not be tolerated. LCA will continue to fight for the animals at Marineland.
After completing an in-depth investigation of Marineland's marine mammals, LCA's Investigations Department began gathering evidence on the treatment of the land animals at the theme park. After obtaining a substantial amount of photographs and video, LCA submitted a complaint to the Ontario SPCA that detailed our findings, including:
A deer with a severely infected eye receiving no medical treatment;
Multiple fallow deer limping from undiagnosed injuries;
The discovery of multiple dead animals, including deer, fowl, and bison, on a daily basis, which staff stored in an onsite freezer before burying them on-property;
Bears with chronic diarrhea;
Bears fed expired, moldy food on a daily basis;
A peacock with a severely swollen eye receiving no medical treatment;
Pheasants and guinea fowl constantly attacking one another, resulting in injury and death.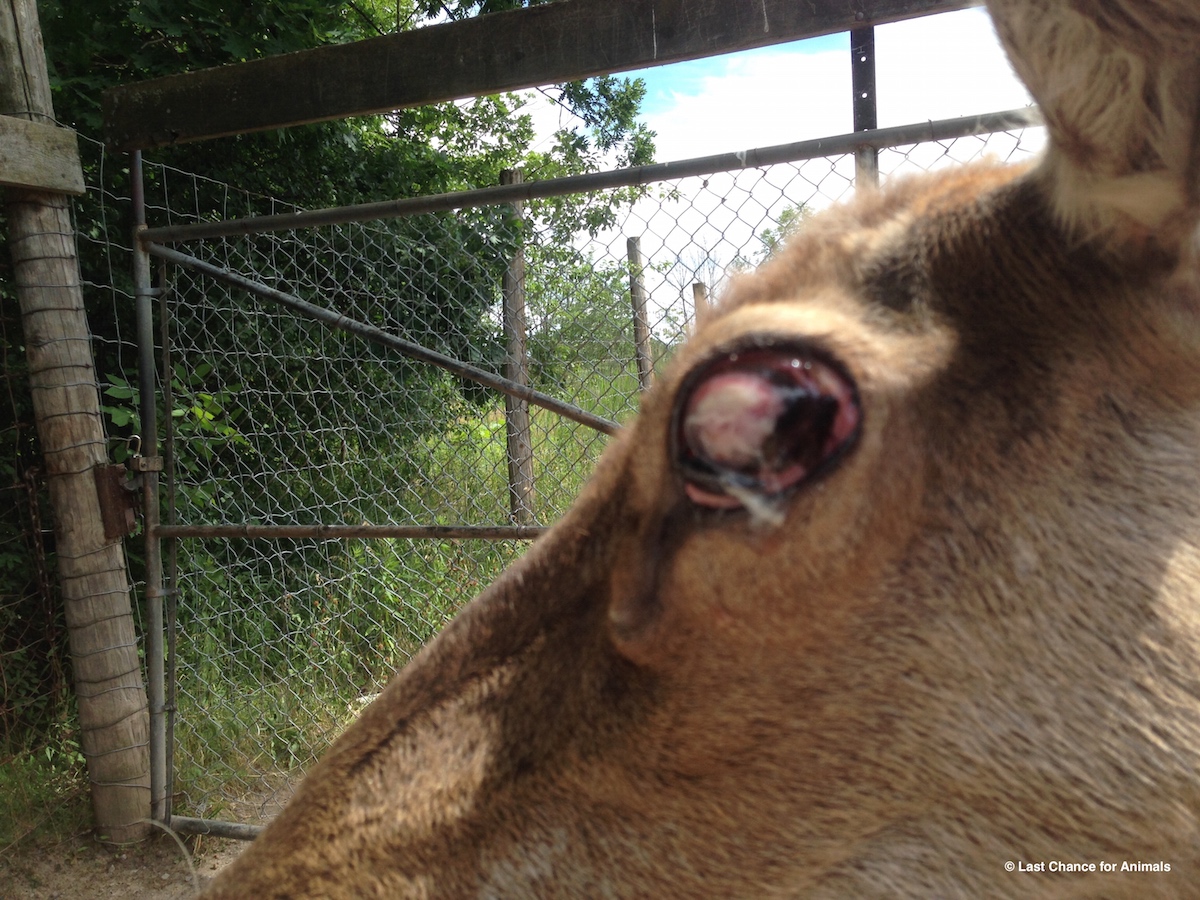 Deer
With no breeding plan in place, Marineland's deer breed indiscriminately. Marineland has anywhere from 300-400+ captive fallow deer, with new fawns born all the time. The park has an estimated 60+ bucks on public display and another 250-350 does, yearlings, and fawns in a barren lot adjacent to owner John Holer's residence with no adequate protection from the elements. Marineland also allegedly owns approximately 50-60 adult red deer and 15+ fawns.
Deer at Marineland were found suffering from undiagnosed injuries and infections, were visibly underweight, and were otherwise inadequately cared for. With no individual care being administered to the deer, LCA's investigation uncovered that deer sometimes died on a daily basis. Marineland does not maintain any system to identify individual deer, nor do they keep birth or death records. In essence, Marineland is operating a deer factory in which sick and ailing deer are left to die without consequence, only to be replaced by their continual supply of newborn deer.
Fowl
Birds at the theme park were not provided individual medical attention in a manner that prevented their suffering. A peacock's eye was discovered bulging and covered with a white membrane. This peacock never received any medical treatment for its eye infection.
LCA's evidence also shows that Marineland's guinea fowl population was arguably overcrowded and that these birds also suffered from aggressive flock mates who would pluck the feathers from each other. Marineland failed to keep these birds in compatible social groups to ensure the general welfare of the individual animals and failed to ensure that each animal in the group was not at risk of injury or undue stress from dominant animals of the same species.
Bears
Bears at Marineland were feda mixture of expired and often moldy produce (with produce stickers still attached), improperly stored fish leftover from marine mammal feedings, and commercial dog food, some of which was stored alongside dead animal carcasses. The majority of the food, including previously frozen fish, was stored in unwashed and unsanitized containers.
The majority of Marineland's bears suffered from chronic diarrhea; according to our evidence, the condition was pervasive. No medical treatment was provided to the bears for this condition.
Marineland's 35 bears live on a miserable island surrounded by a raised public viewing platform. The existing barriers do not prevent members of the public, who can pay a fee to throw cereal at the bears, from throwing harmful foreign objects into the bears' enclosure. In LCA's video, a bear can be seen chewing on a plastic water bottle in its enclosure. The ease in which trash and other objects were introduced into the bear enclosure raises serious concerns about the welfare and safety of the bears, as ingestion of these objects can cause illness and digestive blockages.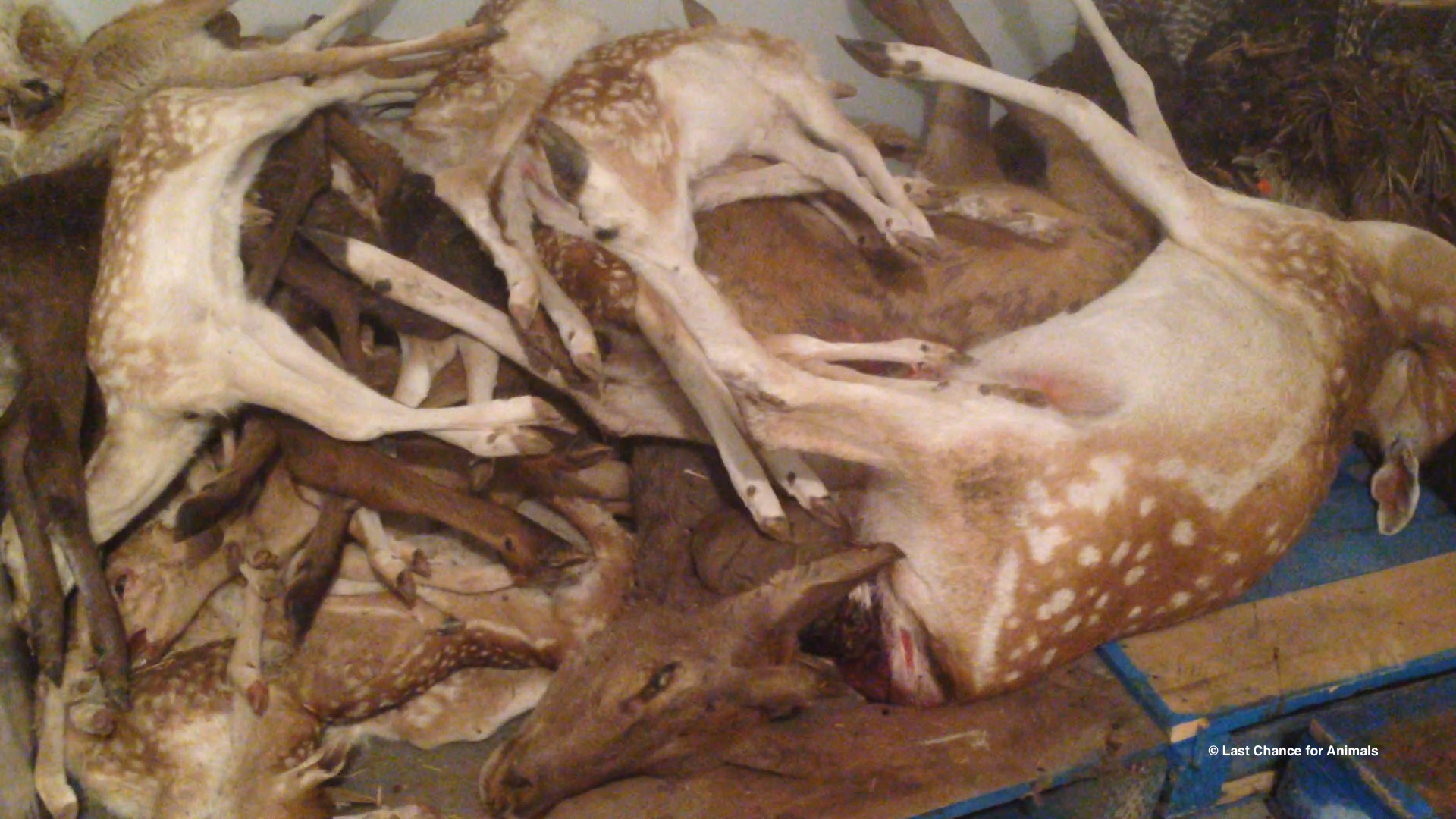 Animal Deaths
During the time of LCA's investigation, two dead land animals were discovered each day, and often more. Not only is this a highly unusual amount of deaths for a zoo, but Marineland's failure to conduct any examination into the circumstances of the deaths of their deer, elk, or fowl is also an uncommon practice. By allowing these animals to breed indiscriminately, not maintaining birth or death records, and by failing to inquire into the causes of death, Marineland operates like a factory without regard to the welfare of the individual animals.
Conclusion
The evidence provided by Last Chance for Animals to the OSPCA regarding the deplorable conditions at Marineland resulted in the OSPCA charging Marineland Canada Inc. with 11 counts of animal cruelty under the Ontario SPCA Act. Five counts were filed in November 2016, and six additional counts were filed in January 2017.
The charges are as follows:
One count for permitting a peacock bird to be in distress.
One count for failing to comply with the prescribed standards of care for a peacock bird.
Two counts for failing to comply with the prescribed standards of care for guinea hens.
One count for failing to comply with the prescribed standards of care, including failing to provide adequate and appropriate food and water, for approximately 35 American black bears.
One count each of permitting elk, red deer, and fallow deer to be in distress.
One count each of failing to provide the standards of care for elk, red deer, and fallow deer.
If convicted, Marineland's board of directors face a $60,000 fine, up to two years in jail and a lifetime ban on owning animals.
Click Here to Sign the Petition Urging the OSPCA to Push for a Ban on Marineland Owning Animals!