Class B Dealer Ruggiero
LCA Makes History With Precedent-Setting Guilty Verdict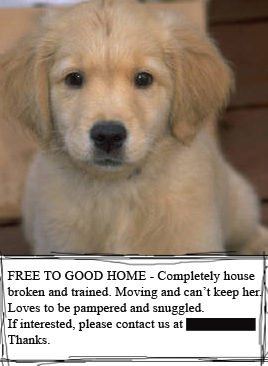 It began in 1988 when a woman, 'Jane,' came to LCA pleading for help. She had placed a "free to good home" ad in her local paper for a spaniel she could no longer keep. A clean-cut, friendly man answered her ad. He said his name was Steve Johnson and he and his family lived on a 10-acre ranch. Jane was satisfied that she'd found a good home for her spaniel, until she tried to phone Steve and found that he'd given her a false telephone number.
Investigation #1
LCA located dozens of other owners who had given their dogs and cats to "Steve." Like Jane they all placed ads in the "free to good home" section of two local newspapers and "Steve," sometimes accompanied by a woman, responded. Steve's real name was Ralph Jacobsen, known in the wholesale animal business as a "Buncher" – someone who obtains animals, often dubiously, to sell to USDA licensed B Dealers, who then sell the animals to research laboratories.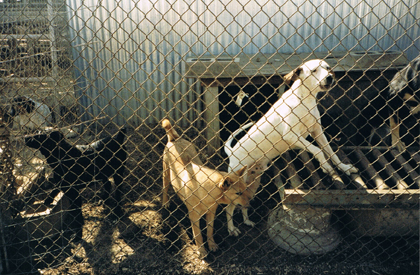 Caged dogs at Ruggiero's kennelsSoon LCA's Special Investigations Unit (SIU) identified the B Dealers as Barbara Ruggiero and Frederick Spero. They tracked them to desolate, impoverished Sun Valley. There, hidden in Comfy Kennels and Budget Boarding, were 55 stolen animals. LCA later discovered that this trio had stolen over 140 animals in the few months they had been in business.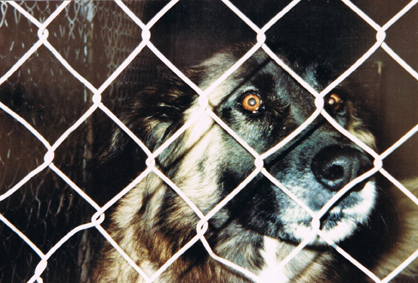 Scared dog at Ruggiero's kennelWorking undercover, the SIU gained entry to the kennels and took photos of each animal in its cage. Some of the animals were already wearing the brass USDA tags marking them for shipment to laboratories. Acting on LCA's evidence the Los Angeles Department of Animal Regulation (LADAR) shut down Comfy Kennels and Budget Boarding. The animals were removed from both kennels and impounded at East Valley Shelter pending the investigation's conclusion.

78 pets had already been sold to three laboratories, Cedars-Sinai Medical Center, Loma Linda University, and Veterans Administration Sepulveda. A group of fearful pet owners and LCA's President, Chris DeRose gathered in front of the laboratory at Cedars-Sinai, the largest purchaser of animals from Ruggiero, and demanded the return of all animals purchased from her. Cedars-Sinai denied they bought any "pets" from Ruggiero, but the following day Ron Wise, spokesman for Cedars-Sinai, promised to let a third party into the lab to identify possible pets. When the day came for the inspection Wise told the third party, "We are not prepared and we are not going to turn over any more information. We refuse to cooperate any more on this deal. We did not have to cooperate as much as we have. We purchased the dogs from a licensed dealer. If there was any problem, it was with the dealer not with Cedars."
| | |
| --- | --- |
| | |
Media coverage continued to focus on Cedars-Sinai and Wise finally agreed to send photographs of dogs to LADAR. No one could come to Cedars-Sinai, however, and no dogs would be released. Owners had 48 hours to identify and reclaim their dogs from the photos or experimentation would resume. LCA refused to accept this and negotiations continued throughout the day. With continued media interest and under pressure from LCA and the public, Cedars-Sinai relinquished 6 dogs who were reunited with grateful owners.

The survival statistics were grim. Cedars-Sinai received 31 dogs. Only 6 were still alive to be returned. VA Sepulveda bought 31 cats. Two were returned to Ruggiero because of "ill health." Twenty-one were allegedly killed in or after experimentation. Eight survived to be returned. Loma Linda bought 18 dogs but none survived their torture. LCA could not determine if the labs lied about how many pets they killed and how many they might have been hiding – still alive, mid-experiment – because of the horrors they had done to them. LCA was never shown any descriptions of animals used in experiments, euthanasia papers, or autopsy reports.

Through it all, Ruggiero and Spero denied they knew that Jacobsen had misled pet owners as to the fate of their animals. But Ruggiero was the woman who often accompanied Jacobsen to pet owners' homes and witnesses revealed that Ruggiero often picked up pets on her own or with Spero. Furthermore, Ruggiero's name appeared on USDA records describing the pets and listing their owners.
Charges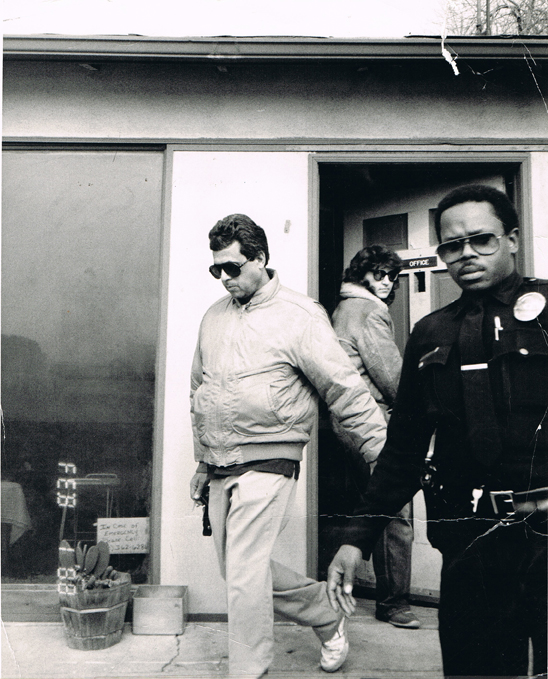 Ruggiero and Spero being arrestedAs a direct result of LCA's unrelenting pressure in the form of phone calls and letters, City Attorney James K. Hahn filed criminal charges against Barbara Ruggiero, Frederick Spero, and Ralph Jacobsen on September 8, 1988. The 76 count misdemeanor complaint included charges of theft and conspiracy.

Hahn's press release describing the charges listed LCA as the catalyst for the investigation: "Department of Animal Regulation investigators first began looking into the Biosphere operation last January after getting tips from members of Last Chance for Animals who reported that animals were being obtained under false pretenses and sold for research purposes."

In March of 1989, the DA's office re-filed the charges against Ruggiero, Spero and Jacobsen, raising them to the felony level. A preliminary hearing took place in late 1989 and the three were ordered to stand trial on all charges.
Investigation #2
At this point, LCA launched a second investigation, suspecting the trio were continuing their pet theft activities. The trail led LCA to Bakersfield, CA where the thieves set up business again as "Puppy Pavilion," this time with Ruggiero and Jacobsen operating under false names. In addition to filing a fictitious Business Name Statement under their aliases, the two obtained driver's licenses under the same names. At the conclusion of the investigation and at LCA's urging, the Los Angeles SPCA and Bakersfield authorities moved in on the operation, armed with a search warrant and shotguns. They arrested Barbara Ruggiero and confiscated over 80 dogs, a cat, and a snake. Jacobsen was not at the kennel and was being sought by the authorities – but Ruggiero was taken straight to jail. After her release pending possible charges and a trial, the judge on the Los Angeles case decided that because of her Bakersfield activities Ruggiero was a flight risk, set her bail at $150,000, and returned her to jail, where she spent Christmas.
The second raid on Ruggiero's kennel
After six weeks in jail, Ruggiero posted bail and was released pending her trial. Jacobsen was apprehended and jailed, with bail set at $750,000.
Sentencing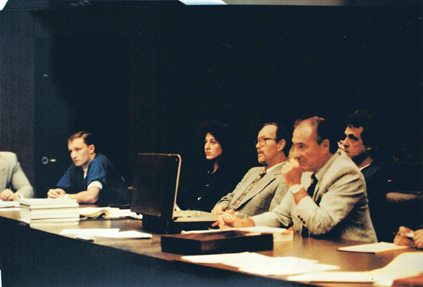 On August 9, 1991, nearly four years after being caught by LCA, Barbara Ruggiero, Fredrick Spero, and Ralph Jacobsen (pictured left) were convicted in Superior Court of felony grand theft of dogs and conspiracy.
The trio's precedent-setting guilty verdict was an important victory in LCA's ongoing fight to protect defenseless animals. It marked the first successful felony prosecution in U.S. history for stealing pets for sale to research laboratories.
Following their conviction, Judge David M. Schacter sentenced Ruggiero to six years and two months in prison. Spero and Jacobsen were given five and three years, respectively. During the sentencing, Judge Schacter called Ruggiero "conniving and manipulative" and "the personification of evil." He also said the trio was "greedy, insensitive, and deceitful."
The sentences serve notice to corrupt animal dealers nationwide. They can no longer take pets without paying for their crime with hard prison time.

Learn more about: Class B Dealer Stebane