LCA Team Rescues Animals From Hurricane Katrina's Devastation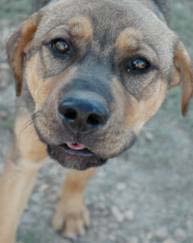 Rescued hurricane puppyLast Chance for Animals (LCA) rescue team, led by LCA president Chris DeRose (who insisted he personally had to do something to help), was among one of the first groups to be admitted into the "war zone" left behind by Hurricane Katrina. LCA's rescue team joined forces with Best Friends Animal Society's triage operation situated at the St. Francis of Assisi animal sanctuary in Tylertown, Mississippi. LCA's rescue team drove two hours back and forth each day to enter St. Bernard Parish, Louisiana, one of the areas hardest hit by the hurricane, where approximately 70,000 people and countless animals used to live.

Before entering the hot zone of St. Bernard Parish, LCA's rescue team suited up in protective gear before trudging through the toxic muck and sludge searching for animals left stranded on the streets and trapped in buildings and backyards. LCA's rescue team toiled around the clock, walking and driving tirelessly up and down streets and breaking into houses while calling and whistling out to animals, waiting to hear a bark or any kind of response.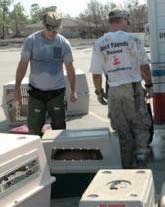 Chris DeRose and a Best Friends rescue worker load carriers into a truck"It is like a war zone down there, with high temperatures and humidity, no water or d and total devastation everywhere," said Chris DeRose. "Hurricane Katrina turned homes upside down and inside out. It is hard to believe the extent of the destruction unless it is witnessed firsthand. The streets and buildings are flooded in a whirlpool of toxic sludge made of human waste and harmful chemicals. The mold and sludge covering everything puts off an unbearable stench. Soggy family photos still cover the walls and are scattered amidst the wreckage. The hot zone was deserted, like a ghost town filled with empty houses, apartments, and stores. No one was allowed in the area except for animal rescuers and local officials. There was no electricity, no life, no nothing; it was literally dead quiet."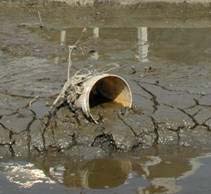 Toxic sludge covered everythingLCA's rescue team brought rescued animals back to the daily drop off point set up by Best Friends in St. Bernard Parish and headed back into the hot zone over and over again. "We were able to rescue 20 cats in one day," said DeRose. "Many residents left their animals behind when Katrina was a category three storm, not expecting it to bring the massive flooding and devastation that put the animals' lives in danger."

Days not in the hot zone were spent at the sanctuary caring for the hundreds and hundreds of rescued animals, which included working from morning until night cleaning out cages and feeding and watering animals.


| | |
| --- | --- |
| | |
This St. Bernard Parish "ghost town" used to be full of life.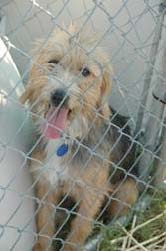 This pup wanted to find her guardians At the sanctuary, all rescued animals were microchipped for identification purposes, had preliminary veterinary exams, and were placed in temporary foster care for a minimum of 90 days. Healthier animals were airlifted to various places around the country for fostering by flights donated by animal lovers, such as Texas oil magnate, T. Boon Pickens. The reunions between guardians and their companion animals that took place at the sanctuary on a daily basis brought tears to the eyes of all involved and made the grueling, heartbreaking work worthwhile.

When local residents were allowed back into St. Bernard Parish, LCA sympathized with hurricane survivors on the streets -- people who lost everything -- who shared their miraculous and tragic stories. "In spite of their great losses, Louisianans were very much appreciative of everyone's rescue efforts and thankful that groups came all the way down to the hurricane area to help," said DeRose.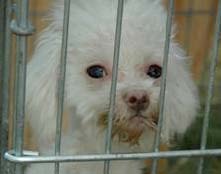 Many more animals needed helpAfter returning to Los Angeles, Chris immediately contacted his friends at A Current Affair and provided them with video tapes and photographs. They put together and aired a story on the great animal rescue efforts being made and of the countless animals still in peril. LCA has vowed to continue to work with Best Friends and other rescue groups to make sure the animals get the help they need.

While in Louisiana, LCA's rescue team fell in love with all the rescued animals, especially with a little beagle/basset hound mix that was rescued from an area where the flooding covered the second story of buildings. She was standing in the front yard of a house and walked over to the rescue group without any hesitation as if she knew they were her rescuers. This girl somehow managed to survive for four weeks in the toxic sludge of St. Bernard Parish, a terrifying ordeal no one should have to experience. Aptly named "Katrina" by the rescue team, LCA committed to fostering her while searching for her guardians that were sadly never found. Katrina currently lives in Los Angeles with her loving guardian, and occasionally they visit the LCA headquarters.To this day, Katrina squeals with delight every time she sees Chris DeRose.