Justice for Karley
January 26, 2010: Glynn Johnson convicted of felony animal cruelty!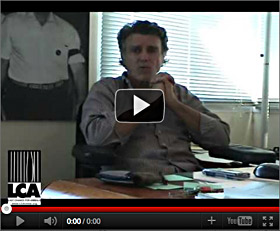 Los Angeles Assistant Fire Chief Glynn Johnson was found guilty of felony animal cruelty with special circumstances (maximum penalty of up to 3 years) and the use of a deadly weapon to commit a felony (maximum penalty of up to 1 year) at 12:54pm on 1/26/10—after brutally beating to death a six-month-old puppy named Karley, who belonged to Jeff and Shelley Toole of Riverside, CA.
On March 8, 2010, Johnson was sentenced to three years' probation, 400 hours of community service working with dogs, anger-management class, and 90 weekend days in jail.
On November 3, 2008, Karley had gotten out of the Toole's backyard, and their neighbor Travis Staggs was bringing her back when Johnson offered to save him the trip and bring her back himself. Staggs testified that he had reservations about leaving Karley with Johnson, but gave him the "benefit of the doubt" and handed her over. Staggs said that he had only taken his eyes off Johnson for a split second when he witnessed the fire chief erupt in violence, punching Karley 10-15 times in the head with his fist. Johnson then used a 12 lb rock to bash Karley's head another 10-15 times. Staggs said that he even saw Johnson trying to pry open her jaws with his bare hands. Staggs shouted at Johnson to stop, attempting to pull him off the dog, but Johnson just shoved him away, not even looking at him. A neighbor, Stacey Brown testified that she witnessed Johnson strike Karley in the head 2-3 times with the rock, and ran inside her house and yelled to her husband, "Glynn is beating the crap out of a dog!" Even Johnson's wife Bonnie told Deputy Sean Conwell that she heard Travis Staggs yell to her husband: "Stop hitting the dog!"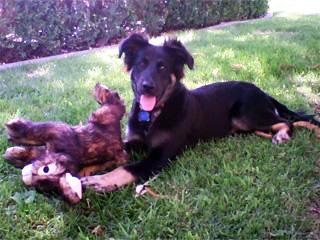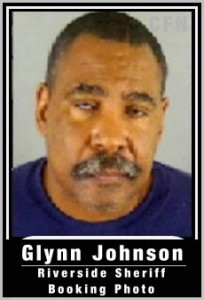 On December 16th, Los Angeles Assistant Fire Chief Glynn Johnson was arrested and charged with two felony counts; felony animal cruelty (maximum penalty of up to 3 years), and conspiracy to commit assault with a deadly weapon (maximum penalty of up to 1 year).
LCA and Karley supporters held a large rally and press conference on December 18, 2008, thanking the District Attorney for bringing charges against Glynn Johnson and asking him to prosecute Johnson to the fullest extent possible by law. LCA also asked L.A. Fire Chief P. Michael Freeman to fire Johnson and to severely restrict his retirement pension. LCA felt strongly that Johnson should be fired and put behind bars for his barbaric act of cruelty.
"Without LCA's involvement, we could not have gone on with this case. LCA has given us the strength to keep going. It was from the demonstrations and vigils that LCA organized that convinced the DA to take this case and prosecute," said Shelley Toole.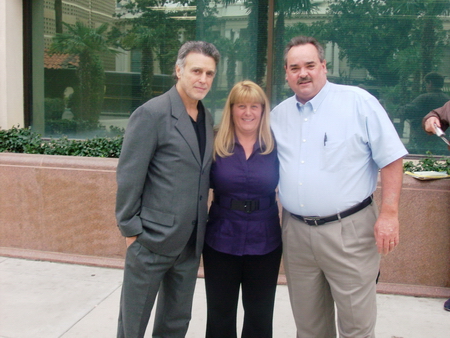 LCA's President Chris DeRose, with Jeff and Shelley Toole in front of the Riverside courthouse."LCA's dedication to helping the Toole's came from not only seeing the horrendous abuse inflicted on Karley but also seeing their tremendous courage and compassion shown by the Toole's in their fight to get Justice for Karley." We are glad to be a part of putting animal abusers in jail; where they belong." - Chris DeRose, LCA
The trial began on January 6, 2010. District Attorney Will Robinson made his opening statement in front of bloody photos of Karley, telling the judge and jury that Johnson attacked Karley in vengeance, after years of fighting with the Toole family. Over the years, Johnson had engaged in shouting matches with the Toole's, using a bullhorn, and had placed dog excrement in their mailbox. Robinson said: "This was not an isolated event. There was a long history of anger and frustration beyond the typical neighbor dispute." Jeff Toole testified: "I feared Glynn Johnson would kill my family."
The D.A. also questioned Johnson about his violent past. He brought up an incident which is documented in a police report, where Glynn attacked his 14-year-old daughter Amber in their backyard, after an argument. Johnson pushed his daughter to the ground, hitting her with the buckle end of his belt, several times. He then dragged his daughter back into the house, where he proceeded to beat her again, shouting at her: "I wish you were dead."
Fellow firefighters showed up at Glynn Johnson's trial wearing "firefighters against animal abuse."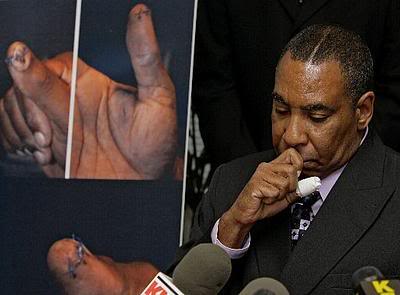 According to defense attorney, John Sweeney, Karley had latched on to his hand, forcing him to beat her repeatedly with a rock. Sweeney said this was clearly a case of self-defense against a vicious animal that nearly severed the fire chief's thumb during an attack. Johnson testified that he only beat the dog with his fist and with a large 12 lb rock because "I feared for my life." Johnson also claimed: "I am not stronger than a 6-month-old puppy." Unbelievably, Johnson also asserted that "Karley played dead—she was faking it."
Sweeney claimed that all the neighbors who saw the beating simply did not witness the dog's attack on Johnson first -- biting his legs, arms, and hands and then locking its jaws on his thumb, eventually leaving it dangling by only a thread of skin. KTLA reporter Chris Wolfe has seen pictures of the stitched thumb and it appears that only the very tip of the finger was sliced, and successfully "reattached."
Angela Howard, the first veterinarian to see Karley after the beating, described: "Her right eye was protruding out of her forehead. Her head was indented. She was losing blood in a significant fashion, and her skull was fractured in 3 different places. This was the most severe trauma I have ever seen." Dr. Howard said that Karley's injuries were too severe for her to deal with, and sent Karley to specialist, Dr. Sarah Hoggan. Dr. Hoggan only deals with emergency cases. Hoggan was quoted as saying, "Karley's injuries were more severe than any dog hit by a car I've ever seen." Karley was so severely beaten that she had to be euthanized hours later.
Jeff Toole's brother, Larry, fought back tears as he told a reporter after a day of testimony that Johnson murdered a family member, and that he should "rot in hell."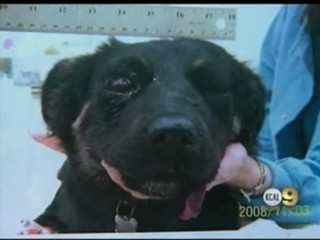 "Who does this to a puppy?" Will Robinson asked the jury in his closing arguments. "She didn't stand a chance; she was a 24 inch, 40 lb puppy against a 6'1, 225 lb man. She played with 2-year-olds." Robinson continued: "No one, no person or animal deserves to die like she did. She didn't deserve to be punched, have her jaw broken, and her head bashed in with a rock several times. The defendant was not truthful; he blatantly lied under oath. Firefighters save lives. He took a life. You are not defending yourself when you pound a dog 10-15 times with a rock. Karley was defending herself."
Defense attorney John Sweeney responded, "Who cries for Glynn Johnson?"