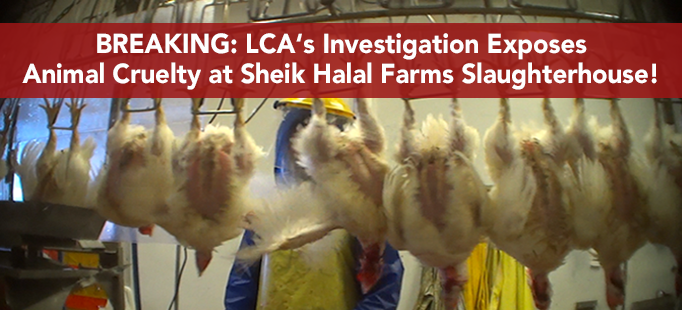 LCA conducted an undercover investigation into Sheik Halal Farms Inc. (Sheik Halal), a provincially licensed meat plant in the small, picturesque town of Grand Valley, Ontario over the course of four months in 2017 and 2018. The facility slaughters and processes chickens, ducks, goats, lambs, and sheep. Incidents of apparent animal abuse, disturbing practices, and possible violations of food handling safety procedures were documented during LCA's undercover investigation.
Warning: Video contains graphic footage.
In the News:
Last Chance for Animals places undercover worker in halal slaughterhouse, alleges government oversight 'definitely lacking'
Chicken slaughterhouse fined $40k after discovery of sewage near Grand River
Undue Suffering and Distress
LCA's investigator documented chickens being subjected to repeated incidences of undue suffering, avoidable pain, and distress. Chickens lifted their heads to avoid being stunned, possibly leaving them still conscious, resulting in the rhythmic flapping of their wings during the slaughter process. Transport crates were roughly handled and were seen being walked on by workers. Crowded crates were unloaded at sharp angles, seemingly causing injury to birds' wings, beaks, feet, and feathers sticking out of crates that resulted in blood on the outside of crates. Crates with openings on both top and bottom and many in disrepair allowed chickens to escape and resulted in chickens caked in fecal matter, urine, and/or blood being moved straight from transportation onto the meat processing line, creating a possible threat to food safety.
It was not uncommon to find birds had succumbed to their injuries before arrival. Many birds were witnessed arriving with foot growths that looked like 'bumblefoot,' a bacterial infection common to caged birds living in filthy conditions. Many of the birds with injuries and growths were put on the processing line.
HALAL CERTIFICATION by anyone could not be found for Sheik Halal Farms prior to May 2018 when they were certified by the Halal Monitoring Authority (HMA).
LCA was unable to find any organization that certified Sheik Halal before May 2018. During the course of LCA's investigation, Sheik Halal may not have been a certified Halal producer — yet they processed and sold products as Halal. Incidents involving birds lifting their heads to avoid the stun bath altogether were documented. On one occasion, it was discovered the stun bath wasn't on at all, yet birds were processed regardless, their throats cut before being scalded while potentially still fully conscious. LCA's investigator witnessed a provincial inspector questioning "how Halal" the methods used at this location were.
According to an Orangeville.com article in reference to Sheik Halal, it states: "The specialty farming business has been producing Halal poultry products such as ducks and turkeys for the Greater Toronto Area (GTA) and Ottawa since 1996."
The Halal Monitoring Authority (HMA) Canada lists the most important factors for Halal slaughter criteria on their website:
No stunning for red meat
Low voltage electrical stunning for poultry
Manually hand slaughtered by a Muslim. No mechanical slaughter allowed.
Verbal recitation of Allah's name
Ensuring the Esophagus, Trachea, and Jugular veins are severed
The HMA website also claims the following: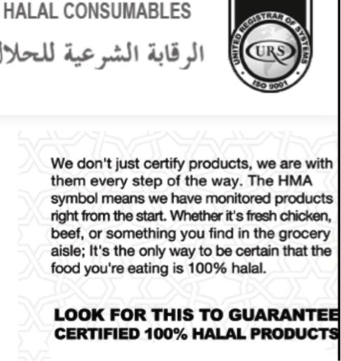 During LCA's investigation, multiple issues were documented that gave rise to concerns about the conditions to which the animals were subjected to and the safety of the food being produced.
LCA's undercover investigator documented the following:
Birds being slaughtered while apparently still conscious; observed flapping their wings rhythmically after passing through stun bath. After their throats were slit, birds appeared to suffer significantly while they slowly bled out;
Incidents of birds lifting their heads to avoid the stun bath altogether;
Overcrowding of transport crates; squashed chickens unable to stand or move around;
Rough handling of crates by workers, including walking on crates;
Chickens, after being transported in crates, caked in fecal matter, urine, and blood moved straight from transportation onto the meat processing line;
Wings, beaks, feet, and feathers sticking out of crates subjecting birds to injuries;
Blood on crates from injuries to chickens sustained during transport;
Broken crates creating an increased risk of injury to animals in transit;
Chickens escaped from holes in crates upon arrival at slaughterhouse;
Birds in crates in the process of laying eggs;
Animals roughly unloaded at sharp angles from trucks while unsecured in crates;
Birds with injuries and growths put on processing line;
Chickens stored in freezer touching floor.
COMPLAINTS FILED
In September 2018, LCA filed two formal complaints;
Federal

c

omplaint filed with the Canadian Food Inspection Agency (CFIA) requesting further investigation and the laying of charges against Sheik Halal for its failure to meet the standards required by the Health of Animals Act and its regulations (overcrowding, sanitation issues, failure to protect birds from injury, failure to contain birds during transport and unloading animals in a manner that causes undue suffering).
Provincial complaint filed with the Food Inspection Branch of the Ontario Ministry of Agriculture, Food and Rural Affairs (OMAFRA) requesting further investigation and laying of charges against Sheik Halal for its failure to meet the standards required by the Food Safety and Quality Act and Ontario Regulation 31/05.
Ontario provincial regulations (O. Reg. 31/05: MEAT s. 60(1)) require the operator of a slaughter plant to ensure no food animal is kept or handled in a manner that causes avoidable pain or distress and (s. 60 (1.1)) requires no one load or unload food animals at the plant in a way that causes them undue suffering or injury.
LCA has not been advised of any charges.
The treatment of animals documented at Sheik Halal shows a failure to follow basic health regulations while disregarding the well-being of the birds in their care. LCA is calling for further investigation and charges to be laid against Sheik Halal Farms.
| | | | |
| --- | --- | --- | --- |
| Chicken throats cut | Chickens avoiding stun bath | Processing line | Bloody floors |
| | | | |
| | | | |
| Bacteria infection on foot | Chicken feet | Dead chickens | Chickens on floor |
| | | | |
| | | | |
| Loose chickens | Feces and blood on crates | Bloody saws | Finished product |
| | | | |
| | | | |
| | | | |
| | | | |