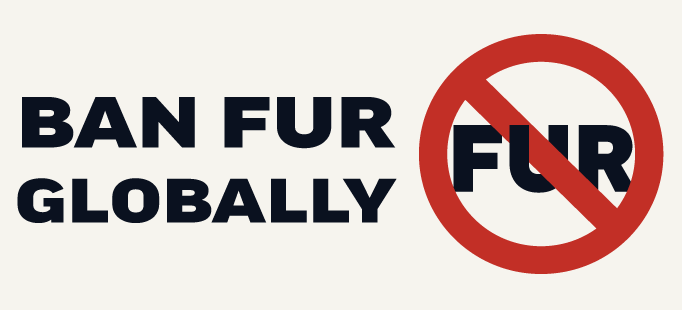 BAN FUR GLOBALLY
LCA is part of the Fur Free Alliance (FFA), a global coalition of over 50 animal protection organizations, based in more than 35 countries around the world, working collaboratively to end the fur trade.
FFA exists to end the exploitation and killing of animals for fur.
The coalition focuses on political, corporate and consumer campaigns to end the fur trade.
On a political level, FFA focuses on the expansion of national production bans in order to decrease supply.
On a corporate level, FFA focuses on the Fur-Free Retailer program in order to decrease demand. LCA is an active member in the Fur-Free Retailer program and helps to campaign against department stores and brands that sell fur.
On a consumer level, FFA focuses on raising awareness on the horrors of the fur industry in order to build the public's opposition to buying and wearing fur.
CAMPAIGN TIMELINE
Febuary 8, 2023 - LCA Joins the Fur-Free Retailer Program
LCA working with the Fur-Free Retailer program specifically targeting department stores and luxury brands that sell fur in the United States.
October 21, 2021 - Global Fur Ban Petition Delivered to G20 Summit in Rome
The FFA delivered 880,457 signatures to the G20 summit in Rome - calling for an urgent global action by the G20 Leaders to ban fur farming. LCA's petition collected 72,536 of these signatures. LCA followed up the petition hand-off by submitting letters to Canada's President, Justin Trudeau, (link to letter) and Canada's G20 Representative (link to letter), urging them to ban fur farming. The letters included a White Paper on fur production and zoonotic disease.
Prior to the G20 meeting, LCA sent letters to Canada's G20 Representative (link to letter) and Minister of Health (link to letter) urging the Government of Canada to start discussions about banning fur farming ahead of the G20 summit in Rome.
December 11, 2020 - LCA Releases Video on Covid-19 Outbreaks on Mink Farms Worldwide
Mink and ferrets are susceptible to COVID-19. Mink can also act as a reservoir for the virus, meaning it is possible for humans to infect mink with COVID-19 and mink in turn can re-infect humans, sometimes picking up mutations along the way. COVID-19 spreads quickly in mink fur farms due to overcrowding and unsanitary conditions.
During 2020, there were outbreaks of COVID-19 on over 440 mink fur farms in twelve countries and over 200 people in Europe have gotten sick from a mink-related strain of the illness. Statistics from the USDA (United States Department of Agriculture) show there have been 17 COVID-19 outbreaks on mink farms in Wisconsin, Utah, Michigan, and Oregon. In Canada, there have been three COVID-19 outbreaks at mink fur farms in British Columbia.
Warning: Graphic Content
Worldwide Anti-Fur Legislation
A growing number of countries around the world are passing precedent-setting legislation to ban fur! Here are the latest countries to adopt anti-fur legislation:
France 2021 - The French Senate voted overwhelmingly in favour of banning the fur farming in wild animals. The ban will come into effect immediately and the two remaining mink farms in France will be shut down. However, the farming of Orylag rabbits will still be legal.
British Columbia, Canada 2021 - The Canadian province of British Columbia committed to ending its mink industry by 2025 after the Minister of Agriculture deemed mink farms pose a public health risk. In total, there are nine mink farms in B.C. and to date, there have been three outbreaks of COVID-19 on three of the farms. The closure of the mink industry does not affect the operations of two other fur farms - (fox and chinchilla) operating in the province.
Ireland 2021 - Three mink fur farms will be closed in 2022 when a fur farming ban in Ireland goes into effect. Legislation to ban fur farming was introduced in 2019 but enacted in 2021 after COVID-19 outbreaks on mink fur farms. Ireland's three mink fur farms produced approximately 110,000 pelts per year.
Estonia 2021 - The Eastern European country of Estonia voted to ban fur farming nationwide. The ban will come into effect in 2026, at which time all fur farms must be completely shut down. As of July 2021, no new fur farms are allowed to open in the country.
Denmark 2020 - 17 million minks were culled in Denmark after COVID-19 outbreaks on over 200 mink fur farms in the country. Further, mink farming is banned in Denmark until 2023. Kopenhagen Furs, the largest fur auction house in the world, announced it would be closing in 2023.
Hungary 2020 - Hungary banned the fur farming of minks, foxes, polecats and copyu amidst public health concerns. The decision was a preventative measure to stop fur farmers from setting up operations in Hungary after outbreaks of COVID-19 on mink fur farms worldwide. However, the farming of Chinchilla's continues in Hungary.
The Netherlands 2020 - The Dutch government fast-tracked a ban to close down its mink fur farming industry by March 2021. The ban was scheduled to come into effect by 2024 but after 41 mink fur farms tested positive for COVID-19 and 2 million minks were culled, the Dutch government immediately enacted the legislation.
HOW YOU CAN HELP
1. The best way to be heard is to email, call or write a letter to your elected officials to voice support for a global ban on fur farming. Remember to keep communication respectful - check out LCA's tips for effective communication here. Have questions? Email This email address is being protected from spambots. You need JavaScript enabled to view it.
2. Sign up for LCA's email action alerts and keep informed on how you can help make change on behalf of the animals.
3. Donate to LCA