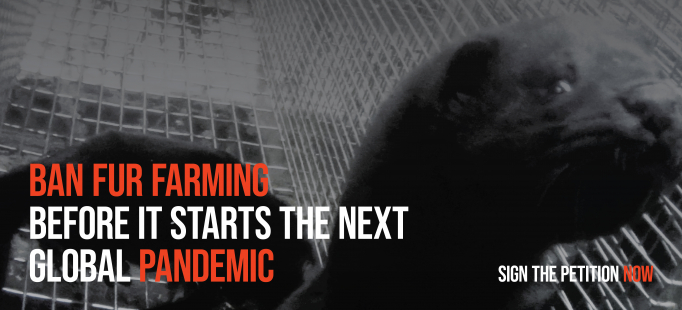 Ban Fur Farming NOW Before it Causes the Next Global Pandemic!
LCA has joined forces with the Fur Free Alliance, a global coalition of over 50 animal rights organizations, to call for a worldwide ban on fur farming. Each year around the world, almost 100 million animals live and die on fur farms. From the time they are born, until the time they are mercilessly killed, the only thing these animals know is cruelty, pain, and suffering.
Animals such as mink, foxes, raccoon dogs, and chinchillas, live in cramped cages with little room to turn around. Conditions on these farms are filthy and can lead to the spread of diseases, like COVID-19. Severe wounds are often left untreated, and injured animals are left to languish without proper veterinary care until they succumb to illness or injury. If animals survive these horrendous conditions, they face a painful death by gassing or electrocution.
Warning: Graphic Content
The Spread of COVID-19 on Mink Fur Farms
Mink and their close relatives, ferrets, are susceptible to COVID-19. Mink can also act as a reservoir for the virus, meaning it is possible for humans to infect mink with COVID-19 and mink in turn can re-infect humans, sometimes picking up mutations along the way. COVID-19 spreads quickly in mink fur farms due to overcrowding and unsanitary conditions. Scientists are worried that a mink-related strain of COVID-19 could possibly make the pandemic worse.
Since April 2020, there have been outbreaks of COVID-19 on mink fur farms in eleven countries and over 200 people in Europe have gotten sick from a mink-related strain of the illness. Although there have been no known cases of COVID-19 mink-to-human transmission in the United States, statistics from the USDA show there have been COVID-19 outbreaks on mink farms in Wisconsin, Utah, Michigan, and Oregon. In Canada, COVID-19 outbreaks have been declared at mink farms in British Columbia.
Could this be the End of Fur Farming?
In Europe, Denmark, the leading producer of mink skins in the world, is culling the country's entire mink population - 17 million mink - as a precautionary measure, after outbreaks of COVID-19 occurred on multiple mink farms. Mink farming will be banned in Denmark until the end of 2021. Kopenhagen Furs, the world's largest and oldest fur auction house in the world that has been operating for 80 years, announced it would be making a controlled shutdown over a period of 2-3 years.
After outbreaks of COVID-19 were found on mink fur farms in the Netherlands, the Dutch government has moved up the date of an existing ban on fur farming from 2024 to March 2021. France will be banning mink farming by 2025 and no new fur farming permits will be issued in the meantime. Similar to Denmark, Ireland has issued a cull on all mink in the country, and Hungary has outright banned the fur farming of mink, foxes, and ferrets.
Help LCA Make a Difference
Although LCA firmly believes that fur farming should be banned on the basis of animal cruelty alone, the disturbing trend of COVID-19 emerging on fur farms has created a new sense of urgency to the situation.
Please sign LCA's petition asking for a worldwide ban on fur farming and join LCA in calling on all G20 Leaders to publicly acknowledge that fur farming must end.
TAKE ACTION!
1. Sign the change.org petition calling for a Global Ban on Fur Farming.
2. Share the petition with family and friends.
3. Donate to LCA's work to ban fur farming.
4. One of the best ways to make change is by emailing, calling, or writing a letter to your elected officials to voice support for a ban on fur farming. Remember to keep communication respectful - check out LCA's tips for effective communication here. Have questions? Email This email address is being protected from spambots. You need JavaScript enabled to view it.
5. Please watch LCA's investigation video at Millbank mink fur farm in Canada and share with others to take action.
Together, We Can Make a Difference