Japan Rescue

When a 9.0 earthquake shook the island nation of Japan on March 11, 2011, the earth shifted four inches on its axis. Then came the unexpected tsunami; a giant, three-story wall of water slammed into shore, crushing seaside towns like matchsticks.

Radiation levels at the swamped Fukushima Daiichi nuclear power plant began their deadly spiral.

Nearby, just shivering specks in the unthinkable rubble, were countless terrified and abandoned animals...like Chuppy and "Net Dog".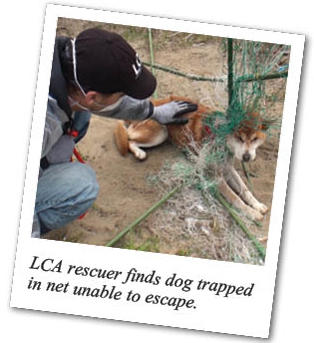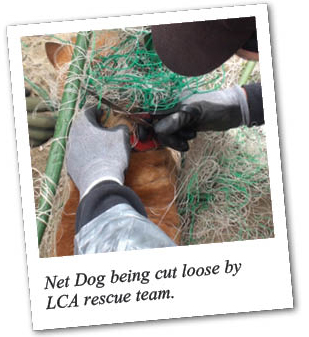 When everyone left, LCA went.

LCA's Special Investigations Unit (SIU) boldly entered the radiation-filled nuclear exclusion zone, braving hundreds of violent aftershocks, to look for animals left behind.

Then we returned. Again. And again. And again.

We did it for the animals, who were alone and suffering, and we did it for their heartsick guardians who'd been forced to evacuate and leave their beloved pets behind — then denied entry back for their animal friends.

And we did it for you. Because in our shoes, you would have done the same for these sweet, sad faces.

LCA bravely rescued nearly 400 animals (most of them companion animals) in the wake of the earthquake, devastating tsunami, and worst nuclear accident since Chernobyl — plus provided food, water, and on-the-spot medical care for countless other animals.

Many times it was a race against the Japanese animal control and their strict rules on painful pressure chamber euthanasia, a 100% kill policy on captured cats, and a 48-72 hour window for dogs — many times the rescue team navigated around police barricades, talked their way out of arrest, and rescued animals within two miles of the damaged reactors.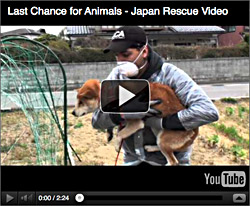 Watch the rescue video of Net DogRead some of LCA's heroic rescue team diary entries...

MARCH 29: We made the 11 hour journey to the furthest north areas most affected by the tsunami. Driving through pitch blackness with 15ft piles of rubble all around us and absolutely zero electricity or signs of life anywhere was truly a surreal experience. We found the evacuation area and pulled into the parking lot to sleep in our cars.

Waking up the next morning, we saw the devastation in full view. It was unbelievable; as if a giant hand had scooped up the entire city, crushed it all and sprinkled the bits everywhere. Nothing should have survived. I saw one person walking with her dog looking completely bewildered and lost. I jumped out and handed her as many bags of dog food as she could carry. She burst into hysterical sobbing exclaiming that her dog had not eaten in over 11 days and that she had lost everything but him and was beginning to panic that he would starve and she would lose the last thing she had left.

APRIL 14: Based upon a direct call for help from the Mayor of Minami-Soma, Fukushima - right on the border of the exclusion zone - we traveled there for the rest of our work focusing exclusively on the radiation affected towns surrounding the plant where animals were being abandoned in people's rush to evacuate. They were not allowed to bring them to shelters and unfortunately, the area was locked down completely within a week.

APRIL 21: With the lockdown of the 20km border, we traveled to the town of Hirono. There we found a dog living alone in an abandoned area on the beach. She was terrified, and impossible to approach. After several tries to rescue her, we had to leave.

APRIL 22: Rain. We have to stay in due to nuclear fallout.

APRIL 23: Made the second unsuccessful attempt to catch the dog on the beach. Rescued 8 dogs and one cat in Hirono.

APRIL 28: Made the third unsuccessful attempt to catch the dog on the beach, only this time she was in a completely destroyed area near the Hirono train station. We are not giving up on her. Rescued 9 cats today at a devastated marina.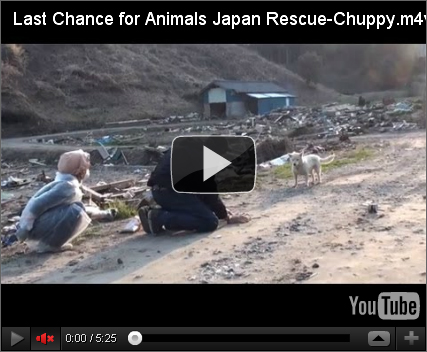 Watch video of LCA rescuers in action
and the Chuppy reunion
APRIL 29: Rescued Chuppy, the dog from the beach! She had returned to the rubble of her own house and had been caught in a humane trap we left behind supplied with plenty of food and water. We were able to get in touch with Chuppy's family from a note they left behind after the tsunami!
APRIL 30: We couldn't have asked for a better day. It began with a tearful reunion with all of Chuppy's family. Chuppy was leaping into the air while her family sobbed. Because they were still living in a shelter themselves, the family would not be able to take Chuppy for 2 more months but she will be safe and looked after until then. Chuppy, living alone and traumatized after the devastation became a totally different dog after being reunited with her family.

JUNE 21 (our fourth trip to Japan): Today we loaded the car with tons of supplies as well as Chuppy, whose family was at last able to receive her. Chuppy was all smiles and kisses and after greeting her family, she came back to thank us with a kiss just for us! Then I sat down with Chuppy's guardian and asked how Chuppy came to be left behind.

She told us, "Chuppy was outside on a leash that allowed her to run the entire distance of our yard. When the earthquake hit, we didn't realize a tsunami was coming until it was too late. We were only given minutes to flee and weren't allowed to take Chuppy. We were devastated."

But Chuppy had wriggled free and survived the tsunami! (She was badly traumatized though. To this day Chuppy won't go outside when it rains.) Incredibly, six weeks later we found Chuppy. As tears streamed down her face, Chuppy's guardian held her little dog close and exclaimed how grateful she was to all of us for saving her dear Chuppy.

Last Chance for Animals isn't the biggest charity. But you can always count on us to do what's right — whatever the risk!

Please give whatever you can to LCA's Japan Animal Rescue Fund today, to be part of this valiant rescue, and help cover the costs of saving hundreds of precious lives. Help us continue our lifesaving work. And won't it feel good to know you helped save Chuppy, "Net Dog" and hundreds more?

Most of the animals rescued by the SIU were taken to a no-kill shelter, Animal Friends Niigata, run by Isabella Gallaon-Aoki.

| | | |
| --- | --- | --- |
| | | |