Anti-puppy Mill Legislation
VICTORY! CA Governor Brown Bans the Sale of Mill Animals in Pet Stores
On October 13, 2017, Governor Jerry Brown signed California A.B. 485: the Pet Rescue and Adoption Act into law, banning the retail sale of commercially bred dogs, cats, and rabbits in pet shops across the state. The law went into effect on January 1, 2019, and requires all California pet stores to only sell dogs, cats, and rabbits obtained from local pet shelters, humane societies, and rescues. California is the first state in the nation to pass such legislation, which aims to stop neglectful animal breeders from profiting off of the sale of dogs, cats, and rabbits in order to give California's homeless pets a greater chance of finding a home.
Los Angeles has Banned the Sale of Commercially Bred Puppies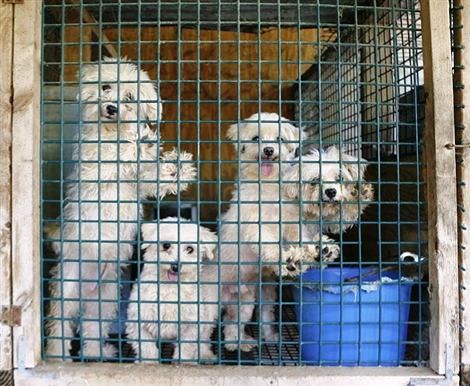 On Wednesday, October 31, 2012, Los Angeles City Council approved a city ordinance that bans the sale of mill animals in any pet store in Los Angeles. The ordinance includes dogs, cats, and rabbits and institutes a 3-year ban which if violated can incur a misdemeanor count and fines ranging from $250 to $1000, depending on how many times the offense has been committed. Any dogs, cats, or rabbits sold at a pet store must now be obtained from shelters or rescues.

This ban will help counter the growing number of shelter animals in Los Angeles. In 2011, approximately 500,000 animals were euthanized in Los Angeles County at taxpayer expense totaling an estimate of $50M. Thanks to the championing efforts of long-time animal advocate, LA City Councilmember Paul Koretz, Fifth District, the new law will become operative within 6 months.

Puppies raised in cramped environments with other dogs become poorly socialized to other dogs and to humans. Many breeding females are never let out of their crates for their entire lives to see the light of day. Hundreds of thousands of puppies live in wire-bottom cages and sustain broken limbs and infections.

The ban affects 24 pet stores in Los Angeles and smaller cities such as Irvine, Hermosa Beach, and West Hollywood have already adopted the ban. The Windy City has also pledged to follow suit.


LCA and Antonovitch Lead Puppy Mill Reform Campaign in Los Angeles County
Following LCA's Special Investigations Unit (SIU) uncovering the desperate conditions for dogs at World Kennel, a breeding facility near Palmdale, CA that supplied several Los Angeles puppy "boutiques," LA County Supervisor Mike Antonovich (R) invited LCA to spearhead a taskforce to solve the area's previously unknown puppy mill problem. The SIU worked overtly and covertly to bring to light "LA's dirty little secret." Armed with the above video and LCA's report, Mike Antonovich proposed a motion to the Los Angeles County Board of Supervisor's to review ordinances and legislations and so effectively ban "Puppy Mills" in the County.

BOARD APPROVES ANTI-PUPPY MILL ORDINANCE
March 15, 2011 -- The Los Angeles County Board of Supervisors unanimously approved an ordinance spearheaded by Mayor Michael D. Antonovich to reduce animal cruelty associated with puppy mills.
"This ordinance will close puppy mills, which have historically abused animals by placing them in overcrowded and unsanitary conditions without adequate veterinary care, food and water," said Antonovich.
Under the ordinance, which applies to the County's unincorporated areas, breeders will be required to:
-- wait until dogs are at least 12 months old before breeding them
-- keep puppies on premises until they are at least eight weeks old
-- separate pregnant females at least three days before they give birth
-- and provide nesting boxes for the moms and their pups

Also, all new pups will have to be micro-chipped at four months and pet stores will have to disclose the source of their animals.
The ordinance will be mailed out to all of the County's 88 cities urging them to adopt a similar ordinance. To read the full text of the ordinance please visit http://file.lacounty.gov/dacc/cms1_195450.pdf

Learn more about: The Pet Safety & Protection Act