LCA's "Save the Mountain Gorilla" Campaign Supports Virunga National Park's AirWing Program
LCA provides ongoing support to Virunga National Park's AirWing program. The AirWing is the "eye in the sky" and the best line of defense that the gorillas and the Virunga Park Rangers have. The Rangers risk their lives daily to protect the Park, the natural resources, local people, wild animals, and the majestic mountain gorillas.
May 5, 2022 - Two Virunga Rangers Become Pilots
Congratulations to the first Virunga National Park Rangers, Bright Uzunga Bedidjo and Claude Mbaraza, for completing their training and flight exams (including learning English) to become the first Rangers to be Pilots. This is a ground-breaking achievement for Virunga National Park Rangers and the Virunga AirWing program. This amazing achievement has made the local population proud and has reached the President of the Democratic Republic of the Congo, His Excellency, Felix Tshisekedi.
LCA's Mountain Gorilla Campaign proudly sponsors Virunga's pilot training program.
2021 - Hangar, Ranger Quarters & Second BatHawk
Construction of a new fortified hangar and rangers quarters were completed near Virunga's headquarters at the Katale/LCA airfield. The new barracks will house 12 hardworking rangers, complete with showers and bathroom facilities. A second, critical BatHawk aircraft, donated by LCA, also joined the AirWing fleet.
Past support enabled LCA to help the AirWing program purchase the Katale/LCA airfield. The AirWing program was previously forced to rent under constant threats of being evicted. LCA aslo helped support the building of a protective bastion wall around the perimeter of the airfield measuring six feet, six inches tall and more than 1500 feet long.
Virunga's AirWing program is vital to Virunga National Park.
The instability of the area around Virunga National Park cannot be overstated.
Poachers and rebel militia roam the vast expanse of the Park to plunder and kill. The political climate is often unstable. Mercenaries and an illegal charcoal trade consider the mountain gorillas a direct threat to their criminal activities. In 2007, charcoal mafia members brutally murdered a family of gorillas so there would no longer be a reason to protect the park.
In addition, the economic fallout from COVID-19 in the Democratic Republic of the Congo has created a deadly surge in bush meat poaching. There has been a giant spike in the number of poacher's snares set to slaughter the mountain gorillas for bush meat.
Because the Park is so massive and foot patrols working alone would have little hope of surveilling the area, the AirWing program is the "eye in the sky" and the best line of defense that gorillas and ground Rangers have. The AirWing increases the efficiency of ground patrols and helps to keep the rangers and animals safe, along with providing emergency evacuations for injured animals and rangers.
You Can Help Support LCA's "Save the Mountain Gorillas" Campaign
Donate Online Here: Please enter "Gorilla" in the comment box on the online form.
Donate by Phone: Call 310-271-6096 x28 or email

This email address is being protected from spambots. You need JavaScript enabled to view it.

.
Donate by Mail: Last Chance for Animals, 8033 Sunset Blvd #835, Los Angeles, CA 90046. Make sure to write "Gorilla" on your check or money order.
2017 - The Cindy & Michael Landon Foundation and LCA Donate Cessna 206 Plane to the Virunga AirWing. Follow the journey.
Go here to read the FERRY PILOT DIARY and learn about the amazing journey of pilot and plane from Colorado to Virunga
LCA and the Cindy & Michael Landon Foundation's donated Cessna 206 aircraft took off from Alamosa, Colorado on Monday, March 20, 2017, and reached its final destination of Virunga National Park in the Congo, where it will help protect the land and the wildlife -- including the endangered mountain gorillas!
| | |
| --- | --- |
| Cindy Landon, Chris DeRose and Cindy Beal with the plane in Corona, CA | The plane flying over the Colorado Rockies |
| The plane with crew in Alamosa, CO | The plane after landing in Virunga |
After previously providing Virunga's Air Wing Program with airplane bush wheels, mobile LED airstrip lighting, and tool chests, LCA has now -- together with the Cindy & Michael Landon Foundation -- donated an anti-poaching plane, which will greatly expand Air Wing capabilities.
The plane underwent bodywork and painting, which were completed in October and November 2016 in Corona, California, before traveling to Alamosa for the finishing touches. It was safely ferried to Entebbe, Uganda by Captain Joe Drury, and then flown to Virunga National Park on Tuesday, April 11, 2017!
Africa's mountain gorilla (Gorilla beringei beringei), one of man's closest relatives, is in peril. In recent years, their plight has become more precarious due to poaching, political instability, and deforestation. They are listed as endangered on the 2015-14 Red List of the IUCN - the world's most respected authority on the plight of Earth's plants and animals. They are one of the world's rarest animals, with only about 900 remaining in the wild.
About 480 gorillas live in the Virunga Volcanoes Massif, which combines Rwanda's Volcanoes National Park, Democratic Republic of Congo's Virunga National Park and Uganda's Mgahinga National Park. About 420 gorillas also live in Bwindi's Impenetrable National Park in Uganda. Rangers in Rwanda, Uganda, and the Congo risk their lives to protect the animals and the park. LCA is committed to keeping Africa's mountain gorillas safe by continuing to provide much needed equipment and support to help in the conservation and protection of the gorillas and the safety of the rangers.
2016 - Virunga National Park in the Democratic Republic of the Congo!
Emergency Fundraising Goal REACHED!!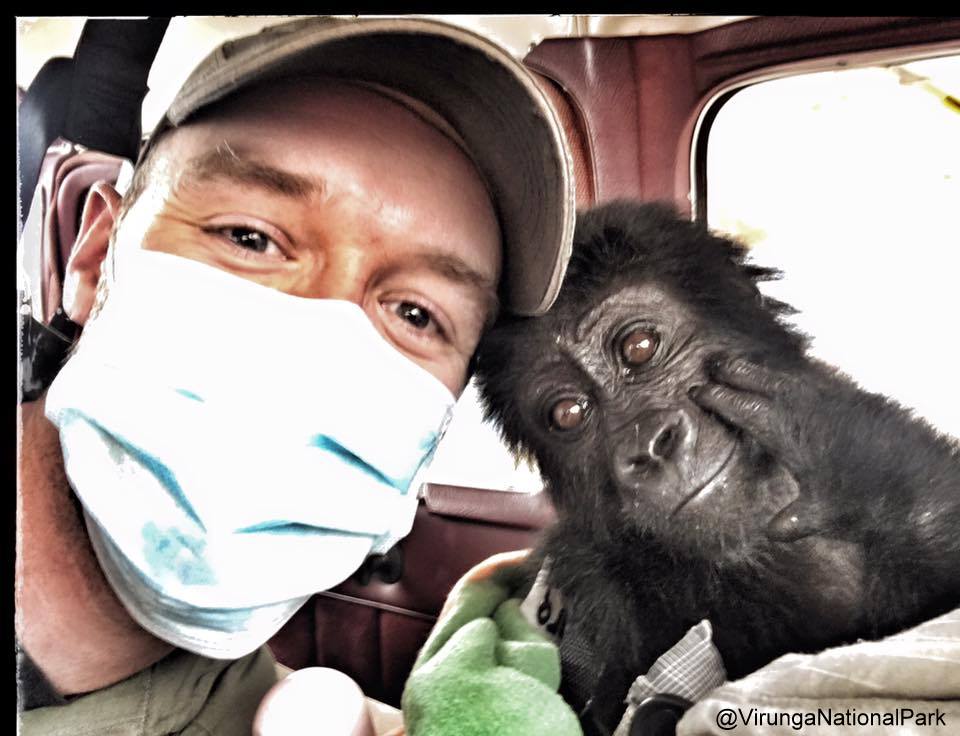 LCA is now providing critical support and equipment to the rangers in the Congo's Virunga National Park - in their anti-poaching efforts through their Air Wing program. Due to political instability, poaching, and illegal oil exploration, over 150 rangers in Congo's Virunga National Park have been killed in the last decade. The rangers live and work in life-threatening conditions protecting the mountain gorillas and all other wildlife in the park. Measuring over 3,000 square miles, Virunga extends over varied terrain and has limited capacity to deploy rangers to every corner of the park on short notice. Virunga's park authority believes the availability of a functional and modern Air Wing program provides the best possible tool to secure the park and reduce threats to Virunga's wildlife populations. Virunga National Park is a Unesco World Heritage site and Africa's oldest park founded in 1925. Watch the true story of the valiant rangers in the Netflix Academy Award-nominated Documentary - Virunga.

At the Rumangabo military base of the Congo is a gorilla orphanage called Senwekwe Center. The center takes in and cares for gorillas who have lost their families to poachers or animal traffickers; most of the orphans have witnessed their family members killed right in front of them. In March 2016, a baby gorilla "LULINGU" of barely three months old was saved by Virunga's Air Wing Support and brought to the orphanage where she will be raised with the best care. Her parents were killed by poachers that were trying to steal her for sale to a private zoo.
In 2016, LCA provided the Air Wing Program with airplane bush wheels, mobile LED airstrip lighting and tool chests. In conjunction with the Michael & Cindy Landon Foundation, LCA has provided a Cessna 206 aircraft, which will greatly expand Air Wing capabilities. The plane underwent bodywork and painting, which were completed in October and November 2016 in Corona, California. The plane is due in Virunga National Park in late March 2017.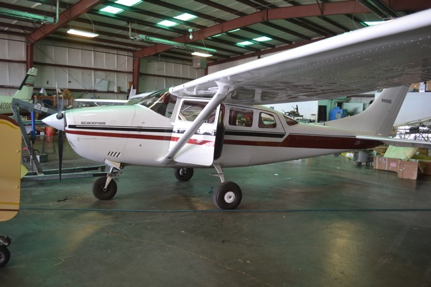 October 2016 – Alamosa, Colorado: Cessna 206 before rebuild
November 3, 2016 – Corona, California: Acid wash and bodywork complete. Plane now masked for paint; the following day, the primer and beige base coat were sprayed.
November 7, 2016 – Corona, California: Beige paint has been applied and is now dry. Next, inspection plates will be attached and the plane will be masked again for green paint. Once the green paint has been added and dried, black lettering will be applied, including the new number N161VP.
November 18, 2016 – Corona, California: Painting is complete! On this afternoon, the plane took off from Corona Airport and flew back to Alamosa for the final touches before the long and perilous trip to Virunga.
Equipment donated by LCA to Virunga National Park: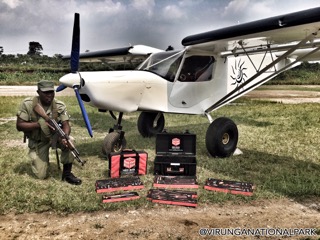 | | | |
| --- | --- | --- |
| Mom and Baby Mountain Gorilla in Virunga | Airplane Damaged by Rebels | Virunga Rangers at Work in the Congo |
| | |
| --- | --- |
| Virunga Rangers | Anti-Poaching Airplane |
YOU CAN MAKE A DIFFERENCE!
Help us by contributing today!
Your contribution will help save an entire species!

READ ABOUT LCA'S PRIOR GORILLA CAMPAIGNS
2016 Goal Reached – Stealth Camouflage Surveillance Cameras
In 2016, your support enabled LCA to provide 30 Reconyx HC500 Hperfire surveillance cameras to the Ugandan Wildlife Authority. The cameras were fitted in Bwindi's Impenetrable National Park in Uganda to monitor both gorillas and other wildlife and poachers who enter into the protected area. Poachers will be apprehended and arraigned in courts of law which will instill fear in those intending to poach. These undetectable waterproof stealth cameras will operate 24 hours a day capturing and delivering quality images and enabling observation of wild animals without disrupting their environment.
2014 Goal Reached – New Motorola Aerial Communication System
In 2014, with your help, LCA succeeded in purchasing and shipping a new Motorola Aerial Communication System to the Ugandan Wildlife Authority (UWA). This updated radio equipment has had a significant impact on the safety of the gorillas as the coverage and speed of radio communications has vastly improved for all park operations, especially patrols. The new Motorola Aerial system came complete with 11 VHF Aerial Outstations, 11 Motorola DP4400 VHF Desk Top Units and 50 Motorola DP2400 VHF Portable Digital Radios.
The quote below is from Pontious Ezuma, Conservation Area manager for Bwindi's National Park in Uganda:
"I, on behalf of Bwindi Mgahinga Conservation Area would like to pass on to LCA a special appreciation for this great donation that has all of a sudden improved our communication system within the Conservation Area. Our monitoring of the habituated groups of gorillas and the tourism has hence been boosted. This alone has also boosted staff morale which will go a long way in conserving the wildlife in the protected area and particularly so the critically endangered mountain gorillas.
We are looking forward to further close working relations to continue to protect the wildlife of this park and Uganda at large. Thank you and thank you again!"
Pontious Ezuma
Conservation Area Manager
Bwindi Mgahinga Conservation Area – Uganda




Motorola DM4400

VHF Desk Top Unit





Motorola DP2400 Portable
Digial Radio




Typical Outstation Configuration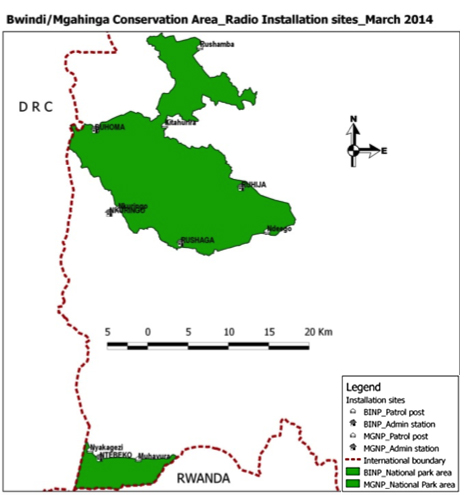 Conservation Area Radio Installation Sites
2012 Goal Reached - 22 Garmin Units and 271 Rain Suits
In 2012, with your help, LCA was able to provide 22 Garmin Map GPS units and 271 "Bang for your Buck" rain suits to the Ugandan Wildlife Authority. The GPS unit is manufactured by Garmin International, one of the world's leading manufacturers of cutting-edge navigation and communications devices.
Senior staff checking GPS units and ranger field force distributing units to




patrol outposts and gorilla monitoring points.

UWA team wearing the rain suits supplied through LCA donors.
2008 Goal Reached – 120 Garmin eTrex Legend!
In 2008, with your help, LCA was able to provide 120 very specialized Garmin GPS units, the eTrex Legend HCx (including accessories); 80 units to Rwanda and 40 units to Uganda. The unit is a particularly rugged version that is dependable for pinpointing locations.

2006 Goal Reached – 100 Motorola GP340 Radios




In 2006, with your help, LCA was able to provide 60 Motorola GP340 handheld radios to the UWA in Uganda and 40 to the Rwandan Wildlife Authority (RWA) in Rwanda – specialized equipment that allows them to monitor the gorillas to know where they are at all times. The radios allow for daily tracking to keep them safe and protect them from poachers and illegal activity.

The radios enabled the UWA and the RWA to cover a larger territory and extended communication to an area that had previously only received messages via foot. The UWA told LCA this "closure of the gap" added immensely to their conservation efforts of the mountain gorilla.
Africa participates in "Eco-Tourism;" tourism that provides revenue through gorilla trekking both in Uganda and Rwanda. Revenue earned through tourism benefits both the mountain gorilla and surrounding communities and helps the local people understand the value of the gorilla's continued survival. Gorilla treks are very restricted and help to fund future preservation efforts of the mountain gorillas and fund community project – schools, roads, clinic and community center.

To learn more about the African mountain gorillas and gorilla trekking in Uganda and Rwanda, please visit www.ugandawildlife.org, www.rwandatourism.org and www.virunga.org.