About Sanctuaries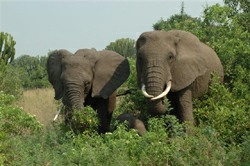 Due to the fact that reintroduction into the wild is not yet possible, relocation to sanctuaries is the only suitable option for captive elephants. There are two sanctuaries in the United States that offer exceptional homes for elephants:

The Performing Animal Welfare Society (PAWS) (www.pawsweb.org) in Northern California, and The Elephant Sanctuary (www.elephants.com) in Hohenwald, Tennessee.
Both sanctuaries provide a generous environment similar to an elephant's natural habitat in which they can roam, forage, and bond with other elephants.
PAWS offers approximately 100 acres of natural vegetation, a heated barn, numerous streams, creeks, a pond, and even a heated exercise pool.

The Elephant Sanctuary offers approximately 2,700 acres of natural vegetation, a heated barn, and a 25-acre spring fed lake.

With much higher standards of care than American Zoo Association's (AZA) accredited facilities, both sanctuaries prohibit any type of punishment, chaining, or dominance, and allow the elephants to express free choice — a liberty they are never allowed in captivity.

Both sanctuaries utilize "protected contact," which allows extremely limited to no physical contact between a keeper and an animal, as opposed to "free contact," which allows keepers to occupy the same enclosure as the elephant. Although elephants by nature are generally nonviolent, the stress endured in captivity sometimes pushes them to a breaking point and they rebel by attacking or rampaging. Since 1990, such occurrences have resulted in 18 human deaths and more than 135 human injuries in the US. The protected contact system is much safer for both keeper and elephant.
DID YOU KNOW?!
You can watch the elephants LIVE online at The Elephant Sanctuary and PAWS Sanctuary! Click the links below to get started!

Learn more about: Wild Vs. Captive