Class B Dealer Stebane
The First B Dealer To Ever Have His License Revoked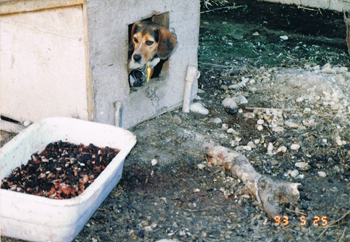 Chained dog in filthy conditions at Stebane's Circle S RanchErvin Stebane ran Circle S Ranch, located in Kaukauna, Wisconsin since the 1950's. Charges of animal cruelty at the Circle S Ranch date back at least to 1960 when a local newspaper ran a story about puppies being beaten to death and left in a frozen pile all winter, and older dogs fighting over a half frozen calf carcass in a filthy barn. In 1986, a series of newspaper articles offered eyewitness accounts from former employees who described how Stebane routinely castrated dogs with no anesthesia and how dogs kept in a filthy barn had to fight over rotten meat while the bodies of dogs that had died were left to decompose.

According to newspaper articles, Stebane collected dogs from people who placed "free to good home" ads or stole them from the street and people's yards. The stories were so shocking that Toby Roth, a U.S. Congressman from the district, requested a federal investigation into Circle S Ranch. The USDA took no action despite numerous reports and the fact that its own inspectors found dozens of violations of animal welfare and sanitary regulations that went uncorrected yearly.
Investigation
In June of 1992 an activist in Wisconsin contacted LCA. She and her colleagues were frustrated because nothing was being done about the Circle S Ranch. The informant came to LCA with a disturbing rumor—that Stebane was killing and butchering dogs for people who ate dog meat.

LCA's Special Investigations Unit (SIU) conducted an investigation into Stebane and Circle S Ranch; keeping Stebane's property under surveillance, counting the animals being brought in, tracing shipments to labs, taking down license-plate numbers, and collecting descriptions of companion animals recently reported to have been lost or stolen or turned over to anyone answering a "free to good home" advertisement.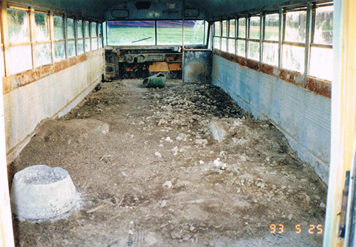 Disgusting conditions in Stebane's barnThe SIU documented numerous individuals entering Circle S Ranch and leaving with grain sacks that certainly weren't filled with grain. The best chance to document what was happening would be a sting operation. That meant someone going to the Circle S Ranch posing as a dog eater and recording Stebane killing and butchering a dog. By the spring of 1993 LCA found a couple willing to pose as dog eaters.

On the night of May 13, 1993 the SIU entered the property to document the horrible conditions at the Circle S Ranch and to videotape and photograph as many dogs as possible so that owners could identify and claim them. They photographed dogs chained up around the outside of the barn including a black Labrador Retriever shackled to a doghouse by a six-inch chain. He couldn't even reach the bowls of filthy food and water nearby. They documented butchered calf carcasses and stinking, rotting meat soaking in bloody buckets, infested with thousands of maggots.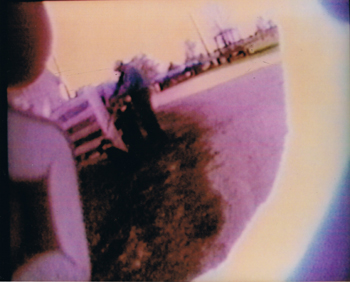 Undercover tape of Stebane shooting dogLocal activists had already contacted the Circle S Ranch to ask about getting fresh dog meat, and Stebane quoted his current prices to them - $75 for a big dog, $50 for a medium-size dog, and $25 for a small dog. The SIU watched as the undercover couple talked to Stebane in front of the farmhouse. After a few minutes he led them back to the barn. Shortly after, investigators heard a gunshot and knew a dog had just been killed.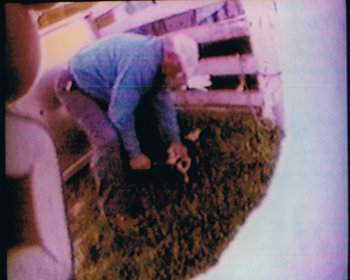 Undercover tape of Stebane with dead dogThe couple recorded undercover tape showing the dog, a Springer Spaniel, being selected inside the barn, Stebane bringing it out with a chain wrapped tightly around its neck, tying the dog to a post and shooting it through the head with a rifle, then slitting its throat so deeply that the head was almost severed, holding the body up by the hind legs and letting the blood drain out through the gashed neck, and finally stuffing the lifeless body into a grain sack.
Outcome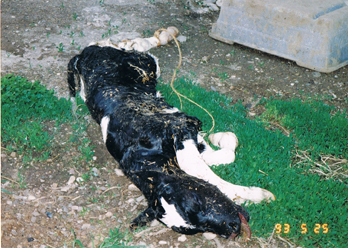 Dead calf left to rotOn May 25th LCA gave the tape to WBAY, the ABC station in Green Bay. It aired that day. That evening as the SIU watched from the street, the police and animal control authorities raided Circle S Ranch. They arrested Stebane and collected about a dozen dogs. The authorities left approximately 140 dogs in the barn and a smaller building. The next day, LCA's SIU team persuaded police and animal control to let local humane organizations rescue the remaining dogs. Some dogs were identified and eventually reunited with their owners, the rest were placed in new homes.

Stebane was charged with "improperly killing animals." The hearing took place on August 6, 1994. Stebane was the first B dealer ever to have his license permanently revoked. Although Stebane never went to jail, he was out of business for good.

Learn more about: Class B Dealer Stephens