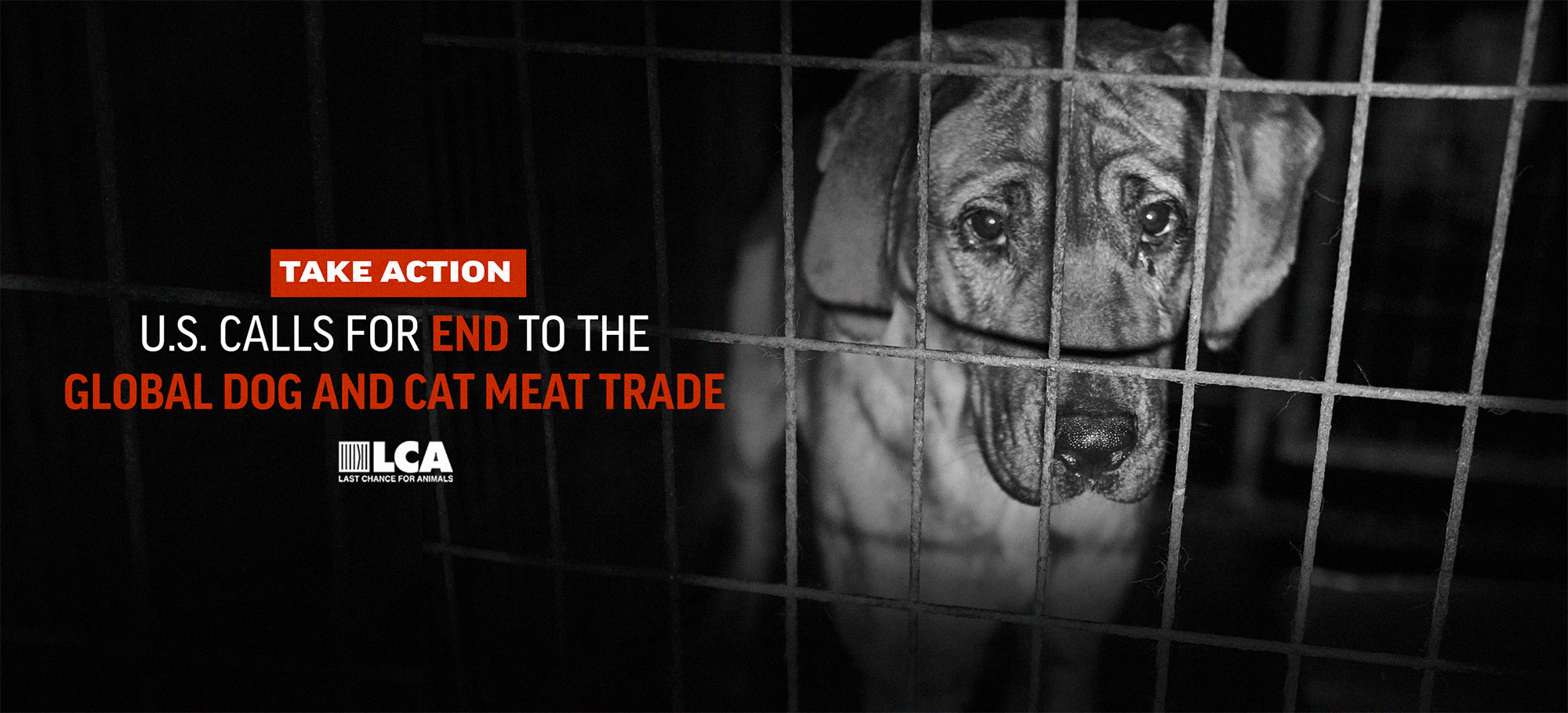 THE U.S. CALLS FOR END TO THE GLOBAL DOG & CAT MEAT TRADE
NEXT STEP IS FOR CONGRESS TO ADOPT RESOLUTION
EMAIL YOUR U.S. REPRESENTATIVE TO URGE THEIR SUPPORT
On 7/20/2023, an historic bipartisan resolution calling for countries around the world to end the slaughter of dogs and cats for meat was introduced into the United States Congress. The resolution was introduced by Congressman Jared Moskowitz (D-FL), Congressman Vern Buchanan (R-FL), Senator Jeff Merkley (D-OR), and Senator Rick Scott (R-FL). Read the press release here.
With our presence in DC, LCA staff worked with Congressman Moskowitz to have this important resolution introduced and we will be leading efforts to have it passed by both chambers.
Every year, around the globe, approximately 30 million dogs and 10 million cats are killed for their meat. Crammed into tiny cages with no food or water, and exposed to extreme weather on transport trucks, dogs and cats can travel hundreds of miles to reach the slaughterhouses. Common killing methods include beating, bludgeoning, electrocution, and being boiled alive. Watch our undercover investigation into the dog meat trade at StopDogMeat.com.
Some animals killed in the meat trade are raised in factory farms, while others are strays or family pets who are stolen and trafficked into the meat trade, arriving at the slaughterhouse still wearing collars.
In 2018, the U.S. officially outlawed the slaughter of dogs and cats in the FARM bill. With this resolution, the U.S. is now making a stand against the governments of countries that allow these heinous acts. We applaud the bipartisan support and look forward to the House and Senate moving for adoption. Go here to contact your U.S. Representative for their support.
The resolution also calls on the countries around the world to enforce existing laws against the dog and cat meat trade. For example, during an undercover investigation of a S. Korea dog meat slaughterhouse, LCA / ALW documented filthy and unhygienic conditions, clear violations of S. Korea's Food Sanitation Act, yet no charges were laid against the operators of the facility. Watch our investigation into the S. Korea dog meat trade on YouTube.
"The global suffering of dogs and cats for human consumption is barbaric and unconscionable. The same animals that we consider valued members of our families are victims of some of the worst examples of human cruelty. This resolution is an important step in eliminating the pervasive abuse of dogs and cats worldwide," said Congressman Moskowitz.
The Dog and Cat Meat Resolution (H. Con. Res. 59 & S.Con.Res.16) is a strong statement of condemnation from the United States that can be used to politically pressure countries to outlaw dog and cat slaughter for meat.
All the Ways You Can Help
U.S. Residents:
1. Go to our action page to easily email your U.S. Representative and urge them to support the resolution.
2. After you contact your U.S. Representatives through our action page above, the next step is to call and email your Rep. personally. Use our downloadable House Dog Meat Resolution Fact Sheet here and Senate Dog Meat Resolution Fact Sheet here. Use the Fact Sheet for talking points as well as emailing the fact sheets to your Reps.
Global Residents:
1. Send the Seoul City Council an email suporting their proposed Dog Meat Ban here.
2. Sign our petition to end the Dog Meat Trade in S. Korea here.
Learn more here about our work on the ground in S. Korea to stop the dog meat trade.