California's Foie Gras Ban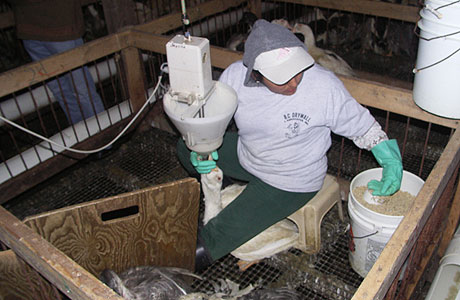 Force feeding through gavage
UPDATE: On January 7, 2019, the U.S. Supreme Court upheld California's foie gras ban after rejecting a challenge made by foie gras producers.
On December 6, 2018, as part of a lawsuit settlement, Amazon agreed to stop selling foie gras in California from birds that had been force-fed and agreed to pay $100,000 in civil penalties, costs, and restitution.
HISTORY: On July 1, 2012, California's Foie Gras ban went into effect. Section 25981 of the California law S.B. 1520, enacted in 2004 by then CA Governor Arnold Schwarzenegger, states, "A product may not be sold in California if it is the result of force feeding a bird for the purpose of enlarging the bird's liver beyond normal size." The ban gave producers eight years to come up with a more humane method of production, which they were not able to do.
On January 7, 2014, U.S. District Judge Stephen V. Wilson ruled to overturn California's ban of foie gras sales. Wilson claimed that the ban was unconstitutional because it interferes with federal laws regulating poultry products.
Even while the ban was in effect, LCA discovered shipments of foie gras from retailers outside of California that are made through giant online retailer Amazon.com. We communicated with Amazon.com to stop shipments of foie gras, but they failed to comply, until now.
Engorged duck liver through gavage
(force feeding) and a normal duck liver

Beautiful, healthy duck