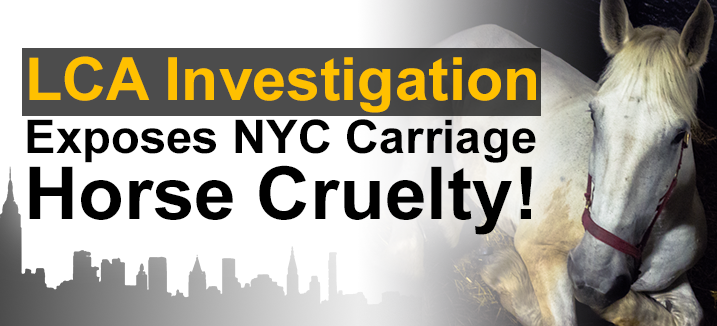 VICTORY FOR NYC CARRIAGE HORSES!
8/30/2018: the Department of Transportation submitted new draft rules outlining NYC Mayor de Blasio's plan to move the current horse-drawn carriage hack line into Central Park. On March 1, 2019, NYC carriage horses were officially moved out of busy traffic on 59th Street and into three locations inside of the car-free park! While horse-drawn carriages are clearly cruel and inhumane (and should be banned altogether), the hack line move is a step in the right direction as NYC carriage horses will no longer be forced to work in traffic on the dangerous city streets.
11/25/2019: New York City Mayor Bill de Blasio signed Intro 1425A—the Carriage Horse Heat Relief Bill—into law to alleviate the misery horses are forced to endure while working in the scorching summer heat.
New York Carriage Horse Industry Investigation
LCA investigated the New York City carriage horse industry and exposed routine violations of the laws and regulations that protect both horses and people. The undercover video, narrated by Emmy Award-winning actress Edie Falco, reveals carriage horses operating in dangerous traffic conditions, deprived of access to water, and forced to work while injured.
LCA's undercover footage revealed:
Drivers making U-turns the wrong way down one-way streets and running red lights

Horses left unattended and untethered on the "hack line" surrounding Central Park

—

even while small children are present

Horses tethered on short leads in their stalls at night, preventing them from reaching food and water and/or lying down

One driver refusing to let his horse access water during a ride when the city temperature was above 80 degrees

One horse, that was limping, forced to pull his carriage back to the stables, then put back to work without veterinary examination
LCA has filed complaints with the Department of Mental Health and Hygiene, Department of Transportation, Department of Consumer Affairs and the American Society for the Prevention of Cruelty to Animals
—
all of which are responsible for enforcing New York City's carriage horse laws and regulations.
Dr. Holly Cheever, DVM and Vice President of the New York State Humane Association, reviewed the investigation video and concluded, "LCA's analysis of New York's carriage horse trade as detailed in its petition is completely accurate in its discussion of the hazards, cruelty, and the many violations of NYC Codes and Rules. Given the overall condition of the animals, quality of the ancient stabling, and hazards of their urban lives makes this tourist industry inherently cruel, in my professional opinion."
Carriage Horse Injuries and Fatalities
Since 2009, there have been numerous incidents of horse carriage-related accidents in New York City, including serious injuries sustained by drivers, horses, customers, and passers-by. These include a child falling out of a carriage and run over by the wheel, a horse collapsing and dying in the street, and numerous cases of carriage drivers fleeing the scenes of accidents. Many of these drivers are never identified and thus never held accountable.
In 2007, in St. Petersburg, Russia, five-year-old Valeriya Kolodyazhnaya — the daughter of the mayor of Sochi — was killed in a horrific horse-drawn carriage accident. A car collided with the carriage, causing Valeriya to fall onto the road; she was admitted to the hospital with severe injuries, and later died.
What You Can Do:
Wherever you live, CLICK HERE to contact New York Mayor Bill de Blasio and urge him to keep up the fight against horse-drawn carriages.

Investigation Gallery: