Class B Dealer Stephens
The First Case of Its Kind to Be Prosecuted in Federal Court
After LCA exposed B Dealer Joe Hickey, his former employee, David Stephens, operated D&T Kennels, in Lebanon, Oregon, selling dogs to medical research facilities for several years. Stephens said he paid $65 for dogs and sold them for $350 to medical research hospitals. Stephens admitted selling 25-30 dogs each month during a three-year period. He reported the business took in $70,000 to $80,000 annually.

Stephens sold dogs to the University of Nevada at Reno, the Sepulveda Research Corporation in Sepulveda, California, the Veterans Administration Research Center in Los Angeles, the Cedars Sinai Medical Center in Los Angeles, and other research groups according to court records.

All three people involved with D&T kennels, Stephens, his wife, and Brenda Linville obtained animals from 'random sources.'
Investigation
After receiving an anonymous tip, LCA and law enforcement officers confronted Stephens early on the morning of a dog delivery to Cedars-Sinai Medical Center. The dogs he had with him were stolen pets. Further investigation discovered that Stephens was partnered with an employee of the DMV in Oregon, using data from deceased individuals as the falsified sellers of the dogs. Furthermore, a suspicious pet owner who had given two dogs to Linville (the girl who stole dogs to sell to Stephens) tipped off federal investigators. The investigation led USDA inspectors to D&T Kennels where a search warrant turned up the falsified records. Inspectors found more than 60 individuals had been falsely listed as dog owners who "sold" more than 150 dogs to the kennels for resale to medical research facilities.

Linn County deputies and state-federal agents raided the kennels on April 2, 1992.

The Oregon Humane Society took custody of 25 dogs and seven cats that were in the kennel at the time of the raid.
Charges
Stephens, his wife, and Linville were charged with making false entries and statements on USDA records.
Sentencing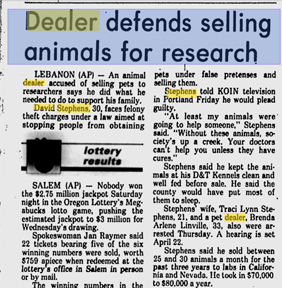 Newspaper article on Stephens arrestDavid Stephens was sentenced to 10 months in federal prison, two months of home detention, and placed on three year's supervised parole.

Stephen's wife and business partner, Tracy Stephens, was sentenced to one year of home detention.

Brenda Linville, a licensed animal dealer, was charged the same way as Stephens. She served 8 months in prison, 2 months of home detention, and 3 years of supervised release.

Investigators determined that Linville would answer advertisements by animal owners who were seeking homes for pets. After acquiring the animals, Linville would sell them to D&T Kennels of Sweet Home.

Through her work as a janitor for the Oregon Motor Vehicles Division, Linville also acquired names and identification numbers that kennel operators then used to hide the source of the dogs.

This case was the first of its kind to be prosecuted in federal court.

Learn more about: Class B Dealer Cooper