Foie Gras - An Appetite for Cruelty!
BAN FOIE GRAS SHIPMENTS TO CALIFORNIA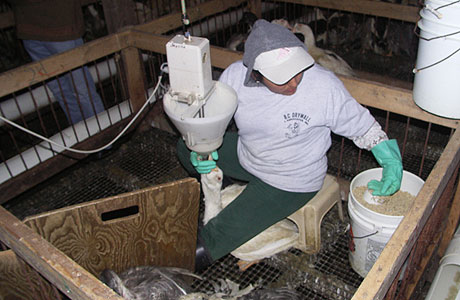 Force feeding through gavage
On July 1, 2012, California's Foie Gras ban went into effect. Section 25981 of the California law S.B. 1520, enacted in 2004 by then CA Governor Arnold Schwarzenegger, states, "A product may not be sold in California if it is the result of force feeding a bird for the purpose of enlarging the bird's liver beyond normal size." The ban gave producers eight years to come up with a more humane method of production, which they were not able to do.
LCA discovered shipments of foie gras from retailers outside of California that are being made through giant on-line retailer Amazon.com and is communicating with Amazon.com to stop the shipments.


Engorged duck liver through gavage
(force feeding) and a normal duck liver

Beautiful, healthy duck
WHAT YOU CAN DO:
#1.) CONTACT AMAZON and ask them to stop shipping foie gras anywhere through Amazon:

Amazon
1200 12th Ave, #1200
Seattle, WA 98144
fax #: 206-622-2405
phone #: 206-266-1000

Dear Amazon,

I support the end of production, consumption and sale of foie gras in the United States and am urging you to help further to end the cruelty of foie gras. Amazon is an organization that prides on its excellence and integrity and I urge you to continue your exemplary leadership in this arena.

For the animals,
YOUR NAME AND CONTACT INFO

#2.) CONTACT HUDSON VALLEY FOIE GRAS PRESIDENT MICHAEL AEYAL GINOR:
Tell them to stop shipping foie gras to the State of California. (see below for sample text)
Michael Aeyal Ginor
Hudson Valley Foie Gras
80 Brooks Road
Farmdale, NY 12734
Email: This email address is being protected from spambots. You need JavaScript enabled to view it.
Phone #: 845-292-2500
Fax#: 845-292-3009
Dear Michael,

I am sure you are aware that it is now illegal to sell or purchase foie gras in California. Ducks and geese are force-fed to make their livers grow up to ten times their natural size, and the method of gavage is utterly inhumane, cruel and unethical. I urge you to stop your shipments to California now, before further action is taken, and I recommend that you stop the production of foie gras altogether.

For the animals,
YOUR NAME AND CONTACT INFO
#3.) CONTACT RESTAURANTS AND STORES in your area and politely ask they stop serving and selling foie gras.
#4.) POST RESTAURANT REVIEWS ON YELP letting people know if a restuarant is still serving and selling foie gras. File a report with LCA's SIU if the restaurant is in CA so we can investigate and potentially prosecute the restaurant.

ABOUT FOIE GRAS PRODUCTION
Ducks and geese are force-fed cornmeal in order to make their livers grow up to ten times their natural size in order to produce foie gras. Behavioral evidence shows that ducks and geese experience fear, as well as acute and chronic stress from the multiple daily force feedings and the pain associated with them. Force feeding causes a number of injuries: bruising or perforation of the esophagus; hemorrhaging and inflammation of the neck resulting from the repeated insertion of the pipe to the throat; and asphyxia caused by food improperly forced into the trachea. Wounds of the esophagus may subsequently become infected. Force feeding also results in numerous illnesses and disease, including hepatic lipidosis, bacterial and fungal infections, malnourishment, and lameness. For these reasons, mortality rates for force-feed ducks are 10 to 20 times higher than those for non-force fed ducks.

Hundreds of restaurants around the world have stopped serving foie gras because of its inherent cruelty. Nationwide retailers such as Whole Foods, Costco.com and Aramark have also banned the sale of foie gras. Internationally, the foie gras ban has expanded fast as general animal welfare laws have been interpreted to prohibit the practice. Countries that have out-right banned force-feeding of ducks and geese include Austria, Czech Republic, Denmark, Finland, Germany, Italy, Norway, Luxembourg, Norway, Poland, Turkey, Holland, Israel, Switzerland and the UK.
Watch the undercover video of foie gras production