"Dealing Dogs" - The Investigation
Class B Dealer CC Baird
C.C. Baird was America's most notorious dog dealer. For years, he supplied the country's research labs with thousands of animals. Some of the dogs were strays. Others were suspected to be stolen pets. One fearless animal right's group - Last Chance for Animals (LCA) - was desperate to shut down Baird's multi-million dollar operation. LCA succeeded in placing one of its agents undercover for six months inside Baird's Arkansas kennel to videotape the hideous crimes committed against the dogs. This is the story of that harrowing investigation and its historic outcome.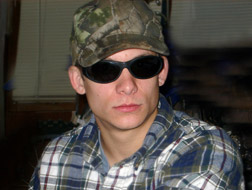 "Pete"
In early 2002, staked out in freezing conditions and forced to witness horrible animal abuses day in and day out, "Pete" gathered evidence for Last Chance for Animals' Special Investigations Unit (SIU). For over five months "Pete" worked undercover at Martin Creek Kennels to put the most notorious Class "B" dealer, C.C. Baird, behind bars. Working closely with Chris DeRose, "Pete" was sent in to expose the pet theft, routine abuse of animals and lack of adherence to the Animal Welfare Act that are the common marks of a Class "B" dealer.
"We had been working to expose Class "B" dealers for 15 years. Getting "Pete" into C.C. Baird's facility, where we knew unthinkable things were happening to these animals, was the best way to show the disgusting practices of Class "B" dealers and end the abuse at Martin Creek Kennels."
–Chris DeRose
Each morning, "Pete," would suit up in his jeans, heavy flannel shirt and work boots to head out to the kennels in Williford, Arkansas. His outward appearance was that of every other employee at Martin Creek Kennels.
"To gather enough evidence to finally put this animal abuser out of business, we had to get someone on the inside. To get inside and to work at the kennels and survive, I had to look like these people, talk like them, and act like them. I had to BE these people. If they had found out who I really was, my life would have definitely been in danger."
–"Pete"
But underneath his battered work clothes, "Pete" was secretly documenting the atrocities at Baird's facilities. Using a tiny microphone and videotaping device, "Pete" acquired more than 70 hours of video surveillance. An overwhelming amount of animal cruelty, abuse, neglect, and unsanitary conditions were exposed.
Dogs at Baird's Kennel
"We have tage that shows how Class "B" dealers pay people called "bunchers" who go out and steal family pets or fraudulently acquire dogs and cats from "free to good home" ads. "B" dealers keep these family pets in absolutely horrendous conditions where they are abused, neglected, and often left to die."
–Chris DeRose
The Raid
Last Chance for Animals' SIU unit handed the material gathered during the undercover investigation to the U.S. Attorney's Office, who brought in the U.S. Department of Agriculture, the Environmental Protection Agency, the U.S. Postal Systems, Arkansas State Police, and the local Sheriffs Department. August 2003 brought an early morning raid to Baird's facility. Citing numerous violations of the Animal Welfare Act, animals were rescued from Martin Creek Kennels with the help of Northeastern Arkansas for Animals (NAFA).
LCA's investigation of C.C. Baird's Martin Creek Kennels prompted the largest animal cruelty case in U.S. history. The U.S. Attorney's office, along with state, federal and local officials,' brought a case against Baird resulting in a guilty plea to felony charges of conspiracy to launder money in an operation involving the sale of dogs and cats to research laboratories.
Baird's guilty plea stems from his role in mail fraud, in which he violated the Animal Welfare Act by transferring dogs and cats to research facilities with false acquisition records through his facility, Martin Creek Kennels. The charge against Baird is punishable by up to 10 years in prison and a fine of more than $5 million. Baird's sentencing is expected in early 2006.
"We are very pleased with the outcome of the case. The U.S. Attorney's office, and specifically Bud Cummins, has done a stellar job. He understands the terrible impact Baird has had on thousands of people and their animals and has worked hard to make sure justice is served."
–Chris DeRose

Click HERE to learn more about "B" Dealers.
Learn more about: The Pet Safety & Protection Act