LCA AND THE HEIGL FOUNDATION TEAM UP TO FIGHT ANIMAL ABUSE!
BAKERSFIELD MAN ARRESTED FOR HOGTYING PIT BULL!
Last Chance For Animals (LCA) and The Jason Debus Heigl Foundation, founded by Nancy and Katherine Heigl, team up to fight against animal abuse. The Heigl Foundation will be working with LCA by offering a reward for abuse cases that LCA investigates. "We will do everything possible to find the person or persons responsible and make sure they are made accountable and punished to the full extent of the law for their actions," states Katherine Heigl.

Kern County Animal Control Director, Guy Shaw, announced that an arrest had been made for animal cruelty charges after the discovery of a bound pit bull on April 22, 2010. James Worley, 52, was arrested on charges of felony animal cruelty. Animal Control Officers began their investigation Monday morning and by early afternoon, Shaw said that they had gathered enough evidence to support the arrest of Worley.

Photo courtsey of Animal Control. This pit bull was found in
a south of Bakersfield, hogtied with boot lace bindings and
a heavy chain around his neck.

A pit bull was found hogtied, lying in a muddy field south of Bakersfield off Adobe Road near Sandrini Road by an animal control officer on Thursday, April 22. The boot laces were bound so tight that they dug into the dog's mouth and cut off the blood flow to his legs, causing them to swell. The animal was unable to move and suffered injuries due to the abuse. Reportedly, when the bindings and the heavy chain from around his neck were removed, the dog was friendly and showed no aggression. Shaw estimated that he had been abandoned, tied-up in the field for 4-5 hours.

Fortunately the dog was found in time and has a rescuer willing to rehabilitate and give him a home. He was named "ENGLAND" after Officer Kristen England who found him and freed him from his restraints.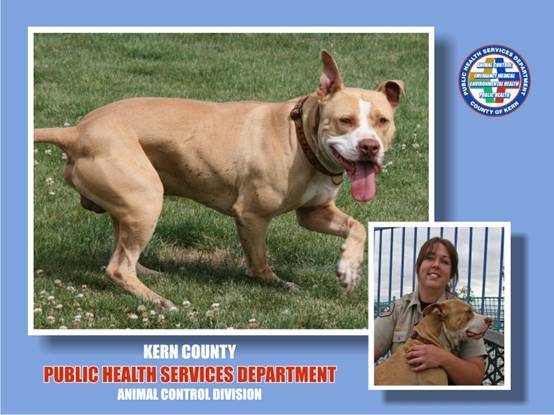 Thankfully, "England" was found in time.
He was named after his rescuer, Officer Kristen England.

"Anyone that would do this to an animal is a coward and would potentially do this to a child or a woman," states Chris DeRose, president of LCA. England will be released in the care of Heigl Foundation this Wednesday, May 5th.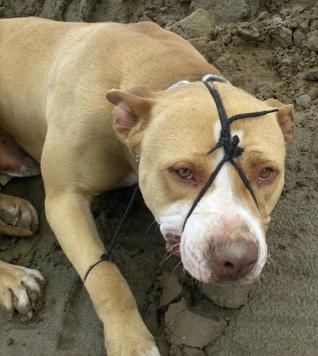 It has been proven that there is a connection between animal abuse and other criminal behavior. This is the not the first horrific case of animal abuse the Kern county animal control officers have witnessed. There were two separate cases of pit bull puppies found burned in acid last last year, in east Bakersfield. Worley was ordered held on $10,000 bail and is scheduled to be arraigned on May 7, 2010.

For the Animals,
Campaigns Department
310-271-6096 x27