LCA's Pet Shop Project sends 47 dogs on a "Flight for Life!"
Last Chance for Animals (LCA), The Cesar and Ilusion Millan Foundation, The Jason Debus Heigl Foundation, Animal Advocates Alliance, and North Shore Animal League America joined forces and sent 47 small breed dogs on a "Flight for Life!" in the early morning of 2.1.2010.The dogs were rescued from the overcrowded San Bernardino City, CA shelters where euthanasia was imminent.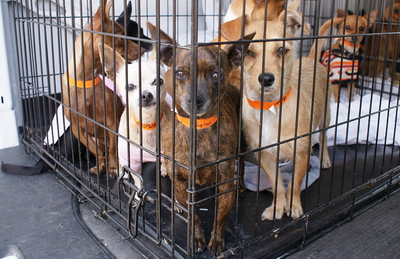 Some of the lucky San Bernadino shelter dogs waiting for transport.

The dogs, which included various breeds such as Chihuahuas, Brussels Griffon, Jack Russell Terriers and a Papillion, were transported via airplane by Cloud Nine Rescue from California to New York, where they were greeted by North Shore Animal League America's mobile adoption unit, and transported to their campus in Port Washington, NY. After being safely nestled into North Shore's facilities, the dogs will receive complete medical and behavioral evaluations, be spayed or neutered, vaccinated, and groomed. Once this process is completed, the dogs will be adopted into carefully screened homes.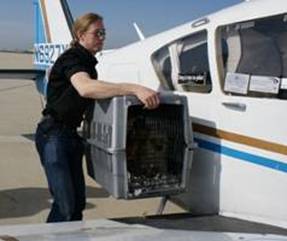 Cloud Nine Rescue's pilot helping load the dogs.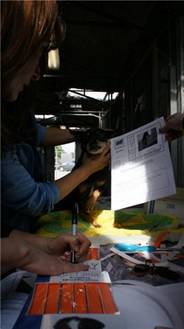 Pre-transport evaluation of the dogs.

With an excess of small breed dogs on the West Coast, many of them end up in high-kill shelters where euthanasia is used as a means of population control. Small breeds are highly desirable in the Northeast as they are not available for adoption there. This rescue mission, the first of many to come, saved the lives of these animals as they faced little chance of adoption from the San Bernardino shelter, which kills 80% of the dogs that pass through its doors.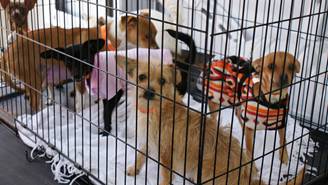 Small breed dogs at San Bernadino shelter waiting for transport.

Click the link to see more of the rescued dogs at North shore animal League http://www.nsalamerica.org/feature/puppy_mills/california-rescue-feb-2010.html
Some of the 47 dogs transported on the "Flight for Life!"

All the dogs were named after celebrities; there was a Jack Nicholson, Katherine Heigl, Oprah Winfrey, Cesar Millan, Conan O' Brien, Julia Roberts and many more. All the dogs were examined by a vet tech before the transport. Out of the 50 dogs that were rescued, 47 were able to fly as 3 of the dogs, (Denzel Washington, Johnny Depp and Kim Basinger), showed signs of kennel cough and were pulled and placed into foster homes until they get better.


LCA sends a heartfelt THANK YOU to all the volunteers and staff at the San Bernardino City Shelter! CLICK HERE to volunteer at the shelter—they need your help!

LCA's Pet Shop Project and "Adopt – Don't Shop!" campaigns are aimed at:
* Getting pet stores to stop selling animals from puppy mills and backyard breeders and to deal only in dogs from shelters and rescue organizations. See below for a list of Southern California pet stores that carry rescue dogs.
* Educating people on the cruelty of puppy mills that contribute to the pet overpopulation problem, which results in millions of unwanted dogs euthanized at shelters every year.
* Encouraging people to help STOP THE KILLING by visiting a shelter (like the one in San Bernardino, CA) and see all the dogs that are being killed; there are rows and rows of beautiful, highly adoptable dogs in all of America's shelters, many of them dropped off by their owners as they are no longer wanted.

HELP FIGHT THE GENOCIDE IN AMERICA'S SHELTER SYSTEM
AND CHANGE THE WAY AMERICA GETS THEIR PETS.


Pet shops in Southern California that carry rescues:

Bark N Bitches
505 N Fairfax Ave
Los Angeles, CA 90036-1715
(323) 655-0155

Montecito Pet Shop
2020 Cliff Drive
Santa Barbara, CA 93109
(805) 965-6780

Pacific Coast Pets Malibu - Weekend Adoptions
23705 W. Malibu Rd #300
Malibu, CA 90265
(310) 317-8600