VICTORY FOR ELEPHANTS!
OC FAIR BOARD VOTES TO
END ELEPHANT RIDES
Last Chance for Animals' elephant expert spoke at Thursday's Orange County Fair Board meeting asking the Board not to renew the contract with Have Trunk Will Travel (HTWT) the company who had provided elephant rides at the Orange County Fair for 25 years.

"This is a huge victory for elephants," said Bryan Monell, LCA's chief investigator. "I have been working with elephants since 1998 and have seen first-hand the pain, fear, and sadness these beautiful animals must endure in order to perform for rides, in circuses and even in zoos."

LCA's Monell told the OC Fair Board, "Anyone who trains and exhibits elephants, including HTWT is not entirely stupid. They are not going to beat their elephants in front of the public. The way you get control of and train an elephant is to break them as a baby. You beat them down into submission until they know you are the boss."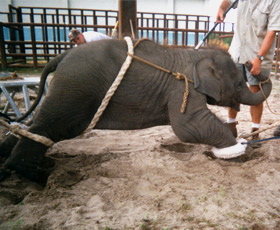 Baby elephant being trained to obey humans through the use of pain and abuse
"Elephants are highly intelligent sensitive beings," explained Monell. "They learn quickly and remember. When the elephant sees a person with a bullhook they know what will happen if they do something against the wishes of the trainer. These elephants have no choice but to perform for fear of the painful reprimand that will occur if they don't.

"Anyone who tells you that elephants are not beaten and abused while trained either has never trained them, has never personally seen training, or is flat out lying to you."

The OC Fair Board meeting main room and an overflow room was filled with animal rights activists and members of the public speaking out against HTWT. Over sixty people made comments that lasted past the lunch break. In the end, the Board vote of 7-1, a near unanimous decision with only one Board member abstaining.

Please visit LCA's web site Elephant Sanctuaries - Not Captivity! to learn more about the complex needs of elephants and learn how you can help put an end to elephants in captivity and entertainment. Visit www.fightingback4elephants.com to find out more about Wild vs. Captive Elephants, Sanctuaries, what the experts have to say, and what you can do to help.