LANDMARK VICTORY FOR THE ANIMALS - OCT 2012!
L.A. City Council Bans the Sale of Commercially Bred Puppies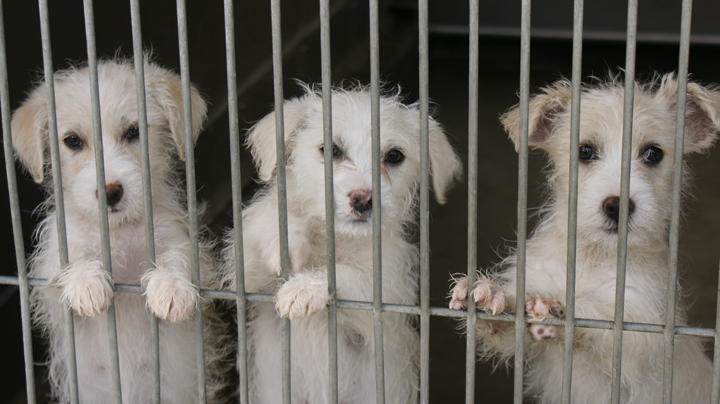 Puppies in the San Bernardino County Animal Shelter Hoping to be Adopted
Los Angeles City Council approved a new city ordinance on Wednesday, October 31, 2012, that will ban the sale of mill animals in any pet store in Los Angeles. The ordinance includes dogs, cats and rabbits and institutes a 3-year ban, which, if violated, can incur a misdemeanor count and fines ranging from $250 to $1,000, depending on how many times the offense has been committed. Any dogs, cats or rabbits sold at a pet store must be obtained from shelters or rescues when the ban goes into effect. This ban, which takes effect six months from the effective date (not yet released) will put a huge dent in the demand for puppy mill dogs and help decrease the growing number of shelter animals in Los Angeles. In 2011, approximately 500,000 animals were euthanized in Los Angeles County at taxpayer's expense totalling an estimate of $50,000,000.
LCA began the fight against puppy mills 20 years ago in Elko, Nevada where LCA's undercover investigation exposed a puppy mill whose dogs had turned to cannibalism to survive. Starting in 2008, LCA put the pressure on Los Angeles county pet store owners, convincing 12 stores to stop selling dogs from puppy mills and shutting down four other puppy mill stores.


Four LA Pet Stores Shut Down from LCA's Puppy Mill Free Store Campaign
In 2004, 12 years after LCA's first puppy mill bust in Elko, Nevada, and hundreds of protests, boycotts and rallies later, LCA launched the annual Puppy Mill Awareness Day (PMAD) in Lancaster, Pennsylvania which has now grown to Los Angeles, California and Austin, Texas. PMAD continues to gain traction across the nation as more and more people are becoming aware of the plight of puppy mill dogs.

A puppy originating from a puppy mill takes the place of an adoptable companion animal in a shelter that may never get adopted. In 2011, approximately 500,000 animals were euthanized in Los Angeles County and the ban will counter that sad statistic.

"We are thankful to LA City Council member Paul Koretz for his courage and tireless dedication to this issue. There is tremendous abuse going on in these puppy mills--this ban sends a powerful message to other cities and we're not going to stop until this Nation is puppy mill free," said LCA's DeRose.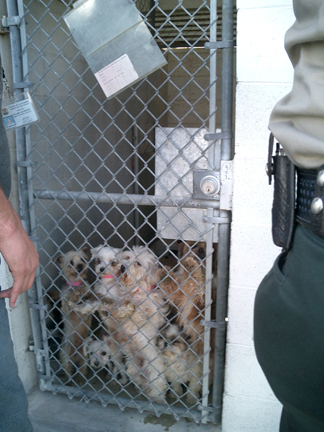 Puppies Rescued from LCA's Investigation into World Kennels Puppy Mill in Lancaster, CA

LCA has led several investigations into puppy mills and continues to make it a top priority. In 2008, LCA teamed up with Cesar Millan to investigate the operations of World Kennel USA, a puppy mill in Lancaster, California, which resulted in the rescue of over 300 dogs and a full expose of the puppy mill business and its shocking realities on National Geographic's The Dog Whisperer.

To learn more about the greed and misery of puppy mills and what you can do to stop them, visit www.banpuppymills.com.

Learn more about: Adopt, Don't Shop!