IN MEMORIAM - RUBY THE ELEPHANT!

FORMER L.A. ZOO ELEPHANT PASSED AWAY
TUESDAY, MARCH 29, 2011 AT PAWS SANCTUARY!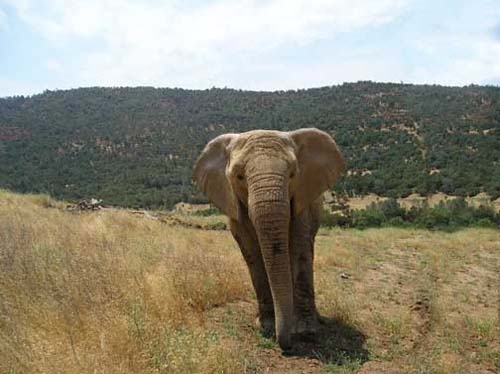 Ruby at PAWS Sanctuary in Northern California

With sadness in our hearts, we want to let you know that "Ruby," the 50-year-old former Los Angeles Zoo African elephant, died on Tuesday, March 29, 2011 at 6 pm.

Ruby spent 20 years at the L.A. Zoo before being transferred to the Performing Animals Welfare Society (PAWS) sanctuary in Northern California on May 15, 2007. Ruby's move to PAWS finally happened after immense pressure from animal activists and concerned citizens of Los Angeles. A necropsy is being performed at UC Davis and the results are pending. The loss of Ruby is a direct result of captivity and its traumatizing effect on elephants.

We must never give up fighting for the other elephants in captivity and put a stop to the senseless capture and export of wild elephants and keep elephants in the wild.

Thank you for making it possible for Ruby to have four wonderful, happy years at the end of her life- living at PAWS.

To read more about Ruby, please CLICK HERE!
Rest in Peace Dear Ruby!
For the animals,
Last Chance for Animals
310-271-6096 x27