LCA Blog
Blog for Last Chance for Animals, an international non-profit dedicated to ending animal cruelty and exploitation.
The Rabbit Industry's Dirty Secret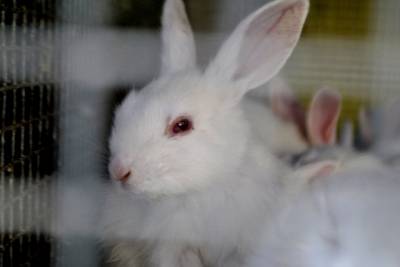 Working undercover at the Pel-Freez plant in Rogers, Arkansas, LCA's investigator spent four grueling weeks as a "blood catcher" to bring you the truth about the rabbit-meat industry. Warning: the reality is disturbing. Zero standards exist for these animals' welfare, and USDA inspectors stand idly by despite the illness, injury and torture they see.
This is the truth about Pel-Freez, the largest rabbit slaughterhouse in America.
Their rabbits are sick.
Bald patches and half-healed wounds covered many of the rabbits. Sores sealed their eyes closed. Some males had painfully swollen and blackened testicles from botched castration. LCA's investigator never heard one word about medical treatment for the sick and wounded.
They slaughter live rabbits.
Workers haphazardly hit rabbits with the flat side of a knife just before slaughter. Their careless blows leave many rabbits awake as the killer breaks their legs, hangs them from a hook, and decapitates them. The conscious rabbits emit tortured screams as they're ripped apart like rag dolls.
Dull knives make decapitation excruciating.
Pel-Freez knives become more blunt with every decapitation. Workers often have to saw vigorously to remove the rabbit's head, drawing out a torturous death.
We can help stop this torture by bringing Pel-Freez to justice. Sign this petition to urge prosecutors to press charges against Pel-Freez for their cruel treatment of rabbits. Share on social media, and urge your friends to do the same.
Stay Informed
When you subscribe to the blog, we will send you an e-mail when there are new updates on the site so you wouldn't miss them.