LCA Blog
Blog for Last Chance for Animals, an international non-profit dedicated to ending animal cruelty and exploitation.
U.S. House Resolution Condemns Yulin Dog Meat Festival, Calls to End China's Dog Meat Trade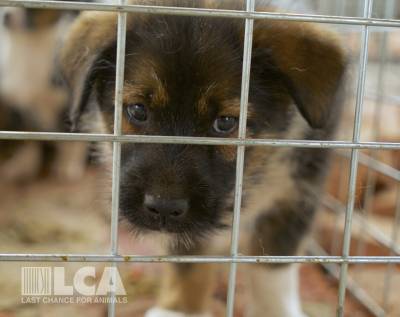 On Wednesday, May 25, 2016, Congressman Alcee L. Hastings (D-FL) introduced a non-binding resolution into the U.S. House of Representatives condemning China's Yulin Dog Meat Festival and calling on the Chinese government to end the dog meat trade. House Resolution 752 acknowledges the "extreme animal cruelty" of the dog meat industry, citing its unpopularity with the Chinese people, its threat to global public health, and the countless stolen pets that are slaughtered each year.
Though non-binding resolutions are not laws, they have been used to state official congressional positions on issues and can affect future legislation, including treaties, trade agreements, and travel policy.
HR 752 has been referred to the House Committee on Foreign Affairs where it awaits a public hearing. Should the resolution be enacted by Congress, it could affect future relations with China as the U.S government attempts to accelerate the abolition of the Chinese dog meat industry.
LCA's undercover investigators are on the ground in China documenting the brutal dog meat trade, and were able to capture hidden-camera footage of the Yulin Dog Meat Festival in 2015. Thousands of innocent dogs are tortured and killed at this annual celebration of the summer solstice in the belief that eating dog meat will bring good luck – but LCA and other activists are fighting to stop this gruesome event. LCA is also investigating slaughterhouses in the Jilin province and working with local authorities to shut them down.
Change is possible: In 2011, the Jinhua Hutou Dog Meat Festival was banned thanks to activist outcry. Should HR 752 pass, it will only strengthen the fight against Yulin and the entire dog meat trade.
As more and more Chinese citizens bring dogs into their homes, opposition to the dog meat trade continues to grow. China has become the third largest pet market in the world (behind the U.S. and Brazil), and nearly 9 million Chinese citizens voted online in support of proposed legislation to ban the dog and cat meat trade.
To add your voice to the fight against dog meat, please visit StopDogMeat.com and sign LCA's petition urging Chinese President Xi Jinping to support a ban on dog and cat meat in China.
Stay Informed
When you subscribe to the blog, we will send you an e-mail when there are new updates on the site so you wouldn't miss them.