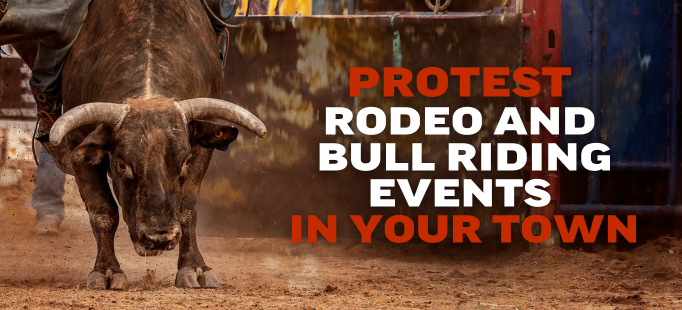 PROTEST RODEO AND BULL RIDING EVENTS IN YOUR TOWN

The rodeo is a series of events that pit human participants against terrifed animals trying to get away from something that is causing them fear, pain, and discomfort. The animals used include bulls, steers, calves, and horses. These animals have been trained to perform, nothing about the rodeo is natural. Animal injuries include internal organ damage, ripped tendons, broken backs, broken legs, and ripped tendons.
You can help rodeo animals. Show up at rodeos and bull riding events in your town and protest. Reach out to us if you need t-shirts, posters, pamphlets or banners.
HOW TO RUN A SUCCESSFUL PROTEST
Create a Facebook event page to get the word out.
Create posters. Slogan ideas: Only Bullies Ride Bulls, Stop Bull Riding, Bull Riding is Cruel, Rodeo Animals are Electrocuted, Tormented, and Terrified.
Protest at the entrance of the venue.
Plan to protest for 2 hours before the bull riding event starts.
Tell your local newspaper, TV news station, and radio station about your protest.
Pass out our Rodeo B.S. Fact Sheet. Download and print it here.
Do not engage anti-protestors.
Keep focused and strong for the animals.
Take photos of your protest, post on social media, and tag LCA.
Learn more about our work to save rodeo animals here.