LCA Blog
Blog for Last Chance for Animals, an international non-profit dedicated to ending animal cruelty and exploitation.
Breaking!! LCA Investigation Exposes Severe Cruelty at Supplier to Canada's Largest Pork Processor!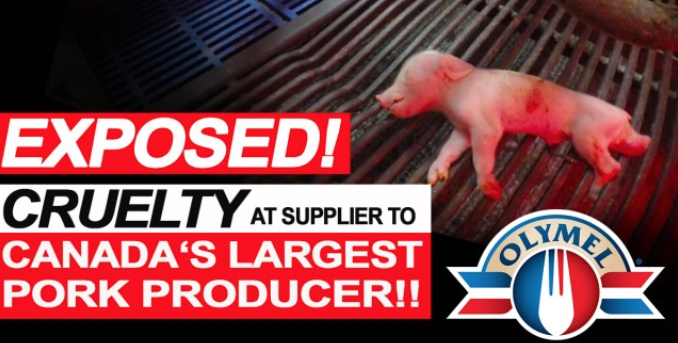 New LCA Undercover Investigation Reveals Systematic Abuse and Neglect of Pigs
A 3-month undercover investigation by LCA exposes severe abuse and neglect at Crimson Lane Farms, a pig breeding farm in Kenilworth, Ontario that supplies Olymel, Canada's largest pork processor. Olymel pork is sold by major retailers across Canada including Walmart, Metro and Real Canadian Superstore.
LCA Undercover Investigation Reveals Cruelty at Olymel Pig Supplier! from Last Chance for Animals on Vimeo.
Despite Olymel's claim to hold "the highest standards of animal welfare," LCA's video shows workers striking and kicking pregnant pigs, shocking them with electric prods, and allowing pigs with debilitating injuries to languish in agony for prolonged periods.
The cruelty is appalling:
An employee jabbed a sow who had just given birth with his pen, kicked her in her ribs, and used a piece of sheet metal to spear her in her back as she cried out in distress.
Pigs with life-threatening uterine prolapses were kept alive for days to nurse their newborn piglets, or so that their dead bodies wouldn't decompose too much before a truck came to collect them.
In the most horrific cases, management kept extremely prolapsed pigs alive to bring them closer to term, and removed their piglets using a procedure referred to as a "slash and grab." This involved disemboweling the pregnant pig and cutting her piglets from her dying body.
Workers would repeatedly throw sick piglets against the barn floor as an ineffective euthanasia attempt called "thumping." Many piglets were still alive, and tossed into piles of the dead.
After completing the investigation, LCA submitted complaints to the Ontario Society for the Prevention of Cruelty to Animals (OSPCA) and the Royal Canadian Mounted Police detailing over 70 violations of the OSPCA Act and the Criminal Code. Go to FactoryFarm360.org to see the full findings.
WHAT YOU CAN DO:
Adopt a cruelty free lifestyle that includes plant-based foods instead of animal products. By choosing vegan options, you avoid supporting the cruel animal agriculture industry.
Share this email alert with others and post it on social media.
Make a donation to keep LCA investigators in the field exposing animal cruelty.
Stay Informed
When you subscribe to the blog, we will send you an e-mail when there are new updates on the site so you wouldn't miss them.