LCA Blog
Blog for Last Chance for Animals, an international non-profit dedicated to ending animal cruelty and exploitation.
Help Stop Korea's 'Bok Nal' Dog Meat Festival!! Set for Tuesday, August 16, 2016!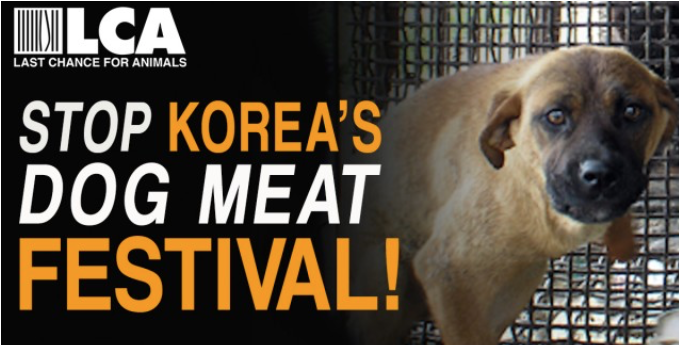 Korean Dogs Desperately Need Your Help!
Hung. Electrocuted. Burned alive. These are just a few of the vile torture methods inflicted on innocent dogs in South Korea for the annual Bok Nal festival, a barbaric event in which dog meat soup is consumed in the belief that it provides a "cooling" effect in the summer heat. The dogs are tortured mercilessly because participants think fear and suffering makes the meat taste better.
The brutal Bok Nal festival lasts for weeks, with the main celebrations falling on what are thought to be the hottest days of the year. This year's next and final Bok Nal event falls on August 16, 2016 -- and it's up to you to speak up for the helpless dogs! Please sign LCA's petition today to tell the Korean government that the cruel dog meat trade must end.
South Korea is the only country in the world with large-scale commercial dog meat farming. But even this is not enough to meet demand, so dogs are shipped in from China, too. Many stolen pets end up in Korean slaughterhouses, tortured and killed for meat.
Despite global outcry -- including heartfelt pleas from their own citizens -- the Korean government has failed to take any meaningful action to stop the horrific Bok Nal festival and ban the torture and killing of dogs. It's time for Korean authorities to finally stop the horror.
WHAT YOU CAN DO:
1. CLICK HERE to sign the petition urging Korean officials to ban the Bok Nal festival and end the bloody dog and cat meat trade.
2. Send a letter in the mail to Ambassador Ahn Ho-Young at the S. Korean Embassy in Washington, D.C. urging him to support a ban on dog and cat meat. Mail your letter to the following address:
Ambassador of the Republic of Korea Ahn Ho-Young
2450 Massachusetts Ave NW
Washington, DC, 20008
3. Make a donation today to help LCA continue fighting to put an end to Korea's cruel dog meat trade.
Help end the torture of dogs in Korea!
Stay Informed
When you subscribe to the blog, we will send you an e-mail when there are new updates on the site so you wouldn't miss them.