The BBC documentary Billion Dollar Chicken Coop is drawing worldwide attention, showing footage of the deplorable living conditions found on a British factory farm that provides chickens to the KFC brand. A single shed is shown housing over 34,000 chickens in an environment completely devoid of fresh air and natural sunlight. Birds are seen walking around in feces-and-sawdust-covered floors before being gassed to death in the name of commercial fast food. Their entire life span lasts only a brief 35 to 42 days.
Animal Rights activist Andrew Tyler of Animal Aid expressed his outrage to London's Daily Mail. He stated that the chickens live a "wretched existence" while being crammed into "giant windowless sheds stinking with ammonia." He went on to say that many of these birds will die from dehydration or starvation long before they reach the estimated 42-day lifespan. And he also believes that over 30 million perish in these British sheds every year without any medical care or oversight provided by the property caretakers.
In the documentary, the BBC reporter questions one chicken farmer named Andrew about the health of the animals. Andrew is quick to pick up one bird to show the cameras how wonderfully clean and healthy it is. He even goes so far as to state that if he were a chicken, he would love living at his farm. Meanwhile, a spokesperson for KFC maintains that the animal welfare of all its chickens is "essential for high quality food and is important to our customers." KFC is also quick to point out that all of their suppliers either meet or exceed UK and EU animal welfare requirements.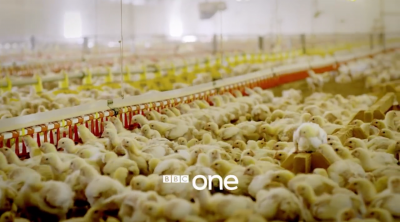 Photo Courtesy of BBC
But activist Tyler vehemently disagrees. He believes that the birds lead "a wretched existence" of deplorable living conditions, stench, and filth. He believes that the chickens "are deprived of everything that makes life worth living." He notes that many of the birds endure broken legs and other bone fractures as they are mishandled by farm employees while being bundled up for the slaughter. And Tyler is only one of many animal rights activists who are slamming KFC for their abuse and mistreatment of animals.