Today, June 20, 2016 -- just one day before the bloody Yulin Dog Meat Festival -- LCA representatives met with local Yulin officials to demand enforcement of health regulations which would prevent the slaughter of dogs at area slaughterhouses and were told that inspectors would not be conducting inspections.
LCA representatives have now filed a complaint with the state council to gain an official order requiring the onsite inspection of the slaughterhouses where LCA documented dogs being killed without the requisite health certificates.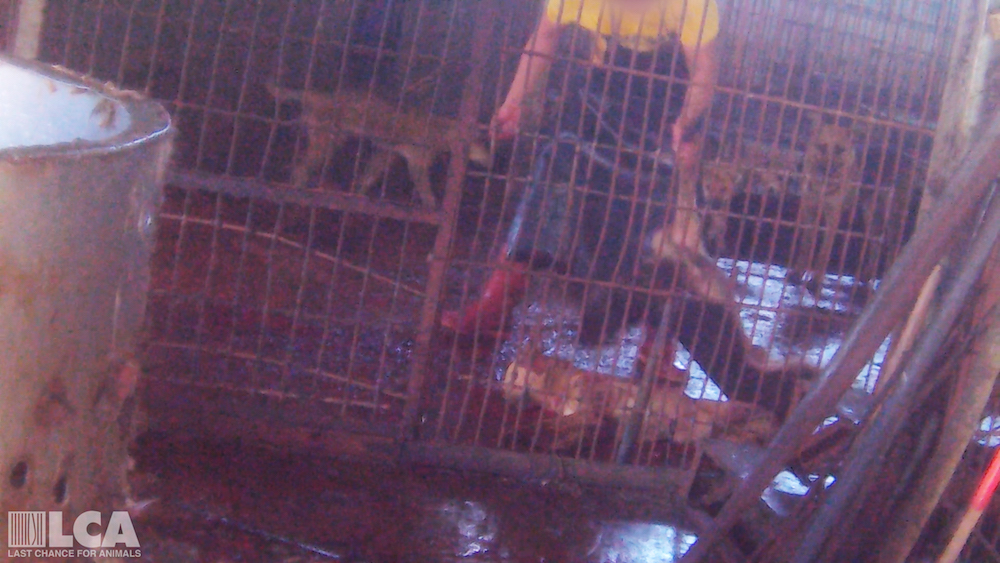 From LCA undercover investigation of Yulin slaughterhouses, June 2016
This action follows LCA's undercover investigation exposing cruelty to dogs and sickeningly unsanitary conditions at Yulin area slaughterhouses. LCA will continue working tirelessly to urge officials to enforce the law and finally shut down the slaughterhouses, end the Yulin Dog Meat Festival and stop the entire dog and cat meat industry.
We have a long way to go, but there has been progress. Thanks to outcry from activists around the world, it has become increasingly difficult to hold the festival. This year, the Yulin government has ordered dog meat markets and restaurants to cover their signs, and has banned public slaughter of dogs. Still, the killing will continue as long as the slaughterhouses of Yulin remain open.
WHAT YOU CAN DO:
1. CLICK HERE to sign the petition urging Chinese officials to stop the bloody dog and cat meat trade.
2. Send a letter in the mail to Ambassador Cui Tiankai at the Chinese Embassy in Washington, D.C. urging him to support a ban on dog and cat meat. Mail your letter to the following address:
Ambassador Cui Tiankai
Chinese Embassy Chancery
3505 International Pl N.W
Washington, D.C. 20008
3. Make a donation today to keep LCA undercover investigators in the field to put an end to China's cruel dog meat trade.
Together, we can end the barbaric dog meat trade!!