LCA Blog
Blog for Last Chance for Animals, an international non-profit dedicated to ending animal cruelty and exploitation.
LCA's PSA "Casa de Carne" Wins First Place at Animal Film Festival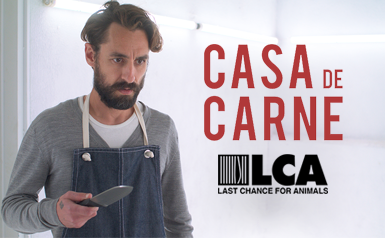 The 6th Annual Animal Film Festival (AFF) was held this past weekend at The Center for the Arts in Grass Valley, CA. With a mission of raising awareness for the issues animals around the world commonly face, the AFF showcased a myriad of feature films, documentaries, and short films that explored a wide range of animal welfare topics, including animals used in entertainment, factory farming, and animal testing.
LCA's PSA Casa de Carne premiered at the 2019 AFF, which was hosted in partnership with the Tarshis Foundation, and won the first place award from the Tarshis Short Film Awards for "successfully, creatively, and convincingly highlight[ing] the issues of animal suffering," and for "provid[ing] messages that influence people to pursue a more plant-based lifestyle."
Written and directed by LCA's video director Dustin Brown, Casa de Carne is a thought-provoking short film about hard choices and hidden truths.
In 2018, LCA's PSA Food for Thought, which examines the line drawn between animals viewed as pets and animals viewed as food, won the Tarshis Short Film Awards' second place prize.
"Now more than ever, we need stories that expand our circle of empathy and allow us to see the world through a more compassionate lens," said Dustin Brown. "It's easy to use our differences as starting points for conflict: different race, different religion, different country...different species. And yet, we're all sharing this planet. Our similarities far outweigh our differences. That's what this film is about."
"This festival is a great platform to raise awareness about how animlas are exploited for profit. We're grateful to the festival and the Tarshis Foundation for their commitment to these issues," said Chris DeRose, president and founder of LCA.
Stay Informed
When you subscribe to the blog, we will send you an e-mail when there are new updates on the site so you wouldn't miss them.