LCA Blog
Blog for Last Chance for Animals, an international non-profit dedicated to ending animal cruelty and exploitation.
Many Circuses Are Still Exploiting Animals—Here's How You Can Help!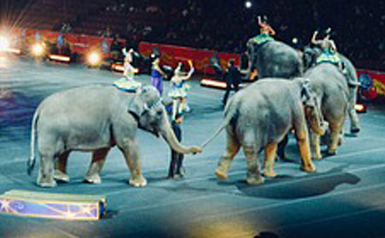 As of late, there have been numerous victories for animals used in circuses: on December 14, 2018, Gov. Phil Murphy signed Nosey's Law—legislation named after "Nosey", a 36-year-old elephant that made headlines after being rescued from the decades of horrific abuse and neglect she experienced in a traveling circus—making New Jersey the first state to outlaw the use of wild and exotic animals in traveling acts; and just one week later, on December 21, Hawaii followed suit by becoming the second state to ban wild animal circus acts!
On February 19, 2019, the Circus Cruelty Prevention Act (S.B. 313) was introduced by Sen. Ben Hueso to prohibit the use of wild and exotic animals in traveling acts in the state of California.
Sadly, numerous circuses continue to exploit and abuse wild and domestic animals, forcing them to perform in front of audiences against their will. Along with having to partake in demeaning performances, these animals must endure a lifetime of violent training practices—including beatings, electrocution, and starvation—and constant confinement.
WHAT YOU CAN DO:
Boycott circuses that still use animals - the most impactful way you can help animals that are imprisoned and forced to perform in traveling acts is to not attend these events. There are many circuses that don't exploit or abuse animals that you can support, such as Cirque du Soleil and Circus Vargas.
Protest circuses that still use animals - If a circus using animals visits your area, consider organizing or taking part in a protest! By doing so, you can take a public stand against circus cruelty by educating the attendees of the horrific abuse wild animals must endure in traveling acts and by encouraging them to make more compassionate choices in the future. There are four upcoming protests in California on March 21st and 22nd. (Click here for more details!)
Support legislation that prohibits the use of animals in traveling acts - Write letters to your local and state representatives urging them to introduce and support legislation that outlaws the use of animals in circuses. If you live in California, please urge your legislators to support S.B. 313 today! (Click here to find your legislator's contact information.)
For more information on wild animals in circuses and what you can do to help please visit: www.NoCircusCruelty.com
Photo: Pixabay, LCA
Stay Informed
When you subscribe to the blog, we will send you an e-mail when there are new updates on the site so you wouldn't miss them.