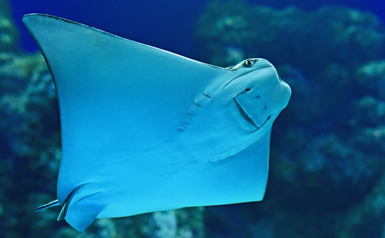 On March 28, 2019, the Maryland Senate unanimously passed a final version of the 2019 Cownose Ray Fishery Management Plan and Moratorium on Contests (HB 213) by a vote of 47-0 — extending the moratorium on the cruel and unncessary killing of Chesapeake Bay's precious cownose rays until the Department of Natural Resources (DNR) creates a definite fishery management plan for the species. The bill now goes to the desk of Maryland Governor Larry Hogan to be signed into law.
In 2017, Governor Hogan signed HB 211 / SB 268 into law, imposing a two-year moratorium on the gruesome cownose ray killing contests until July 1, 2019, in order to give the DNR time to prepare a fishery management plan. Since the deadline was quickly approaching, the passage of an extension on the prohibition of these "killing contests" was crucial.
Prior to the 2017 bill, the Chesapeake Bay cownose ray killing contests were held every year during the summer. The brutal "killing contests" routinely involved hunters shooting the rays from a boat with a tethered bow, reeling them up to the surface, and then beating them to death with bats and clubs.
In 2016, LCA joined forces with Showing Animals Respect and Kindness (SHARK) to expose the horrific and heartless slaughter of cownose rays. (Warning: the following video contains graphic footage.)
LCA is also a member of a coalition dedicated to protecting the cownose rays of Chesapeake Bay. The grassroots coalition Save the Rays has been diligently working for years to get legislation passed in the state of Maryland that would end the senseless slaughter of rays. (Click here to read the coalition's press release.)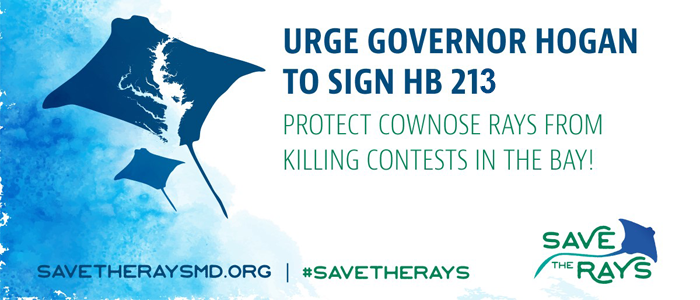 TAKE ACTION:
Even if you do not live in the state of Maryland, contact Governor Hogan and urge him to sign HB 213 into law!
Email: This email address is being protected from spambots. You need JavaScript enabled to view it.
Phone: (410) 974-3901
Mail: 100 State Circle, Annapolis, MD 21401
Click here to learn more about the brutal cownose ray killing contests.
Photo: Unsplash, Save the Rays