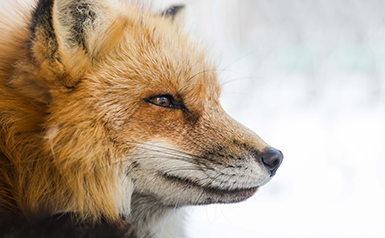 On the heels of Los Angeles and San Francisco's recent fur bans — Council Speaker Corey Johnson has introduced common-sense legislation that would prohibit the sale of fur apparel in New York City!
The bill, Intro 1476, is co-sponsored by council members from across the city and, if passed, would save countless fur-bearing animals from the unimaginable cruelty inflicted on them by the fur industry.
Worldwide, more than 100 million animals, including foxes, mink, and raccoon dogs, are abused and killed for their fur each year — all for the sake of fashion. The vast majority of animals killed for their fur are raised on farms and kept in deplorable conditions. For example, wild mink naturally range a terrirotry of approximately 741 acres; however, ranch-raised mink are confined to a 12-inch by 18-inch cage. This type of intensive confinement can result in self-mutilation, cannibalism, and high-level stress that weakens the immune system and makes animals more susceptible to disease.
Thankfully, consumers are becoming more aware of how animals are violently tortured and killed for their fur and are seeking cruelty-free alternatives, and countless designers, fashion houses, and cities around the world are joining together to ban the sale of fur and shut down fur farms.
LCA is a proud member of Fur Free NYC, a coalition of organizations working to end this cruelty and ban fur in New York City. The coalition applauds New York City's surge in animal-friendly legislation in recent years to protect sharks from the shark fin industry, puppies from puppy mills, and wild animals from circuses. Help protect fur-bearing animals from the atrocities they face on fur farms!
New York City: Take Action!
NYC Residents: Urge your City Council Members to co-sponsor Intro 1476, which would ban the sale of fur throughout New York City! CLICK HERE to send your council member a quick email today!
Click here to learn more about the Fur Free NYC coalition.
Photo: Unsplash