LCA Blog
Blog for Last Chance for Animals, an international non-profit dedicated to ending animal cruelty and exploitation.
Take a Stand Against Dog Meat!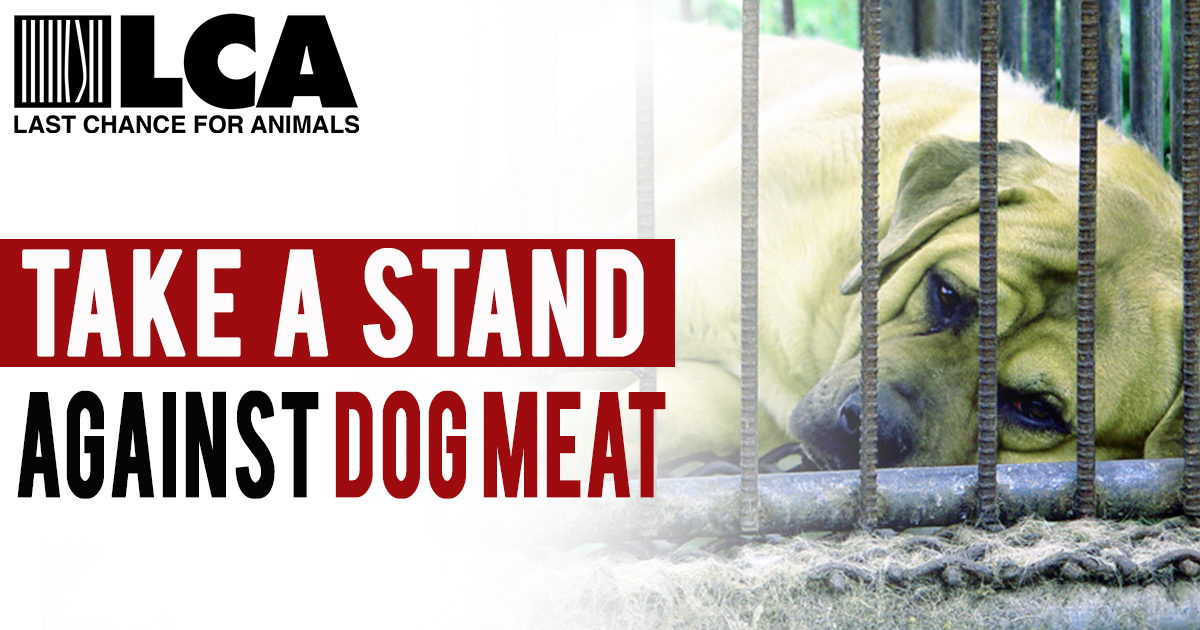 Samsung, LG, Kia and Hyundai: Pledge to Stand Against Dog Meat in S. Korea!!
As we enter the busiest shopping weekend of the year, please use the power of your wallet to fight against the brutal dog meat trade! Do not buy products from S. Korea's most powerful corporations -- Samsung, LG, Kia and Hyundai -- until they have released the following written pledge:
"In the name of humanity, we oppose animal cruelty and agree with those working to end the dog meat industry in South Korea."
---
South Korea's industrialized dog meat trade slaughters approximately 2.5 million dogs each year. The dogs are tortured in the belief that suffering makes the meat taste better – they may be hung, electrocuted and cooked alive. Due to the government's longstanding apathy towards animal cruelty, South Korea has now become the only country in the world in which dogs are bred in huge factory farming facilities solely for their meat.
You are not powerless in stopping the horror! S. Korea's economy depends on people like you continuing to purchase Korean-made goods. Together, we will pressure the corporations of S. Korea to use their influence to help end the country's ruthless dog meat industry!
WHAT YOU CAN DO:
1 - Watch the video at StopDogMeat.com, then contact Samsung, LG, Kia and Hyundai to let them know you will not buy any of their products until they have pledged to stand against dog meat. (Contact information provided here)
2 - Write to S. Korean ambassadors in the U.S. urging them to help stop the ruthless dog meat industry (Contact information provided here)
3 - Please donate to help fund LCA's ongoing efforts to end dog and cat meat in Korea.
Stay Informed
When you subscribe to the blog, we will send you an e-mail when there are new updates on the site so you wouldn't miss them.