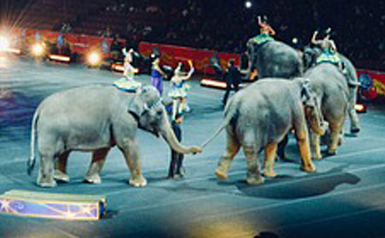 On February 19, 2019, Sen. Ben Hueso (D-San Diego) introduced SB 313 (also known as the Circus Cruelty Prevention Act) in the California State Senate. If passed, the bill will ban the use of wild and exotic animals in circuses in California — but it won't happen without your help!
Sadly, numerous circuses continue to exploit and abuse wild animals, forcing them to perform in front of audiences against their will. Along with having to partake in demeaning performances, these animals must endure a lifetime of violent training practices — including beatings and starvation — and constant confinement.
Many California cities and counties, including Pasadena, Oakland, Los Angeles, and West Hollywood, have already enacted bans or restrictions on the use of wild and exotic animals in circuses. California: take action and help ban circus cruelty statewide!
WHAT YOU CAN DO:
SB 313 will be considered by the Senate Natural Resources and Water Committee on April 9. Written statements in support of SB 313 are urgently needed by Monday, April 1!
Submit a written statement in support of SB 313 to the Senate Committee at the following email address:

This email address is being protected from spambots. You need JavaScript enabled to view it.

. Note: You must include "SB 313" in the subject line (e.g., "Statement of support for SB 313"). CLICK HERE for sample text.
For more information on wild animals in circuses and what you can do to help please visit: www.NoCircusCruelty.com
Photo: Pixabay