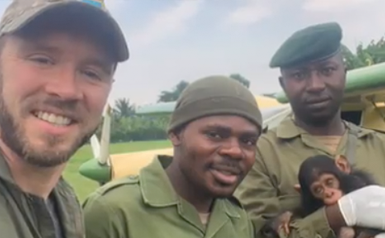 Earlier this week, Head of Virunga National Park's Airwing Program and Chief Pilot Anthony Caere and park Rangers successfully rescued a six-month-old baby chimpanzee named Tony from the hands of wildlife traffickers.
A mutlibillion-dollar business, the wildlife trade consists of organized criminal networks that illegally harvest animals (as well as plants) from the wild, only to sell them for their skins, for food, or for medicinal purposes.
Wildlife are also targeted so that they can be sold for entertainment purposes. Each year, an estimated 3,000 great apes, including chimpanzees, are taken from the wild as a result of the wildlife trade — often being sold as pets. Endangered animals like the chimpanzee are highly favored by wildlife traffickers due to their rarity and are thus being pushed closer to the brink of extinction. Sadly, in order to steal just one baby chimpanzee, ruthless poachers will slaughter an entire family of grown chimps.
After being confiscated from traffickers, Caere flew baby Tony to his new home at Lwiro Primates, a rehabilitation center for rescued wildlife. While he did lose his family, baby Tony is definitely one of the lucky ones and a stark reminder of the severity and brutality of wildlife trafficking. Click here to watch baby Tony's heartwarming rescue.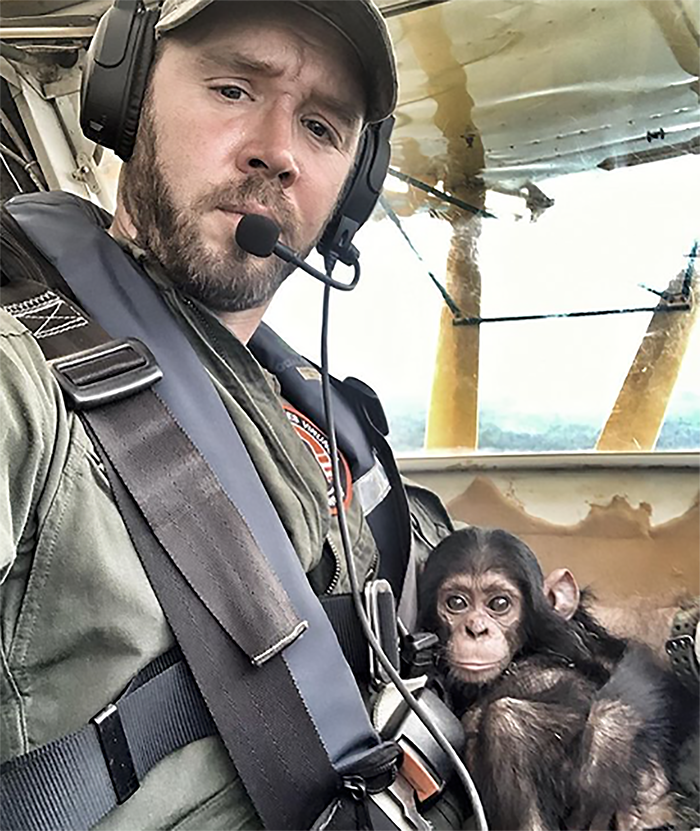 Anthony Caere and baby Tony
A special thank you to Virunga National Park's Rangers, staff, Airwing Program and Chief Pilot Anthony Caere. Without their bravery and sheer determination, the park and its wildlife would cease to exist.
Click here to learn more about LCA's work to support Virunga National Park and its Airwing Program.
Photo: Anthony Caere via Instagram